M.Phil. in English Studies: Eighteenth-Century and Romantic Studies
---
---
Introduction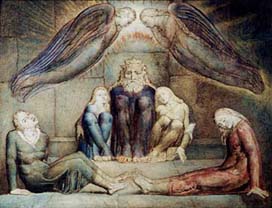 Wm. Blake, Ugolino and his Sons in Prison,
Fitzwilliam Museum
This M. Phil. provides a nine-month course of literary study in the period of 'the long eighteenth century'. The course consists of seminars and classes, together with individual study and supervision. Training in relevant research skills is included. Students will have access to the magnificent resources of the Cambridge University Library, one of the few copyright libraries in the UK, as well as to many special holdings in College libraries. They will be able to take courses from other selected M.Phils. and to attend lectures in the English Faculty and in related faculties such as History, Classics, Modern Languages, History of Art, Philosophy, and History and Philosophy of Science.
The Course
Seminars run throughout the Michaelmas and Lent Terms. These will include courses of fortnightly seminars offered by individual faculty members on their areas of special interest. In addition, there will be an introduction to research skills, electronic resources, and critical approaches, as well as research seminars at which invited speakers read papers. Students will normally take two course-options each term; alternatively, they may opt to substitute in one or both terms an appropriate course-option from another M.Phil. in English ( Medieval and Renaissance Literature; American Literature; Modern and Contemporary Literature, and Criticism and Culture) or, by arrangement, from an M.Phil in certain other faculties. M.Phils. with which English has exchange arrangements at present include European Literature (Faculty of Medieval and Modern Languages [MML]), History of Art and Architecture, and the History and Philosophy of Science and Medicine (Faculty of History and Philosophy of Science [HPS]).
The course thus offers both a common core of period-based study and the opportunity for individuals to choose from a varied and interdisciplinary menu. The program fosters a strong sense of intellectual community and collaborative exchange; this is particularly evident in the two-day graduate conference put on in the final term of the course under the auspices of the English Faculty, but organised and run by graduates for graduates. The optional elements permit students to develop their own interests, and to focus their whole scheme of work either more sharply or more adventurously, as they please. This combination of intellectual community with individual flexibility is one of the great strengths of the M.Phil.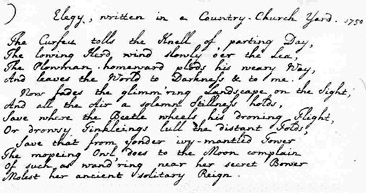 Gray's Elegy, Pembroke College
Work done in relation to the four seminar course-options taken by each student is assessed by two coursework essays. These essays are of not more than 5,000 words each; the topics are chosen by the student with the agreement of the Graduate Sub-Committee.The marks for these essays count together for 50% of the M. Phil. as a whole.
Meanwhile, throughout the nine months, students will be pursuing individual research on a topic of their choice, supported by frequent consultation with their personal supervisor. At the end of the first term, students will submit a statement of projected research, with bibliography, as preparation for the writing of a dissertation of between 12,000 and 15,000 words, which will provide the main focus of the student's work between April and June. The mark for the dissertation counts for 50% of the M. Phil. as a whole.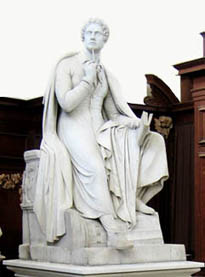 Byron, Trinity College
Applicants should include a brief statement of their previous literary or other relevant academic training in the period, and a research proposal of around 500 words. Considerable weight is put on the research proposal and applicants are advised to be as specific about their plans as possible. Applicants interested in taking courses from other M.Phils. in English or elsewhere should indicate this as part of their application.
During 2012-2013 the following list of courses will be on offer:
Michaelmas Term 2012
Dr L. Joy
Romanticism and Childhood
Dr G. F. Parker
Writing the Self: Identity and Independence
Lent Term 2013

Dr P. Connell and Dr C. Roberts
Popular Culture in the Long Eighteenth Century

Dr C. Tilmouth
Passion and Sentiment in Enlightenment Thought and Literature

Faculty Members

Members of the Faculty available to teach on this M.Phil. are listed below.

Entry Requirements and Admissions Procedures

You may find it helpful to find out about funding for home students or funding for overseas students before you apply.. You should also consult our guide for prospective graduates.

William Hogarth, detail of The Bench,
Fitzwilliam Museum

All graduate students in Cambridge are members of a College as well as of a Faculty of the University, and those applying through the Graduate Admission website for a place on the course will find themselves invited to list a number of Colleges in order of preference. It is a good idea to consult the prospectuses of a number of Colleges before you apply.

Applications are first considered by the Faculty. Potential supervisors are then consulted. Successful applications are then offered to the Colleges of the student's choice, and may be then passed on to the second or third choice. Since this can be a lengthy process it is very much in the interests of applicants to apply in good time.

Applicants for funding should be aware that many funding bodies require a firm acceptance from the University before they will consider your application. If you hope to have a decision from the University in time to apply for funding, you should apply well before the appropriate funding deadline.

Even if you are not seeking funding from Cambridge sources, you are strongly urged to meet the 11 January 2013 deadline, since MPhil places are now capped centrally and some courses fill up early.

Note that these deadlines also apply for the submission of supporting documentation.

No applications for the academic year starting October 2013 will be considered after  31 May 2013.

*Please note that we are now full and are therefore not accepting any more applications.*

Most of our graduate students have a first-class undergraduate degree or international equivalent. The Faculty is willing in principle to accept candidates with strong 2.1s, or mature students who have not pursued an orthodox pattern of higher education, provided that such applicants have strong backing from their referees, have a feasible topic, and are well qualified for their proposed course of research. We recognise both that things sometimes do not go candidates' way in examinations and that a sparkling examination style is not always the best qualification for graduate work. Applicants should note, however, that the vast majority of those accepted onto the M.Phil. do have a first class BA degree or its overseas e quivalent, and the vast majority of students accepted for the Ph.D. have similarly strong MA marks. Applicants whose first degrees are in other disciplines are always considered, provided they can give an account of how their interest in literary study has developed. We welcome qualified UK, EU, and overseas applicants (those for whom English is not a first language will be required by the Board of Graduate Studies to provide evidence of linguistic proficiency).

Applicants should include specific proposals for advanced study or research (of around 500 words). A piece of written work, of 5,000 - 7,500 words, should accompany a formal application. Applicants may submit any work they like, but it is worth choosing work which is recent and which relates to your proposed area of study, if this is available. Many applicants submit their undergraduate dissertation or similar extended piece of work. In reaching decisions about applications the Degree Committee takes particular account of:

The applicant's academic record and references

Their suitability for the proposed course (including knowledge of foreign languages)

The applicant's research proposal, which should suggest a realistic program of work for a 15,000 word dissertation.

Whether a suitable supervisor can be found for the proposed research

The written work which a candidate submits in support of their application

---

Enquiries should be addressed to:

The Director of Graduate Studies,
Degree Committee of the Faculty of English,
University of Cambridge
9 West Road
Cambridge
UK
CB3 9DP