The M.Phil. in American Literature
---
Course Overview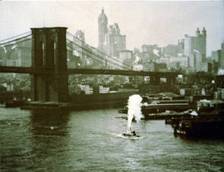 Alvin Langdon Coburn,
Brooklyn Bridge, c. 1912
The M.Phil. in American Literature is a nine month course running from October to June, which provides an intensive foundation in the postgraduate study of American Literature, and the opportunity to combine this with options from other M.Phil. courses in the English Faculty. The course therefore offers flexible provision for students wishing to specialise in American Literature, and those who want to explore transatlantic and transnational topics. The emphasis throughout is on detailed attention to literary texts in their historical and intellectual contexts. The M.Phil. equips students with advanced research skills and fosters individual choice in research focus, methodology, and critical approach.
Teaching consists of compulsory Foundation and Research Methods courses, followed by optional seminar courses. Throughout the three terms, M.Phil. students pursue individual dissertation projects under the guidance of a supervisor with whom they arrange a programme of one-to-one supervisions. The course is assessed by essays in each of the first two terms, and the dissertation submitted at the end of the third term. M.Phil. students are required to attend graduate research seminars and are free to attend undergraduate lectures in the English Faculty, and elsewhere in the University.
Graduate research in Cambridge is greatly facilitated by the holdings of the University Library, one of only five copyright libraries in the United Kingdom, which is supplemented by the English Faculty Library as well as libraries within individual colleges.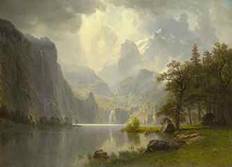 Albert Bierstadt,
'In the Mountains', 1867
Faculty members whose research and teaching interests include American Literature are listed below.  Their interests range widely in American literature from the seventeenth to the twenty-first centuries, and include early American writing, especially puritan poetry, diaries and autobiography, natural history, and transatlantic polemic; nineteenth-century literature and culture including popular theatre, especially melodrama, African American writing, the novel, Transcendentalism; twentieth-century writing especially modernist and experimental poetry, the Harlem Renaissance, magazine and periodical cultures; contemporary writing including  postwar fiction, sports writing, and the short story. We welcome dissertation proposals on any topic in American Literature, including transatlantic and comparative projects.
While some students take the M.Phil. as a free-standing Master's qualification, many go on to Ph.D. research in Cambridge and elsewhere. Under normal circumstances, students will not be permitted to register for Ph.D. research in American or Anglo-American subjects unless they have completed the M.Phil. in American Literature (or a similar postgraduate course) at an appropriate standard.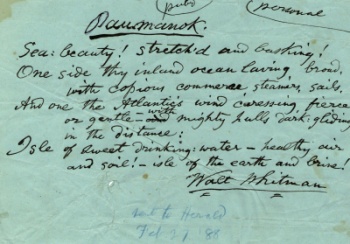 Whitman, ms. of 'Paumanok', 1888
Seminar courses run in the first two terms, Michaelmas and Lent. The Michaelmas term's Foundation and Research Methods courses are compulsory; in the Lent term students choose two from a range of optional courses.
Michaelmas Term: Foundation Course in American Literature
The Foundation course is intensively team-taught in two ninety-minute seminars per week over 6 weeks. The two seminars in any particular week are closely connected, so that conversations develop from one meeting to the next. From week to week through the term the sequence of Seminar 1 is roughly chronological, while Seminar 2 encourages comparative engagement between periods. The course as a whole is balanced in terms of canonical and less canonical texts, and as far as genre and critical approach are concerned. The following outline for 2013 is illustrative and may be subject to minor revision. Full course details and reading lists are provided to successful applicants on admission.
SEMINAR 1:
American Texts and Contexts
These seminars explore a range of literary and cultural concerns from particular moments in American  literary history. A number of core texts, along with critical and contextual material, will be specified for each session.

SEMINAR 2:
Close Reading
The second seminar attends in detail to a small number of texts in the light of the broader area studied earlier in the week. This closely focused material is offered by way of further example or counter-example, and may derive from the same, or from earlier or later periods.

Poetry, June 1917, Cover

Week 1
Dr Fiona Green

'Captivity, Contact, and Appropriation': Rowlandson,
Longfellow, Zitkala Sa.

Selections from William Carlos Williams, In the American Grain, Robert Frost, Mountain Interval

Week 2
Dr Tamara Follini

'Transcendental (Im)personalities': Hawthorne, Emerson

Selected reading from Henry James, Paul Auster

Week 3
Dr Tamara Follini

'Languages of Landscape':
Melville, Thoreau

Selected reading from Willa Cather, Ernest Hemingway, Cormac McCarthy

Week 4
Dr Fiona Green

'Modernist poetry and magazines':  Stevens,
Moore, Pound, Poetry, The Dial, The Little Review

A specified issue of William Carlos Williams, Contact, John Dewey on localism.

Week 5
Dr Anne Stillman

'Frank O'Hara, Pastoral, and the City'

Selections from Walt Whitman, Leaves of Grass  

Week 6
Dr Kasia Boddy

'Thinking about Contemporary Fiction': periodisation,
publishing trends, writing workshops

A recent American novel will be specified.
Research Methods A fortnightly ninety-minute class shared with the Modern and Contemporary M.Phil., attending to such matters as scholarly method, electronic resources, editing and editions, and academic conferences. This compulsory course is not formally assessed.
Lent Term: Optional Courses
M.Phil. students choose two optional courses, each consisting of six ninety-minute seminars, from the pool shared with the Modern and Contemporary, Criticism and Culture, and 18th Century and Romantic Studies M.Phils. In 2013-14 the American M. Phil. plans to offer the following two courses to this pool, for which its students will have priority:

Dr. Kasia Boddy: Minimal and Maximum Form in American Fiction Since 1960
This series of seminars will consider the impulse toward reduction or expansion in a variety of major American works from the last fifty years.  Classes will explore the kinds of stories that are possible to tell in 5 or 500 pages and the ways in which contemporary fiction has responded to other media (film, television, the visual arts). Why might a novelist want to be digressive or encyclopaedic? Conversely, why might he or she want to pare a story down to its bare essentials? Topics and texts may include The Minimal Object (essays by Donald Judd and  Michael Fried, stories by Donald Barthelme);  The 'Systems' Novel (Thomas Pynchon, Gravity's Rainbow), Versions of Smallness (Raymond Carver edited and unedited, essays on Gordon Lish and the 'new minimalism'); Recycling and the Social Novel (Don DeLillo, Underworld); Philosophical Investigations (David Markson, Wittgenstein's Mistress, stories byLydia Davis); The Social Novel in the Media Age (Jonathan Franzen, The Corrections, essays by Franzen and Tom Wolfe).
Dr. Amy Morris: Home and Homelessness in American literature.
From the tension in American puritan writing between earthly colony-building and spiritual pilgrimage, to the artistic restlessness of twentieth-century hobohemia in New York City, there has been a strand within U.S. literature that reacts against the impulse to create a permanent and comfortable home with a counterbalancing desire to unsettle and undo. This course will examine the interrelation of these impulses in a sample of texts from the puritan era to the mid-twentieth century. A range of theoretical approaches and contextual frameworks will be brought into play, including ideas of colonisation and decolonisation, puritan theology, the American frontier, gendered writing, the sociology of homelessness, ecocriticism, and the development of the literary canon. Each class will focus on a sub-topic and two or three texts. The choice of authors will be a mixture of well-known and lesser known figures. Writers and themes may include: settling and unsettling the natural environment (Hector St. John de Crèvecoeur, Edith Summers Kelley, Susan Fenimore Cooper, Henry David Thoreau); New England puritan attitudes to home-making and colonization (verse and memoirs of Edward Taylor and Anne Bradstreet, historiography by William Bradford, Cotton Mather, Thomas Morton); twentieth-century urban homelessness (Mina Loy, Henry Miller, Nels Andersen).

For other courses offered to the Lent term pool please click here:
English Studies: Modern and Contemporary
English Studies: Criticism and Culture
English Studies: 18th Century and Romantic Studies
Throughout the Year
M. Phil. Students work on the dissertation topics proposed in their applications with a supervisor appointed on admission. A programme of one-to-one supervisions is arranged between the student and supervisor.
In addition to taught seminars and dissertation supervisions, M.Phil. students are expected to attend at least ten sessions from a wide range of graduate literary research seminars that feature papers from graduates, Faculty staff and invited speakers. Among these, the American Literature Research Seminar meets fortnightly in the Michaelmas and Lent terms, and organises a one-day symposium for graduate students in the Easter term.
Assessment
Two coursework essays, each of not more than 5,000 words. One of the essays to be written for the Michaelmas term Foundation course, the other essay written for one of the chosen Lent term optional courses. Each essay contributes 25% to the overall degree mark.
 A dissertation of 12,000 to 15,000 words on the research topic proposed at application, contributing 50% to the overall mark. Students work on the dissertation throughout the nine months of the course, in consultation with a supervisor appointed on admission. During the Michaelmas Term, students are required to submit an essay of 2,000 to 2,500 words on a topic directly related to the dissertation. The essay is a formative exercise and does not contribute to the overall mark.
Faculty members whose teaching or research interests include American topics:
Further information is available on this server about these and other members of the Faculty.
Entry requirements and application procedures
You may find it helpful to find out about funding for home students or funding for overseas students before you apply. You should also consult our guide for prospective graduates. All graduate students in Cambridge are members of a College as well as of a Faculty of the University, and those applying through the Graduate Admission website for a place on the course will find themselves invited to list a number of Colleges in order of preference. It is a good idea to consult the prospectuses of a number of Colleges before you apply.
Applications are first considered by the Faculty. Potential supervisors are then consulted. Successful applications are then offered to the Colleges of the student's choice, and may be then passed on to the second or third choice. Since this can be a lengthy process it is very much in the interests of applicants to apply in good time.
Applicants for funding should be aware that many funding bodies require a firm acceptance from the University before they will consider your application. If you hope to have a decision from the University in time to apply for funding, you should apply well before the appropriate funding deadline.
Even if you are not seeking funding from Cambridge sources, you are strongly urged to meet the 11 January 2013 deadline, since MPhil places are now capped centrally and some courses fill up early.
Note that these deadlines also apply for the submission of supporting documentation.
No applications for the academic year starting October 2013 will be considered after  31 May 2013.
Most of our graduate students have a first-class undergraduate degree or international equivalent. The Faculty is willing in principle to accept candidates with strong 2.1s, or mature students who have not pursued an orthodox pattern of higher education, provided that such applicants have strong backing from their referees, have a feasible topic, and are well qualified for their proposed course of research. We recognise both that things sometimes do not go candidates' way in examinations and that a sparkling examination style is not always the best qualification for graduate work. Applicants should note, however, that the vast majority of those accepted onto the M.Phil. do have a first class BA degree or its overseas equivalent, and the vast majority of students accepted for the Ph.D. have similarly strong MA marks. Applicants whose first degrees are in other disciplines are always considered, provided they can give an account of how their interest in literary study has developed. We welcome qualified UK, EU, and overseas applicants (those for whom English is not a first language will be required by the Graduate Admissions office to provide evidence of linguistic proficiency).
Applicants should include specific proposals for advanced study or research (of around 500 words). A piece of written work, of 5,000 - 7,500 words, should accompany a formal application. Applicants may submit any work they like, but it is worth choosing work which is recent and which relates to your proposed area of study, if this is available. Many applicants submit their undergraduate dissertation or similar extended piece of work. In reaching decisions about applications the Degree Committee takes particular account of:
The applicant's academic record and references

Their suitability for the proposed course (including knowledge of foreign languages)

The applicant's research proposal, which should suggest a realistic program of work for a 15,000 word dissertation.

Whether a suitable supervisor can be found for the proposed research

The written work which a candidate submits in support of their application
---
Enquiries should be addressed to:
The Director of Graduate Studies,
Degree Committee of the Faculty of English,
University of Cambridge
9 West Road
Cambridge
UK
CB3 9DP