Projects
This page showcases recent research from individual members of the Centre, or larger collaborative research projects, that are representative of the aims and interests of CMT. See also our our 'Gallery' pages, and our page on the CMT's current research themes.
Collecting the Early Modern Book World
A collaboration between the Centre for Material Texts (University of Cambridge) and the Literature and Translation Research Group (GRUPO HUM 383, Universidad de Granada)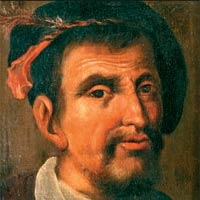 Between 1512 and his death in 1539, Hernando Colón (1488-1539, natural son of Columbus) set about collecting one of the great libraries of the early modern age. 'Without being a man of great estate', one of his contemporaries recorded, 'he travelled throughout Christendom searching out and bringing together books on all subjects'.  At the time of his death the collection boasted around 15000 volumes.
His bibliomania took him across Europe — on a single trip in 1530-1 stopping in (inter alia) Rome, Bologna, Modena, Parma, Turin, Milan, Venice, Padua, Innsbruck, Augsburg, Constance, Basle, Fribourg, Cologne, Maastrich, Antwerp, Paris, Poitiers and Burgos — and his meticulous records of his purchases allow us to trace his spending spree in great detail. Besides his own travels, his collection grew through the volumes sent via an extensive network of factors and correspondents in other Spanish and European cities. Unusually for its time, his library sought to collect printed books — considered by many libraries to be mere novelties — as well as precious manuscripts, expensive folios, and also leaflets of no more than ten pages. He also devised detailed and systematic methods for the classification of his volumes, making him one of the founders of modern bibliography. Colón acquired such expertise in book-purchasing that in his will he recommended the sort of itinerary that a good collector should follow in his endeavours to gather books. In line with the imperial ambitions of Charles V, Hernando Colón declared that his intention was to put together a universal library that would gather not just all the published material in Christianity, but also whatever was available beyond its frontiers.
Colón also played a part in many of the central intellectual currents of the day: educated at the Castilian court by the Italian Humanist Peter Martyr, he also travelled with his father to the New World (1502-1504) where he began a lifelong passion for cartography and for anthropological information—which he promulgated in a biography of his father, the Historia del Almirante. Under the sponsorship of the Spanish monarchy he led a team of experts that compiled the first modern topographical description of the country, the so-called Descripción y cosmografia de España, with its companion Vocabulario topográfico. His cosmographical expertise also made him a valued diplomat, and he served in delegations to Italy and elsewhere to defend Spain's right to its New World possessions and to assert further possessions to the east, in Persia and Arabia.
T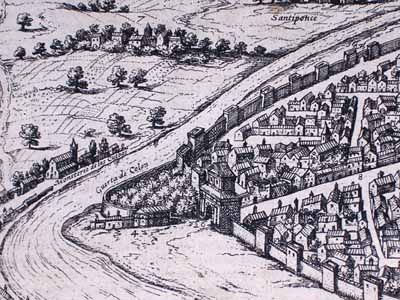 he core of his collection survives today, as the Biblioteca Colombina within Seville cathedral, and features a world-class collection of incunabula and manuscripts from the age of discovery and Humanism. For all its bibliographical and historical riches, this collection is scarcely known outside Spain as a resource for studying the material and intellectual culture of a key period in European history.
The fact that the collection was built after Columbus's success in expanding the scope of the material, religious and economic ambitions of the West, also turns his son's collection into an excellent case study for the intersection between the processes of colonial expansion and the transformations that the cartography of knowledge was undergoing in the early modern world. In bringing to fruition the transatlantic encounter between the wisdom received from Classical Antiquity, contemporary Western intellectual production and the novelties that kept coming from across the ocean, the whole collection pre-empts Francis Bacon's call for an expansion of the frontiers of the intellect in his Instauratio Magna a century later: 'Surely, it would be disgraceful if, while the regions of the material globe—that is, of the earth, of the sea, and of the stars—have been in our times laid widely open and revealed, the intellectual globe should remain shut up within the narrow limit of old discoveries'.
The project, led by Jose Maria Perez Fernandez (Universidad de Granada) and Edward Wilson-Lee (Cambridge), has recently won funding from the Cambridge Humanities Research Grants Scheme to hold workshops in Seville and Cambridge. These workshops will disseminate existing knowledge about the library and its founder, and explore the potential of the collection for answering research questions in areas including book history, travel, knowledge organization, and intellectual networks. Details of these workshops will be posted here shortly.
National Trust libraries: pilot project at Belton House, Lincolnshire

The National Trust owns and manages over 150 properties in the UK that contain collections of books, the majority still housed in the buildings where they were assembled and read by their original owners. Between forty and fifty of the libraries in National Trust properties have been described as being of 'major national significance' (Purcell and Shenton, 2005), constituting an unparalleled resource for the study of the history of private book ownership in the United Kingdom. The process of cataloguing the major libraries is ongoing, and the results are being made available to researchers on the COPAC Catalogue as they become available. This pilot study showcases the research potential of these exciting collections, which form an important part of our national cultural heritage.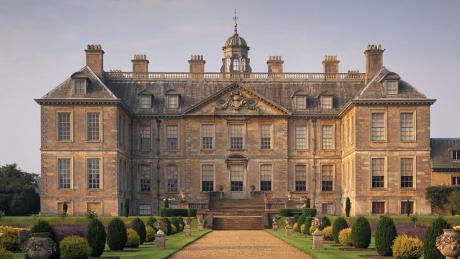 The study investigates the place of Italian books in an English great house, Belton House in Lincolnshire. Belton houses the Trust's second largest library (over 11,000 titles), assembled by successive generations of the Brownlow family, and the collection has now been fully catalogued. 229 works are in Italian, published between 1500 and 1800, across a variety of genres and subjects. Analysis of the Italian holdings will form the basis for two themed workshops. The first, to be hosted by the CMT in Cambridge in the summer of 2012, will explore the curatorship of great house libraries, in discussion with the curators themselves. The second, to be held at Belton early in 2013, will explore the theme of cultural mobility in the early modern library, considering the social, cultural and intellectual histories of continental books in English collections. An exhibition of Italian books will be held at Belton, displaying the connections between book and place for a general audience.
The PI for this project is Abigail Brundin (Department of Italian). The RA is Dunstan Roberts.
For a report on the recent conference associated with this AHRC-funded pilot project, click here.
St Luke's Secrets: Pigment Analysis of Illuminated Manuscripts

In collaboration with the Hamilton Kerr Institute and the Department of Chemistry, University of Cambridge, the Fitzwilliam Museum is launching a new project on the pigment analysis of illuminated manuscripts. The project has appointed its first Research Associate, Dr Paola Ricciardi, through the generosity of a private donor. The immediate objective is the non-invasive identification of materials used in Western European manuscripts from the 6th to the 16th century.
It expands the scope of the Cambridge Illuminations Research Project and its results will be published in forthcoming volumes of the catalogue series, as well as in academic journals, monographs, facsimile commentary volumes and exhibition catalogues.
Impressive technological developments during the last half-century have advanced significantly the scientific analysis, conservation methods, understanding and appreciation of panel paintings. Until recently, illuminated manuscripts remained largely outside these progressive trends, owing mainly to different conservation approaches: they cannot be subjected to sample analysis and invasive restoration. Recent technological advances offer new and reliable non-invasive methods for the scientific investigation of illuminated manuscripts.
The systematic analysis of manuscript illumination is a complex and costly enterprise. Few places in the world combine rich and diverse manuscript collections with access to sophisticated equipment and multi-disciplinary expertise. The University of Cambridge brings together art historians, scientists, and conservators. Cambridge preserves one of the finest and largest collections of medieval and Renaissance manuscripts in existence. The Cambridge Illuminations research project is publishing a catalogue series of the Western illuminated manuscripts preserved at the Fitzwilliam Museum and the Colleges. Much of the equipment and expertise required for non-invasive pigment analysis is available in Cambridge laboratories and at the Hamilton Kerr Institute.
In addition to Dr Ricciardi, the project team includes Prof. Stephen Elliott (Chemical Physics Group, Department of Chemistry), Dr Spike Bucklow (Research Scientist, Hamilton Kerr Institute), Dr Stella Panayotova (Keeper of Manuscripts and Printed Books, Fitzwilliam Museum), Kristine Rose (Conservator of Manuscripts and Printed Books, Fitzwilliam Museum), and Dr Deirdre Jackson (Research Associate, Cambridge Illuminations Project). A wide consultation with colleagues across Cambridge and at other universities, libraries and museums will build long-term collaborations. The ultimate goal is to create a Cambridge centre for the scientific analysis of works of art. While the analysis will start with Fitzwilliam manuscripts, we hope to secure sufficient funding for staff and equipment in due course so that we may extend the service to other manuscript libraries in Cambridge and to offer advice to institutions beyond. The first phase of the project will focus on the Fitzwilliam's finest Western European manuscripts produced up until the 16th century by the most talented artists, many of whom practiced also as panel/fresco painters, stained glass or tapestry designers, jewellers or print makers. While these manuscripts will inevitably contain the basic pigments shared by artists throughout Europe during the Middle Ages and the Renaissance, they will also offer insights into the working methods and experiments of the great masters. Large monastic scriptoria, royal workshops, and highly accomplished artists would have been the most likely to test new materials and innovative techniques, especially if they practiced in different media, in order to meet or exceed the expectations of their demanding patrons. We hope to identify pigments and binding media, including organics, as well as specific mixtures of pigments used by individual artists to achieve distinct effects of colour and texture. We are also going to employ visible and infrared imaging techniques to visualize underdrawing in different media, e.g. metal point and ink. Starting with the materials and techniques favoured by the most skilled, imaginative and entrepreneurial artists in various periods and regions, we hope that the results of our project may inform future art historical enquiries, larger studies of different cultural, political, social and economic environments of manuscript production, contemporary intellectual and technological developments, trade routes, and the international mobility of artists, scholars, patrons, manuscripts and ideas.
Early Irish Glossaries Database
A resource by Paul Russell, Sharon Arbuthnot, Pádraic Moran, funded by the Arts and Humanities Research Council.
The early Irish glossaries Sanas Cormaic (Cormac's Glossary), O'Mulconry's Glossary and Dúil Dromma Cetta (the Collection of Druim Cett), as well as the shorter texts Loman and Irsan, are important resources for our understanding of the literary and cultural environment of medieval Ireland. These inter-related texts, compiled from the eighth century, comprise several thousand headwords followed by entries that range from single word explanations to extended narratives running to several pages.
Scriptorium: Medieval and Early Modern Manuscripts Online
Scriptorium is a three-year (2006-2009) AHRC-funded Resource Enhancement Project, based in the Faculty of English at the University of Cambridge, and has recently been completed.
We constructed a digital archive of manuscript miscellanies and commonplace books from the period c. 1450-1720 and our website provides unrestricted public access to these images. We have also developed and published a set of online pedagogical and research resources supporting late medieval and early modern manuscript studies.
The collection features manuscripts from a number of college libraries in Cambridge, as well as the Cambridge University Library, the Brotherton Library in Leeds, and other archives, such as that of Holkham Hall in Norfolk.
We have also hosted three conferences: one-day workshops in online manuscript research in July 2007 and 2009, and a larger, two-day conference in manuscript studies in 2008. Proceedings from this conference were published in English Manuscript Studies 16 (2011): click here for more details.