Dr Joseph Hone, Magdalene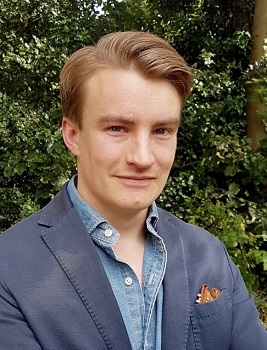 Biographical Information
I am a scholar of early modern and eighteenth-century English literature and history. I received my doctorate from the University of Oxford in 2015, after which I was appointed to a Junior Research Fellowship at Magdalene College, Cambridge. In 2014 I was the Katharine F. Pantzer Jr. Fellow in Descriptive Bibliography at Harvard University, and in 2018 was awarded the James M. Osborn Fellowship in English Literature and History at Yale University. Before coming to Cambridge, I held first a scholarship and then a lectureship at Jesus College, Oxford, where I taught on all aspects of English literature from 1550 to 1830, including a module on Shakespeare. At Magdalene I supervise undergraduate dissertations and teach the paper on 'English Literature and Its Contexts, 1660-1870'.
My research focuses on the intersections of literature and political culture during the seventeenth and eighteenth centuries, although I have parallel interests in intellectual history, book history, and bibliography. My work is methodologically grounded in archival scholarship, which has led to new discoveries about individuals such as Alexander Pope, Isaac Newton, Daniel Defoe, and Henry St John, Viscount Bolingbroke. Yet I am above all interested in situating literary texts within broader patterns of contemporary discourse. Thus my first book, Literature and Party Politics at the Accession of Queen Anne (2017), combines literary and historical modes of analysis to demonstrate the importance of debates about royal succession to our understanding of English literature and politics at the start of the eighteenth century.
I am currently engaged in three projects: (1) a transformative monograph about the early career of Alexander Pope, drawing on previously untapped manuscripts and archival sources, for Oxford University Press; (2) a scholarly edition of Pope's early poems for the first two volumes of The Oxford Edition of the Writings of Alexander Pope; and (3) a crossover book about clandestine printing and the underground book trade that will challenge received ideas about the 'age of enlightenment'.
I have a longstanding interest in public engagement and worked for the University of Exeter as the Impact Manager on the major AHRC-funded Stuart Successions Project, designing and building the website Stuarts Online in conjunction with Historyworks. This online resource is transforming the teaching of seventeenth-century British history and culture in schools. My research on Isaac Newton was featured by the BBC and other media outlets. For media, public engagement, and educational work I can be reached by email or found on Twitter.
Research Interests
Early modern and eighteenth-century literary history; political writing; poetry; religious and political controversy; propaganda; book history and bibliography; manuscript studies; archival scholarship; textual editing; historicism; numismatics.
Areas of Graduate Supervision
Early modern and eighteenth-century literature and politics.
Selected Publications
Monographs
Literature and Party Politics at the Accession of Queen Anne (Oxford: Oxford University Press, 2017).

'Dr Hone's attention to the political and cultural contexts of the year of Queen Anne's accession pays dividends. By offering such a detailed and informed account of literary and cultural events, he succeeds in demonstrating the potential value both to literary critics and historians of what might reasonably be called "thick description".' - J. A. Downie, The Review of English Studies
'Joseph Hone's tightly focused but revealing new book is a subtly revisionist account of literary politics […] It is a measure of Hone's scholarly and critical talents that […] his interpretative procedures always remain grounded, insistently and illuminatingly, in the political and cultural contexts of the period.' - Philip Connell, The Seventeenth Century
'Hone focuses on 1702 in the style of James Shapiro's 1599 and similar micro-historicist works of literary scholarship, but he is unusual in serving up truly equal portions of political and literary analysis. [...] [An] impressive monograph.' - Ophelia Field, Times Literary Supplement
Editions
The Rape of the Lock and Early Poems and Early Translations and Miscellaneous Poems for The Oxford Edition of the Writings of Alexander Pope, gen. eds James McLaverty et al., 24 vols (Oxford: Oxford University Press, under contract), vols I and II. Co-edited with Tom Jones, James McLaverty, and Valerie Rumbold.
Articles
'Bolingbroke and Poetry', The Review of English Studies, forthcoming.
'The Progress of Johnson's Shakespeare: Subscription, Text, and Printing', The Papers of the Bibliographical Society of America, forthcoming. Co-authored with James McLaverty.
'On the Character of a "Great Patriot": A New Essay Ascribed to Bolingbroke', Journal of British Studies, 57 (2018), 445-66. Co-authored with Max Skjönsberg.
'Pope, Bathurst, and the Duchess of Buckingham', Studies in Philology, 115 (2018), 397-416.
'Daniel Defoe and the Whig Tradition in Satire', English Literary History, 84 (2017), 865-90.
'Isaac Newton and the Medals for Queen Anne', Huntington Library Quarterly, 79 (2016), 119-48.
'A New Portrait of Defoe in the Pillory', Notes & Queries, 63 (2016), 70-71.
'Pope's Lost Epic: Alcander, Prince of Rhodes and the Politics of Exile', Philological Quarterly, 94 (2015), 245-66.
'Pope and the Politics of Panegyric', The Review of English Studies, 66 (2015), 106-23.
'Politicising Praise: Panegyric and the Accession of Queen Anne', Journal for Eighteenth-Century Studies, 37 (2014), 147-57.
Chapters in Edited Books
'Satire', in J. A. Downie and Nicholas Seager (eds), The Oxford Handbook of Daniel Defoe (Oxford: Oxford University Press, forthcoming).
'Legal Constraints, Libellous Evasions', in Paddy Bullard (ed.), The Oxford Handbook of Eighteenth-Century Satire (Oxford: Oxford University Press, forthcoming).
'The Last Stuart Coronation', in Paulina Kewes and Andrew McRae (eds), Literature of the Stuart Successions (Oxford: Oxford University Press, forthcoming).