MPhil in English Studies: Eighteenth-Century and Romantic Studies
---
---
Introduction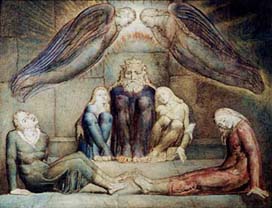 Wm. Blake,
Ugolino and his Sons
in Prison
, Fitzwilliam Museum
This nine-month MPhil course introduces postgraduate students to the field of eighteenth-century and Romantic literature: one of the most transformative, experimental, and richly diverse periods in British cultural history. It offers you the chance to deepen and extend your knowledge through the study of both canonical and non-canonical authors working in any number of different genres and forms. You will be encouraged to adopt a variety of methodological and theoretical perspectives, and to situate literary works within a wide range of historical, intellectual and artistic contexts. In each of the first two terms you will choose from a selection of courses led by members of the English Faculty. At the same time, you will develop an extended research project on a topic of your choice, guided throughout the nine months of the course by a dissertation supervisor. In recent years students have pursued dissertation projects on an extremely broad range of topics, including for example: encyclopedias and museum culture; Alexander Pope and interdisciplinarity; John Clare's rhymes; eighteenth-century Ovids; travel writing and antiquarianism; literary personae and the female writer; Romantic writing and theorists of the Anthropocene; punctuation in eighteenth-century prose; literary tourism; Adam Smith's moral psychology; political rhetoric in the 1790s; Coleridge and vision; conversation and disinterestedness in the Romantic essay.
The unique resources Cambridge offers to those working on the long eighteenth century include, besides the magnificent University Library (one of the few copyright libraries in the country), the Pepys Library at Magdalene College, Trinity College's collection of Milton, Swift and Tennyson manuscripts, Pembroke College's Smart and Gray papers, rare books and manuscripts associated with Wordsworth and Coleridge held at St John's and King's Colleges, and the Fitzwilliam Museum's unrivalled William Blake collection. Trips to some of these places (the Pepys Library and the Fitzwilliam, for example), and to other venues such as Sir John Soane's Museum in London, are often features of the MPhil programme.
Members of the Faculty range very widely in their interests but some particular research strengths include literature's relationship to philosophy and intellectual culture; lyric, and the history, theory and practice of poetic forms; and literature's interactions with material and visual culture. Amongst the members of the Faculty working on these and many other eighteenth-century and Romantic subjects are:
Dr Ruth Abbott, Dr Rebecca Barr, Dr Paul Chirico, Dr Philip Connell, Dr Laura Davies, Prof. Peter de Bolla, Dr Caroline Gonda, Dr Mina Gorji, Dr Sarah Haggarty, Dr Nick Hardy, Dr Joseph Hone, Dr Sarah Houghton-Walker, Dr Ewan Jones, Dr Louise Joy, Dr Stacey McDowell, Dr Amy Morris, Dr Mary Newbould, Dr Fred Parker, Dr Sophie Read, Dr John Regan, Dr Corinna Russell, Dr Christopher Tilmouth, Dr Marcus Tomalin, Dr Anne Toner, Dr Jennifer Wallace, Dr Ross Wilson
The MPhil course runs in tandem with an Eighteenth-Century and Romantic Studies Postgraduate Research Seminar, which meets fortnightly and is open to all Cambridge students and academics working in this field. Recent and forthcoming guest speakers at this seminar include Professors Karen O'Brien (King's College, London), James Chandler (University of Chicago), Christine Gerrard (University of Oxford), and Paul Hamilton (Queen Mary, London). We also maintain our own on-line research group which keeps students up-to-date with forthcoming events and the latest developments in the field. Other relevant research groups within the Faculty include the Centre for Material Texts and the Centre for John Clare Studies
The Course
Taught seminars (offered by individual Faculty members on their areas of special interest) run throughout the Michaelmas and Lent Terms. Students take two of these each term – four in total. These may all be courses offered by this particular MPhil Alternatively, it's possible to substitute (in one or both of the first two terms) a course-option from another MPhil in English (that is, the Renaissance Literature, American Literature, Modern and Contemporary Literature, or Criticism and Culture programmes); or, by arrangement, students can sometimes take a course from an MPhil provided by another Faculty entirely.
Taught seminar courses offered as part of the Eighteenth-Century and Romantic Studies MPhil change from year to year but have recently included:
Dr Ruth Abbott, Georgic and Didactic Poetry
Drs Phil Connell and Mina Gorji, Literature and Popular Culture
Dr Sarah Haggarty, Moving Things: Romantic-period Material Cultures
Dr Fred Parker, Writing the Self
Drs Fred Parker and Corinna Russell, Greece and Rome
Dr Natasha Simonova , Authors and Readers in the 18th Century
Dr Christopher Tilmouth, Passion and Sentiment in Enlightenment Thought and Literature
Dr Corinna Russell, The Romantic Songbook
Dr Louise Joy, Education and Freedom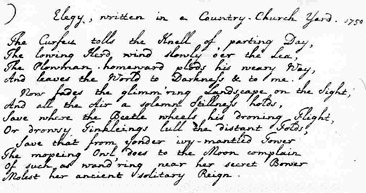 Gray's Elegy, Pembroke College
In addition to our taught courses, a separate set of classes and workshops provides MPhil students with an introduction to research skills, electronic resources, and critical approaches. Our students can also attend other lectures and seminars within the English Faculty and in related Faculties such as History, Classics, Modern Languages, History of Art, Philosophy, and History and Philosophy of Science.
Collectively, the taught seminars offer both a common core of period-based study and the opportunity for individuals to choose from a varied and interdisciplinary menu. Within the framework of the courses, students are able both to develop their own interests and to focus their whole scheme of work either more sharply or more adventurously, as they please. The MPhil programme as a whole also fosters a strong sense of community and collaborative exchange. This is particularly evident in the postgraduate conferences put on in the final term of the course under the auspices of the English Faculty, but organised and run by postgraduates for postgraduates. This combination of individual flexibility and intellectual community is one of the great strengths of the MPhil
For comments on the course by previous students, and further information on the postgraduate seminar and conference, please visit the Cambridge Research Group for Eighteenth-Century and Romantic Studies.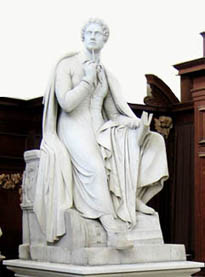 Byron, Trinity College
Examined Work
Two coursework essays, each of not more than 5,000 words. One of the essays to be written for one of the chosen Michaelmas Term courses, the other essay written for one of the chosen Lent term courses. The first essay contributes 20% and the second essay 30% to the overall degree mark. In Easter term the teaching will be centred around supervisions for the dissertation.
A dissertation of 12,000 to 15,000 words on a research topic of your choice, contributing 50% to the overall mark. Students work on the dissertation throughout the nine months of the course, in consultation with their personal supervisor. At the end of the Michaelmas Term, students are required to submit an essay of 2,200 to 2,500 words on a topic directly related to the dissertation, which they have devised in consultation with their supervisor. This essay is a formative exercise and does not contribute to the overall mark. The dissertation provides the main focus of each student's work between April and June. It serves as the culmination of the year's intellectual journey and offers you the chance to investigate a subject that particularly appeals to you.
Entry Requirements and Admissions Procedures
You may find it helpful to find out about funding for home students or funding for overseas students before you apply.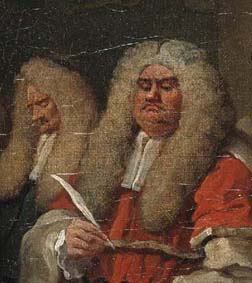 William Hogarth, detail of
The Bench
,
Fitzwilliam Museum
You may find it helpful to find out about funding for home students or funding for overseas students before you apply. All postgraduate students in Cambridge are members of a College as well as of a Faculty of the University, and those applying through the Postgraduate Admission website for a place on the course will find themselves invited to list a number of Colleges in order of preference. It is a good idea to consult the prospectuses of a number of Colleges before you apply.
All applications must be made using the online Applicant Portal on the Postgraduate Admissions Office website. It is important that you read through the information available on this website before submitting your application. If you are seeking funding for your course, there are specific deadlines and eligibility criteria for each funding competition. Please check the funding webpages for details of eligibility and the Application and Funding Deadlines section of the Postgraduate Admissions Office website for application deadlines.
Please note that after submitting your online application form, there may be a delay of up to 48 hours before you are able to access your self-service account and submit supporting documentation.
Applications are first considered by the Faculty. Potential supervisors are then consulted. Successful applications are then offered to the Colleges of the student's choice, and may be then passed on to the second or third choice.
*The final deadline for applications for entry in October 2021 is 7 January, 2021.*
Most of our postgraduate students have a first-class undergraduate degree or international equivalent. The Faculty is willing in principle to accept candidates with strong 2.1s, or mature students who have not pursued an orthodox pattern of higher education, provided that such applicants have strong backing from their referees, have a feasible topic, and are well qualified for their proposed course of research. We recognise both that things sometimes do not go candidates' way in examinations and that a sparkling examination style is not always the best qualification for postgraduate work. Applicants should note, however, that the vast majority of those accepted onto the MPhil do have a first class BA degree or its overseas equivalent, and the vast majority of students accepted for the PhD have similarly strong MA marks. Applicants whose first degrees are in other disciplines are always considered, provided they can give an account of how their interest in literary study has developed. We welcome qualified UK, EU, and overseas applicants (those for whom English is not a first language will be required by the Postgraduate Admissions Office to provide evidence of linguistic proficiency).
Applicants should include specific proposals for advanced study or research (of around 500 words). A piece of written work, of 5,000 - 7,000 words, should accompany a formal application. Applicants may submit any work they like, but it is worth choosing work which is recent and which relates to your proposed area of study, if this is available. Many applicants submit their undergraduate dissertation or similar extended piece of work. You can submit one long piece or several shorter essays if you wish. In reaching decisions about applications the Degree Committee takes particular account of:
The applicant's academic record and references

Their suitability for the proposed course (including knowledge of foreign languages)

The applicant's research proposal, which should suggest a realistic program of work for a 15,000 word dissertation.

Whether a suitable supervisor can be found for the proposed research

The written work which a candidate submits in support of their application
---
Enquiries regarding the course content should be addressed to the course convenor - Dr Rebecca Barr
All other queries should be directed to Anna Fox (postgraduate secretary).