The MPhil in American Literature
---
---
Course Overview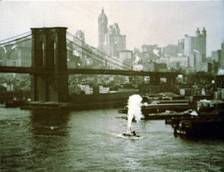 Alvin Langdon Coburn,
Brooklyn Bridge
c. 1912
The MPhil in American Literature is a nine month course running from October to June, which provides an intensive foundation in the postgraduate study of American Literature, and the opportunity to combine this with options from other MPhil courses in the English Faculty. The course therefore offers flexible provision for students wishing to specialise in American Literature, and those who want to explore transatlantic and transnational topics. The emphasis throughout is on detailed attention to literary texts in their historical and intellectual contexts. The MPhil equips students with advanced research skills and fosters individual choice in research focus, methodology, and critical approach.
Teaching consists of compulsory Foundation and Research Methods courses, followed by optional seminar courses. Throughout the three terms, MPhil students pursue individual dissertation projects under the guidance of a supervisor with whom they arrange a programme of one-to-one supervisions. The course is assessed by essays in each of the first two terms, and the dissertation submitted at the end of the third term. MPhil students are required to attend postgraduate research seminars and are free to attend undergraduate lectures in the English Faculty, and elsewhere in the University.
Postgraduate research in Cambridge is greatly facilitated by the holdings of the University Library, one of only five copyright libraries in the United Kingdom, which is supplemented by the English Faculty Library as well as libraries within individual colleges.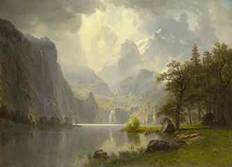 Albert Bierstadt
In the Mountains
(1867)
Faculty members whose research and teaching interests include American Literature are listed below.  Their interests range widely in American literature from the seventeenth to the twenty-first centuries, and include early American writing, especially puritan poetry, diaries and autobiography, natural history, and transatlantic polemic; nineteenth-century literature and culture including popular theatre, especially melodrama, African American writing, the novel, Transcendentalism; twentieth-century writing especially modernist and experimental poetry, the Harlem Renaissance, magazine and periodical cultures; contemporary writing including  postwar fiction, sports writing, and the short story. We welcome dissertation proposals on any topic in American Literature, including transatlantic and comparative projects.
While some students take the MPhil as a free-standing Master's qualification, many go on to PhD research in Cambridge and elsewhere. Under normal circumstances, students will not be permitted to register for PhD research in American or Anglo-American subjects unless they have completed the MPhil in American Literature (or a similar postgraduate course) at an appropriate standard.
The Course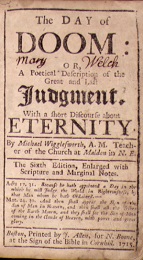 Michael Wigglesworth
The Day of Doom
(1662)
Seminar courses run in the first two terms, Michaelmas and Lent. The Michaelmas term's Foundation and Research Methods courses are compulsory; in the Lent term students choose two from a range of optional courses.
Michaelmas Term: Foundation Course in American Literature
The Foundation course is intensively team-taught in two ninety-minute seminars per week over 6 weeks. The two seminars in any particular week are closely connected, so that conversations develop from one meeting to the next. From week to week through the term the sequence of seminars is chronological, while also encouraging comparative engagement between periods. The course as a whole is balanced in terms of canonical and less canonical texts, and as far as genre and critical approach are concerned. The following outline for 2016-17 is illustrative: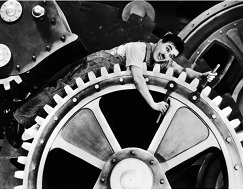 Charlie Chaplin
Modern Times
(1936)
Week 1: American Puritans, Lyric and narrative
Week 2: 'The Americas': Race, Slavery, Genre
Week 3: Henry James, New York, Photography
Week 4: Modernism, Home and Homelessness
Week 5: World War II Writing
Week 6: American (or World?) Fiction in the 21st Century
Full course details and reading lists are provided to successful applicants on admission.
Lent Term pooled options
MPhil students choose two optional courses, each consisting of six ninety-minute seminars, from the pool shared with the Modern and Contemporary, Criticism and Culture, and 18th Century and Romantic Studies M.Phils. In 2020-21 the American MPhil will offer the following two courses to this pool, for which its students have priority: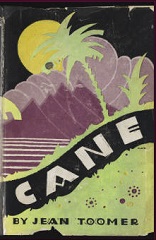 Jean Toomer
Cane (1923)
Dr Amy Morris
America and the Art of Assemblage

Dr Kasia Boddy
Contemporary American Fiction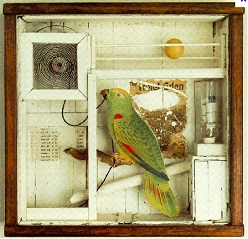 Joseph Cornell
Untitled (1945)
Research Methods
A fortnightly ninety-minute class attending to such matters as scholarly method, electronic resources, editing and editions, and academic conferences. This compulsory course is not formally assessed.
Throughout the Year
MPhil Students work on the dissertation topics proposed in their applications with a supervisor appointed on admission. A programme of one-to-one supervisions is arranged between the student and supervisor.
In addition to taught seminars and dissertation supervisions, MPhil students are expected to attend at least ten sessions from a wide range of postgraduate literary research seminars that feature papers from postgraduates, Faculty staff and invited speakers. Among these, the American Literature Research Seminar meets fortnightly in the Michaelmas and Lent terms, and organises a one-day symposium for postgraduate students in the Easter term.
Examined Work
Two coursework essays, each of not more than 5,000 words. One of the essays to be written for the Michaelmas Term Foundation Course, the other essay written for one of the chosen Lent term courses. The first essay contributes 20% and the second essay 30% to the overall degree mark. In Easter term the teaching will be centred around supervisions for the dissertation.


A dissertation of 12,000 to 15,000 words on the research topic of your choice (which must fall within the scope of American and related literatures), contributing 50% to the overall mark. Students work on the dissertation throughout the nine months of the course, in consultation with their personal supervisor. At the end of the Michaelmas Term, students are required to submit an essay of 2,200 to 2,500 words on a topic directly related to the dissertation, which they have devised in consultation with their supervisor. This essay is a formative exercise and does not contribute to the overall mark.
Faculty
Faculty members whose teaching or research interests include American topics: Dr Edward Allen, Dr Kasia Boddy, Prof Steve Connor, Dr Tamara Follini, Dr Michele Gemelos, Dr Fiona Green, Dr Alex Houen, Dr Michael Hrebeniak, Dr Robert Macfarlane, Dr Sarah Meer, Dr Rod Mengham, Dr Drew Milne, Dr Amy Morris, Dr James Riley, Dr Anne Stillman, Dr Trudi Tate
Further information is available on this server about these and other members of the Faculty.
Entry requirements and application procedure
You may find it helpful to find out about funding for home students or funding for overseas students before you apply. All postgraduate students in Cambridge are members of a College as well as of a Faculty of the University, and those applying through the Postgraduate Admission website for a place on the course will find themselves invited to list a number of Colleges in order of preference. It is a good idea to consult the prospectuses of a number of Colleges before you apply.
All applications must be made using the online Applicant Portal on the Postgraduate Admissions Office website. It is important that you read through the information available on this website before submitting your application. If you are seeking funding for your course, there are specific deadlines and eligibility criteria for each funding competition. Please check the funding webpages for details of eligibility and the Application and Funding Deadlines section of the Postgraduate Admissions Office website for application deadlines.
Please note that after submitting your online application form, there may be a delay of up to 48 hours before you are able to access your self-service account and submit supporting documentation.
Applications are first considered by the Faculty. Potential supervisors are then consulted. Successful applications are then offered to the Colleges of the student's choice, and may be then passed on to the second or third choice.
*The final deadline for applications for entry in October 2021 is 7 January, 2021.*
Most of our postgraduate students have a first-class undergraduate degree or international equivalent. The Faculty is willing in principle to accept candidates with strong 2.1s, or mature students who have not pursued an orthodox pattern of higher education, provided that such applicants have strong backing from their referees, have a feasible topic, and are well qualified for their proposed course of research. We recognise both that things sometimes do not go candidates' way in examinations and that a sparkling examination style is not always the best qualification for postgraduate work. Applicants should note, however, that the vast majority of those accepted onto the MPhil do have a first class BA degree or its overseas equivalent, and the vast majority of students accepted for the PhD have similarly strong MA marks. Applicants whose first degrees are in other disciplines are always considered, provided they can give an account of how their interest in literary study has developed. We welcome qualified UK, EU, and overseas applicants (those for whom English is not a first language will be required by the Postgraduate Admissions office to provide evidence of linguistic proficiency).
Applicants should include specific proposals for advanced study or research (of around 500 words). A piece of written work, of 5,000 - 7,000 words, should accompany a formal application. Applicants may submit any work they like, but it is worth choosing work which is recent and which relates to your proposed area of study, if this is available. Many applicants submit their undergraduate dissertation or similar extended piece of work.You can submit one long piece or several shorter essays if you wish. In reaching decisions about applications the Degree Committee takes particular account of:
The applicant's academic record and references

Their suitability for the proposed course (including knowledge of foreign languages)

The applicant's research proposal, which should suggest a realistic program of work for a 15,000 word dissertation.

Whether a suitable supervisor can be found for the proposed research

The written work which a candidate submits in support of their application
---
Enquiries regarding the course content should be addressed to the course convenor Dr Amy Morris
All other queries should be directed to Anna Fox (postgraduate secretary).