Dr Frances Lock, Faculty of English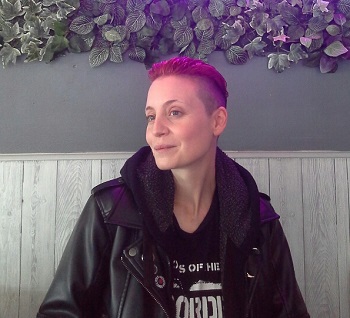 Biographical Information
I am a poet, activist, essayist, and editor, currently the Judith E. Wilson Poetry Fellow for 2022-23. The author of numerous chapbooks and ten poetry collections, my most recent chapbook is Forever Alive (Dare-Gale Press, 2022); my most recent collections are Hyena! Jackal! Dog! (Pamenar Press, 2021) and White/ Other (87 Press, 2022). I am an Associate Editor at the socialist arts cooperative Culture Matters where I most recently edited The Cry of the Poor: An anthology of radical writing about poverty (2021). I edit the Soul Food column for Communist Review, and I'm a member of the new Editorial Advisory Board for the Journal of British and Irish Innovative Poetry, working to put together a special issue on contemporary working-class poetics. I assisted Hari Rajaledchumy on Leaving, an English translation of poems by the Sri Lankan Tamil poet Anar (Poetry Translation Centre, 2021).
Over the last four years my writing has been increasingly concerned with developing a feral poetics, writing and writing through the abject animal other to interrogate the fraught intersection of dirty animality, femininity, grief, class, and culture. My poetic practice has been particularly focussed on therianthropy – the magical transformation of people into animals – as a figure for the embodied effects of sudden and traumatic loss.
Research Interests
Both my critical and creative practice centre around the articulation and performativity of trauma within contemporary poetics.
My most recent critical writing/ thinking explores innovation and formal experiment within the poetry of working-class women. I try to think about the ways in which the material conditions and pressured social contexts of our lives exert a peculiar power over the structures, syntaxes, and aesthetics of our poetry. I am interested in how such innovation might be used to reinvent poetic method, and to renegotiate the terms of social as well as textual encounter.
My current work explores the imaginative yoking of abject animality and otherness through the lens of the medieval bestiary. My poetry considers bestiary texts as poems of irrational anxiety that create moral allegories by animalising non-normative or racialised subjects, and classifying their bodies as perverse, amorphous, or sinful. Two pivotal figures are that of the hyena and the wolf. By writing about and through these figures, I am striving to define and articulate a queer "feral" poetics. These poems will form the basis of a book, provisionally titled The Dire Hyena's Knot.


Selected Publications
Poetry collections as author:

Flatrock (Little Episodes, 2011)
The Mystic and the Pig Thief (Salt, 2014)
Laudanum Chapbook Anthology: Volume Two, 'Pikey' (Laudanum, 2017)
Muses and Bruises (Culture Matters, 2017)
Dogtooth (Out Spoken Press, 2017)
Ruses and Fuses (Culture Matters, 2018)
Co-Incidental 1 (Black Light Engine Room Press, 2018)
Triptych (Poetry Bus Press, 2019)
Raptures and Captures (Culture Matters, 2019)
Contains Mild Peril (Out Spoken Press, 2019)
Hyena! Jackal! Dog! (Pamenar Press, 2021)
Forever Alive (Dare-Gale Press, 2022)
White/ Other (87 Press, 2022)
As Editor:

With Jane Burn, Witches, Warriors, Workers: An anthology of contemporary working women's poetry (Culture Matters, 2020)
The Cry of the Poor An anthology of radical writing about poverty (Culture Matters, 2021)

As Translator:

Assisting Hari Rajaledchumy, Leaving by Anar (Poetry Translation Centre, 2021)

Forthcoming poetry collections:

Hyena! Hyena! (Poetry Bus Press, 2022)
"A Disgusting Lie" (Pamenar Press, 2023)

Forthcoming creative non-fiction:

Wulver (Out-Spoken Press, 2023)