Dr Harry McCarthy, Jesus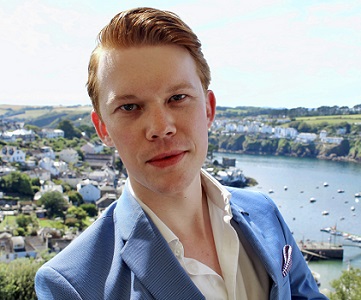 Biographical Information
I grew up just outside Oxford, where I attended local comprehensive schools before starting a BA in English and French at the University of Exeter in 2011. I left Exeter in 2015 to pursue an M.St. in English (1550-1700) at the University of Oxford, and returned in 2016 after being awarded a South, West, and Wales DTP PhD scholarship which allowed me to continue to pursue my interests in the training, rehearsal, performance, and afterlives of early modern boy actors. My thesis, "Boy Actors on the Early Modern English Stage: Performance, Physicality, and the Work of Play," won the Shakespeare Association of America's J. Leeds Barroll Dissertation Prize in 2021.
I was the Performance Reviews Editor for Shakespeare Bulletin until 2017​, and also worked as Editorial Assistant for the journal. In 2021, I was appointed to the Advisory Board of Shakespeare Survey. I also serve as the Membership Secretary for the Malone Society.
I am committed to anti-racist pedagogy and advancing racial justice in the field of early modern studies and beyond. You can read my thoughts on the issue here.
My pronouns are he/him/his. I tweet at @HarryMcCarthy.
Research Interests
My research centres on early modern theatre and questions concerning the body in performance. My latest monograph, Boy Actors in Early Modern England: Skill and Stagecraft in the Theatre, examines what it meant, and took, to perform as a boy actor on early modern English stages.
I have a particular interest in non-Shakespearean early modern drama, specialising in underperformed plays by neglected writers, and I am currently preparing a census of Shakespeare's contemporaries in twenty-first-century performance, which will serve as an online companion to my forthcoming chapter in The Arden Handbook of Shakespeare and Early Modern Drama. A keen theatregoer, I seek wherever possible to engage with contemporary theatre practice in my work. To date, this has involved a longstanding collaboration with the all-boy acting company, Edward's Boys, whose performances of early modern drama are the subject of my new Element (Cambridge UP, 2020). My work frequently connects historical and present-day performances through practice-based research methodologies, and in 2018 I staged a 'Research in Action' workshop on staging sport in the indoor theatre at the Sam Wanamaker Playhouse (Shakespeare's Globe). I also like to support productions of early modern drama whenever I can, usually in the form of pre-show talks (most recently for Rob Myles's The Show Must Go Online Initiative).
Revisiting my earlier work on literary and theatrical constructions of early modern childhood and youth has also got me thinking about how the framework of premodern critical race studies might be applied to children in this period, and I am now in the early stages of developing a project tentatively titled Early Modern Racial Childhoods, which will interrogate how early modern children were subject to structures of racial formation and how depictions of childhood were informed by notions of whiteness.
Selected Publications
Books
Articles
McCarthy, H. R. (2021) "'M[aster] Monkesters schollars': Richard Mulcaster, Physical Education, and the Early Modern Boy Companies." Early Theatre, vol. 24.2, pp. 31-54.
McCarthy, H. R., and P. Mills (2021) "Going to School with(out) Shakespeare: Conversations with Edward's Boys." Shakespeare Survey, vol. 74, pp. 238-52.
McCarthy, H. R. (2021) "Leave to Speak: White Scholars, 'Allyship,' and Shakespeare Studies." Shakespeare, vol. 17, no. 1, pp. 134-42.
McCarthy, H. R. (2020) "The Circulation of Youthful Energy on the Early Modern London Stage: Migration, Intertheatricality, and 'Growing to Common Players.'" Shakespeare Survey, vol. 73, pp. 43-62.
McCarthy, H. R. (2018) "Men in the Making: Youth, the Repertory, and the 'Children' of the Queen's Revels, 1609-13." English Literary History, vol. 85, no. 3, pp. 599-629.
Book Chapters
McCarthy, H. R. (forthcoming 2022) "Fletcher and Field," in José A. Pérez Díez and Martin Wiggins (eds), The Oxford Handbook of John Fletcher. Oxford: Oxford University Press.
McCarthy, H. R. (forthcoming 2022) "Performing Shakespeare's Contemporaries," in Michelle M. Dowd and Tom Rutter (eds), The Arden Handbook of Shakespeare and Early Modern Drama: Perspectives on Culture, Performance, and Identity. London: Bloomsbury.
Reviews
Public Writings & Links
I am very happy to provide PDFs of the above to researchers and students unable to access them--please feel free to email me.