Dr Kristin Grogan, St Catharine's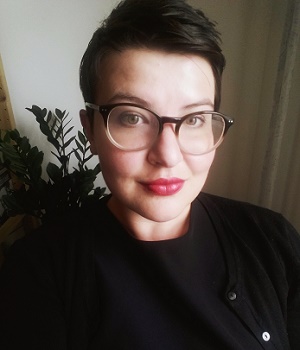 Biographical Information
I am a Junior Research Fellow in English at St. Catharine's College. In 2018 I completed my DPhil at the University of Oxford, where I was funded by the Clarendon Fund, Exeter and Hertford Colleges, and the Rothermere American Institute. Before coming to the UK I took my BA and MA at the University of New South Wales in Sydney, Australia.
During my DPhil, I taught on courses about avant-garde film and literature, modernism, prosody and form, nineteenth-century poetry, and others. I've supervised dissertations on Emily Dickinson, the New York School, and contemporary British poetry. I also taught each summer on the UNIQ outreach summer school and gave sample academic lectures and classes to school students from Devon and Somerset.
Research Interests
My research focuses on American literature, in particular poetry, in relation to political and economic history. My current project looks at how American poets from the mid-ninteenth century to the present - especially queer, feminist, and marginalised writers - engage with anarchist politics in order to sharpen their thinking about what poetry can do, and what it might look like. This project will involve a great deal of archival research in the States, and the authors under study will range from the familiar (Whitman) to the less and unfamiliar (Voltairine de Cleyre, Lola Ridge, and plenty of anonymous poets published in anarchist magazines).
I am currently working on my first monograph based on my DPhil thesis, on American modernism and the poetics of labour. This project asks how modernist poets - Pound, Stein, Langston Hughes, and the Objectivist poets - thought about the labour of the artist in relation to contemporary working conditions, labour politics, and theories of work. That project is both historical, grounded in the history of work in the twentieth century, and conceptual, seeking to ask larger questions about how poetry is made, how writers think about their writing, as well as about the social and political uses of the term 'work' itself.
Most broadly, I'm interested in poetry and poetics, American literature from the nineteenth century to the present, modernism, literary form and style, Marxism, feminism and women's writing, as well as queer studies and LGBTQ writing. In less formal contexts I have written about contemporary poetry, film, and TV.
Selected Publications
Articles:
"Langston Hughes's Constructivist Poetics." American Literature. Vol. 90, no. 3 (September 2018): 585-612.
"Langston Hughes and the Exemplary Blues Poem." Critical Quarterly, Special Issue on Historical Poetics, eds. Sean Pryor and Ben Etherington. Forthcoming: 2019.
"Niedecker's Gift: The Poetics of Work in 'For Paul and Other Poems.'" Lit: Literature, Interpretation, Theory. Vol. 28, no. 3 (August 2017): 255-274.
"Money on My Mind: Gertrude Stein's Meditations." Dibur. Vol. 5: Special Issue on Poetic Currency, ed. Adriana X. Jacobs (Spring 2018): 7-19.
"Three Ways of Looking at a Canto: Navigating Canto 108." Glossator: Practice and Theory of the Commentary. Vol. 10: Astern in the Dinghy: Special Issue on Ezra Pound's Thrones, ed. Alexander Howard, (2018): 329-354.


Book Chapters
"The Grundrisse and its Literary Antecedents." Understanding Marx, Understanding Modernism, ed. Mark Steven, London: Bloomsbury, forthcoming 2020.
"Stein's Immaterial Labors." Modernist Work: Modernity, Labor, and the Work of Art, eds. John Attridge and Helen Rydstrand, London: Bloomsbury, forthcoming 2019.
"Pound's Lynxes: On Canto 79." Readings in The Cantos, ed. Richard Parker, Clemson, SC: Clemson University Press, forthcoming 2019.
"Ezra Pound and the Anarchist Economics of Silvio Gesell." A Companion to Ezra Pound's Economics, eds. Roxana Preda and Ralf Lüfter, Bautz, 2018.
"Listening to the Late Cantos." Sounding Modernism: Rhythm, Acoustics, and Sonic Mediation in Literature and Film. Eds. Helen Groth, Penelope Hone, and Julian Murphet, Edinburgh: Edinburgh University Press, 2017.