Dr Michael Hrebeniak, Magdalene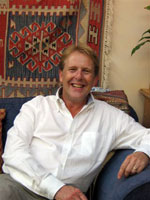 Research Interests
Twentieth-century literature (British and American), visual culture, interdisciplinarity, performance and cultural environmentalism - in particular, critical spatial practice and the cultures of assembly. Recent publications include chapters in edited collections on the subjects of cinematic space, psychogeographic photography, manuscript culture, jazz writing, and the protest formations of 1968. His concern with interdisciplinarity informed his first monograph, Action Writing: Jack Kerouac's Wild Form, which located Beat Generation writing within the New York/San Francisco/Black Mountain milieu of painting, music and radical politics. He is currently finishing a book for Bloomsbury and a film installation on the subject of the medieval Stourbridge Fair for the Whitechapel Gallery in relation to cultural memory, habitat and the carnivalesque. He is also co-heading the bid to bring the BBC Arena archive to Cambridge in collaboration with CRASSH and the University Library.
Areas of Graduate Supervision
Contributes to the supervision of postgraduate students in modernist and postmodernist literature, screen media and interdisciplinary topics. He has recently supervised PhD theses on Finnegans Wake and nonsense verse, the use of free jazz in 1960's black poetry, modernism and recording technology, contemporary US women's poetry, modernist representations of Arabia, and the poetics of the Black Arts Movement.