Dr Michael Hrebeniak, Wolfson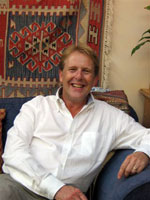 Research Interests
Visual culture, interdisciplinary performance, cultural environmentalism, twentieth-century American literature (especially that associated with New York, San Francisco and Black Mountain College), jazz, etc. He is the author of Action Writing: Jack Kerouac's Wild Form (Southern Illinois UP, 2006, 2008). Current research concerns the imaginary of place with regard to representations of spatial practices, the body and cultural memory, the first incarnations of which will be a film installation (2014) and monograph (2015) focusing on Stourbridge Fair and other vanished sites (Olson's Gloucester, Matta Clark's split buildings, etc). Other works in progress include a chapter on British Perfomance Poetry, 1960-80 for a Cambridge University Press Literature in Transition volume, and another on cinematic urban geographies for Palgrave MacMillan's new Screening Cities series.
He is co-organiser of the Performance: Art-Critique-Experiment initiative run by Cambridge and Central Saint Martins College of Arts and Design.
Areas of Graduate Supervision
Contributes to the supervision of PhD & MPhil students in modernist and postmodernist literature, and interdisciplinary topics.