Dr Nathaniel Zetter, Pembroke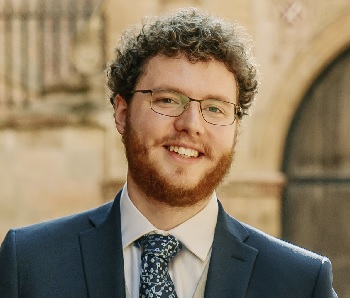 Biographical Information
I'm a College Teaching Associate at Selwyn, where I supervise broadly on modern poetry and prose, visual culture, and literary theory. Before joining Selwyn, I was educated at King's College London, and completed my Ph.D. here at Cambridge with a studentship from Peterhouse, on the imaginative connections between war and sport since the late nineteenth century. That project is now the basis for my first monograph, prospectively titled War/Sport: A Modern History.
My research more widely concerns the contingencies between culture and technology under modernity. I am particularly interested in the novel's response to new media forms, the dialogue between literary theory and other disciplines, and the cultural politics of computation.
I teach Practical Criticism and Critical Practice at each level; at Part I, I also teach Paper 7B (1870 – Present), and at Part II, papers 11 (Prose Forms), 12 (Contemporary Writing), 13 (American Literature), 16 (History and Theory of Literary Criticism), and 18 (Visual Culture). I am happy to supervise dissertations in any areas of my teaching or research, but I am particularly keen to receive requests for projects on literary theory and on digital media.
Selected Publications
'Sport Plus the Shooting: Military Vision and the Logic of War in Esports', in Sport and the Pursuit of War and Peace from the Nineteenth Century to the Present: War Minus the Shooting?, edited by Martin Hurcombe and Philip Dine (Routledge, 2023).
James Gabrillo and Nathaniel Zetter, eds., Articulating Media: Genealogy, Interface, Situation (Open Humanities Press, 2023).
'Cybernetic Melancholia: Chris Ware's Building Stories and Cultural Informatics', Textual Practice, 34.3 (2020), 437–460.
'In the Drone-Space: Surveillance, Spatial Processing, and the Videogame as Architectural Problem', in Surveillance, Architecture and Control: Discourses on Spatial Culture, edited by Susan Flynn and Antonia MacKay (Palgrave Macmillan, 2019), pp. 233–254.
'Inscription and "Anscription": Surface and System in Cybernetics, Deconstruction, and Don DeLillo', Humanities, 8.1 (2019), 1–14.
'Perception and Periodization: Video Game Perspective as Symbolic Form', Studies in Control Societies, 1.1 (2016).