Spenser in Dublin
Sponsored by the International Spenser Society, the Dublin conference was organized by Jane Grogan, Thomas Herron, and Andrew King, supported by University College Dublin, Marsh's Library, and Bord Fáilte, the Irish tourist board (with technical support from East Carolina University), and hosted for three days (June 18-20) in Dublin Castle.
Rhetorical and Topographical "Place"
The papers we present here come from different panels at the conference, but they make interesting reading side by side. Maria Devlin uses the rhetorical sense of "place" to explore the definition of freedom appropriate to Spenser's characters, while Dorothy Stephens considers the political implications of topological paradoxes in Spenser and Marvell. 
Close Reading
Among the panels at the conference, this one considered the propriety of close reading as a way of interpreting The Faerie Queene. Panel chair Patrick Cheney introduces papers by Judith Anderson, Roland Greene,[1] and David Lee Miller by reflecting on the occasion and the issues it raises; Anderson and Miller add their post-panel reflections.
An After-dinner Toast
The evening of Friday, June 19 featured a conference dinner served in the banqueting hall of the Smock Alley Theater. At the request of several auditors who found themselves defeated by the acoustics in the hall, we present Roger Kuin's amiable after-dinner toast in its witty entirety.
Heavenly Music
Saturday evening featured a concert of early music in St. Audoen's Church by the a capella group Peregryne. We include the program along with a link to one of the selections, "Faire is the Heaven," in which the modern composer William H. Harris arranges lines from An Hymne of Heavenly Beautie to a gorgeous choral treatment.
Pilgrimage
The next day, more than a hundred conference-goers piled onto a pair of tour buses for a day-trip to Youghal and Kilcolman. Not pictured, Jane Grogan and Rhonda Sanford. (Note: clicking on the image below will bring up a much larger [5472x3648] version of the file.)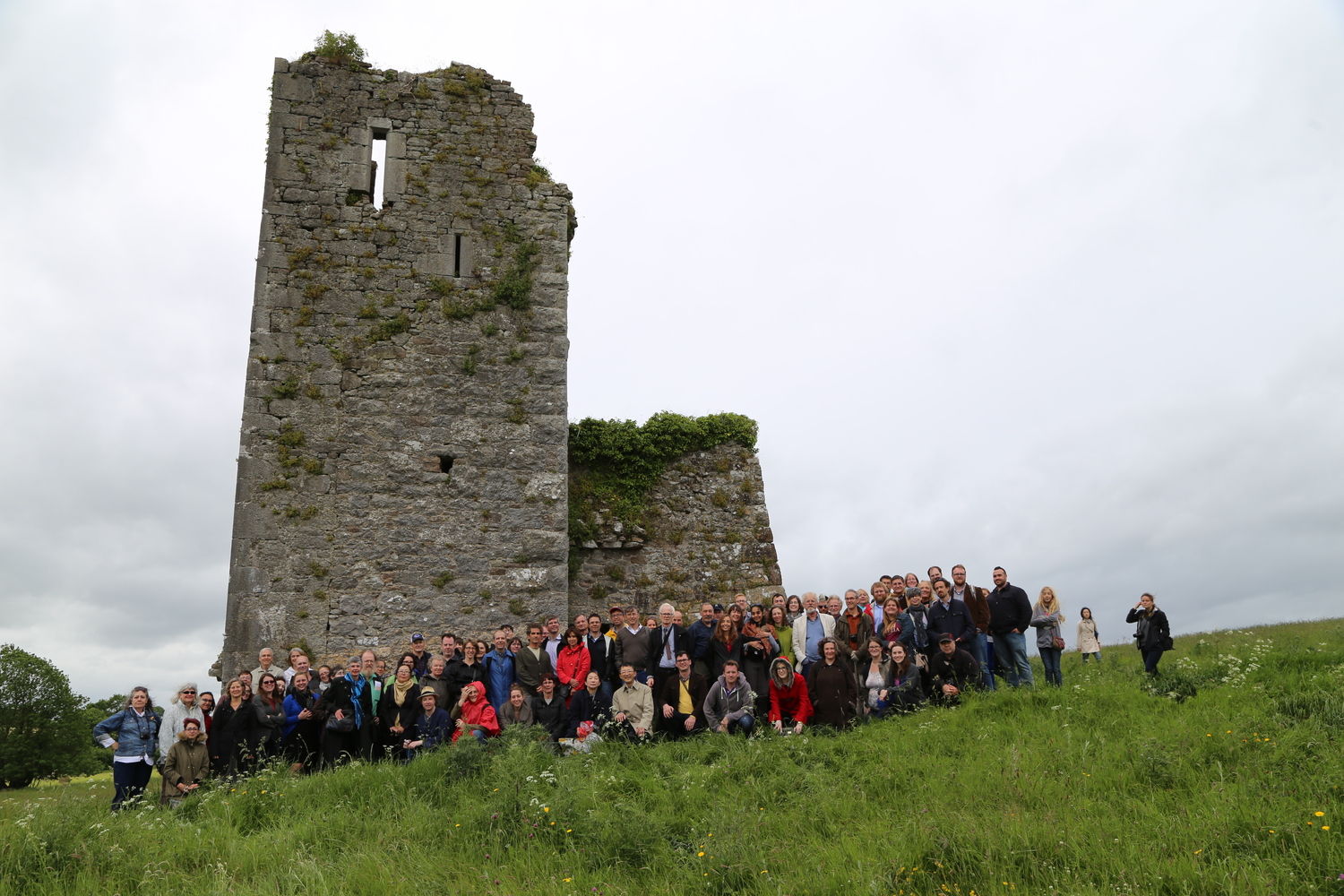 Photograph by Jane Grogan
[1]The text of Professor Greene's paper is not available at this time.
Cite as:
"Spenser in Dublin," Spenser Review 45.2.23 (Fall 2015).