A New Edition of Knevet's Supplement
Andrew Hadfield reviews the latest offering from The Manchester Spenser, an edition of Ralph Knevet's A Supplement of the Faerie Queene prepared by Christopher Burlinson and Andrew Zurcher.
Imagining Circles
Willy Maley reviews a new collection from Cambridge on The Shakespeare Circle:
"The fore-title and subtitle suggest something new and different, but the kind of 'circle' on offer here is not what many readers would understand from other Early Modern explorations of literary circles, and is 'alternative' in ways one would not expect…"
Forum: Our Readers Respond
Welcome to the SpR Forum! Respond to reviews, offer suggestions for the web site, post CFPs, announce forthcoming publications … we'd love to hear from you.
Register here to contribute to the ISS or to comment on this issue.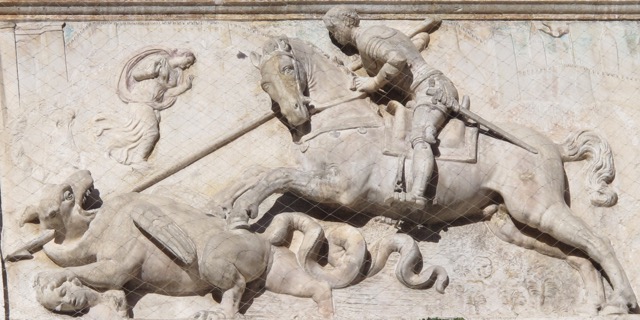 Bas relief from the exterior of the Scuola San Giorgio degli Schiavoni in Venice. Photo courtesy of Roger Kuin.