Ralegh at 400
October 29 2018 marks the 400th anniversary of the execution of a somewhat unlikely 'traitor', a man who will always remain of interest to Spenserians, one Walter Ralegh. But, then, perhaps, we should remember that so many traitors might seem 'unlikely' as they were figures close to the crown who fell out of favour as spectacularly as their fortunes had risen (think of Anne Boleyn, Henry Howard, earl of Surrey, Dr. Lopez). Even so Ralegh's case continues to generate particular interest and we are grateful to Willy Maley for the suggestion that this issue of The Spenser Review might turns its attentions towards him. Accordingly, we solicited a range of responses to Ralegh's life and legacy from academics in various fields. The results were both interesting and surprising, as well as pleasingly wide-ranging: the pieces that follow track the fertile 'lie[s]', outrageous postures and affective dynamics ...
Read more »
Home truths about Ralegh and Spenser: Sir Thomas Norris and the rebuilding of Mallow Castle
Revisiting the issue of New English architecture, archaeologist Tadhg O'Keeffe urges us to reconsider Spenser's situation in Kilcolman: isolated, vulnerable, and inhabiting a medieval castle whose very contours bespoke an alien architectural vocabulary and an entirely different set of social affordances. O'Keeffe builds on his important work challenging the identification of Myrtle Grove as Ralegh's house in Youghal, but that town remains key to the plantation context for Spenser as well as Ralegh, and it is most likely that if the two colonists had any sustained contact, it was there. Bringing Kilcolman into dialogue with a possible set of plantation architectural models realised in whole or in part by Thomas Norris at Mallow and Walter Ralegh at Sherborne, and perhaps even discussed and exchanged at Youghal, this essay manages to generate a fresh perspective on Spenser in Ireland, and (of more interest in recent years, thanks ...
Read more »
Visual Readers: The Shepheardes Calender Through the Eyes of its Compositors
In this scrupulous survey of the mise-en-page of the four quarto reprints of The Shepheardes Calender printed during Spenser's lifetime, Elisabeth Chaghafi provides us with a view of an early 'non-reader readership' of the Calender, as she terms it. Looking beyond the notorious woodcuts, Chaghafi redirects our attention to the layout of the pages, printers' ornaments, decisions about font size and type, relations between verse and glosses, and much more, to explore a very particular set of interpretations of the Calender as a visual as well as verbal text. The essay shows how criticism that is alive to the mechanics of printing and bibliographical history as well as the literary text can yield especially fruitful results. Read more…
Review Essay
Richard Danson Brown employs his expertise as the journal's Books Reviews Editor to evaluate a landmark collection of essays on Renaissance poetry, which takes stock of where we are as well as providing a series of pointers for future study.
As always, there is a serious collection of book reviews to be read alongside the essay. Read more…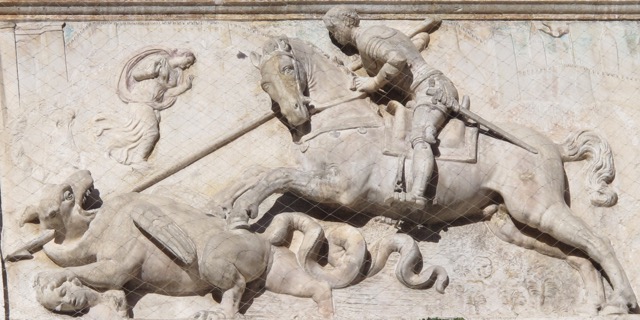 Bas relief from the exterior of the Scuola San Giorgio degli Schiavoni in Venice. Photo courtesy of Roger Kuin.