* K.D. Williams, and B. Jarvis, 'Cyberball: A Program for Use in Research on Interpersonal Ostracism and Acceptance', Behavior Research Methods, 38 (2006), 174-80.
* C.H.J. Hartgerink, I. van Beest, J.M. Wicherts, and K.D. Williams, 'The Ordinal Effects of Ostracism: A Meta-analysis of 120 Cyberball Studies', PloSONE, 10 (2015): e0127002. doi: 10.1371/journal.pone.0127002
This at last is a follow-up to the conference on mind-reading in Durham, which I mentioned here. There I heard Hannah Wojciehowski of the University of Texas give a talk about rejection; her previous mention on this blog, noting her important conversations with neuroscientist Vittorio Gallese, is worth a bump. She cited interesting work on ostracism, and in particular Kipling Williams's use of the 'Cyberball' game to engineer the experience of exclusion in the lab. The game looks like this: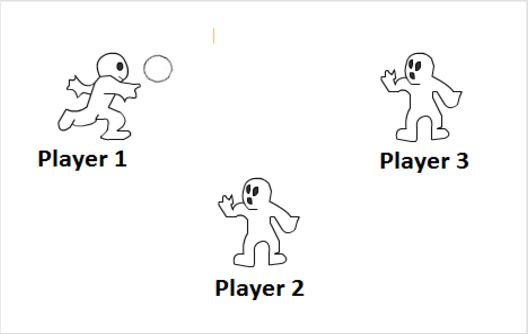 By clicking with the mouse, you throw the ball from person to person. The trick is that after a while the other players stop including you, and this gives the experimenters the chance to learn about ostracism. You can find a lot more information about the game on this website.
The two articles at the top are, respectively, the paper in which the use of Cyberball was first discussed, and a reflection from a decade later, analyzing 120 studies making use of the game. There are many things of interest in the field and in the measuring of intense real-world experiences by means of an ingenious, apparently simple game. One thing in particular struck me, which is an instruction given to participants.
Obviously it would be a bad idea to tell people that the point of Cyberball is to test their feelings about ostracism. Instead, they are told that the game is there to test their abilities at visualization: they are meant to flesh out the game in their minds, filling in shapes and colours, backgrounds and more. Here is the instruction:
Welcome to Cyberball, the Interactive Ball-Tossing Game Used for Mental Visualisation!
In the upcoming experiment, we test the effects of practising mental visualisation on task performance. Thus, we need you to practise your mental visualisation skills. We have found that the best way to do this is to have you play an on-line ball tossing game with other participants who are logged on at the same time.
In a few moments, you will be playing a ball tossing game with other students over our network. The game is very simple. When the ball is tossed to you, simply click on the name of the player you want to throw it to. When the game is over, the experimenter will give you additional instructions.
What is important is not your ball tossing performance, but that you MENTALLY VISUALISE the entire experience. Imagine what the others look like. What sort of people are they? Where are you playing? Is it warm and sunny or cold and rainy? Create in your mind a complete mental picture of what might be going on if you were playing this game in real life.
This intrigues me. No particular significance is attributed to the visualization; in the paper it says that users of the program could design their own cover stories. And yet surely there is an interplay between effortful visualization and emotional effect: intuitively we might think that an attempt to imagine this as a realistic scene will make rejection more acute. Whether or not that's true, I wonder whether this scene created in the mind necessarily replicates the real world. In imaginary fictions, settings and characters and emotions might satisfy some criteria of lifelikeness, but might, to interesting effect, elude others. Are these visualizations like fictions, in this respect or any other? I haven't got far into the 120 studies but perhaps it's covered there. Anyway, an interesting twist for those interested in the products of the imagination.
E-mail me at rtrl100[at]cam.ac.uk