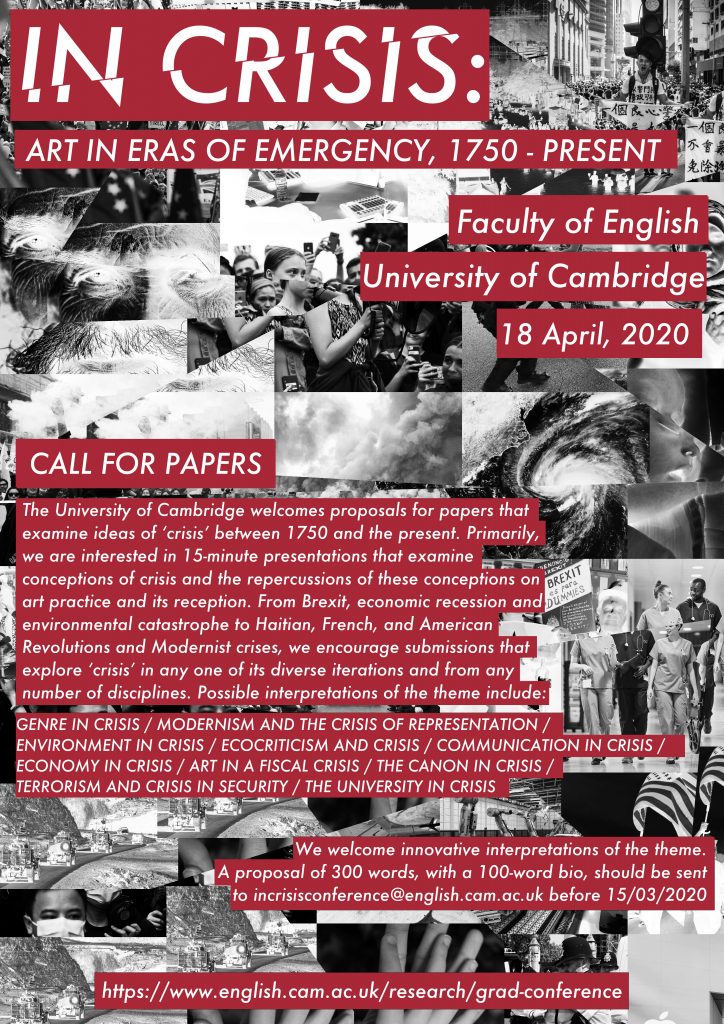 'In Crisis: Art in Eras of Emergency, 1750–Present'
April 18, 2020 · University of Cambridge · Faculty of English
The University of Cambridge welcomes proposals for papers that examine ideas of 'crisis' between 1750 and the present. Primarily, we are interested in 15-minute presentations and/or creative responses that examine conceptions of crisis and the repercussions of these conceptions on art practice and its reception. From Brexit, economic recession and environmental catastrophe to Haitian, French, and American Revolutions and Modernist crises, we encourage submissions that explore 'crisis' in any one of its diverse iterations and from any number of disciplines. Possible interpretations of the theme include:
• Conceptions of genre in crisis.
• Modernism and a crisis of representation.
• Artistic responses to an environment in crisis.
• Ecocritical readings of crisis literature.
• Communication in crisis: how do we consume art?
• How do we respond to an economy in crisis?
• Art in fiscal crisis.
• Revising literary history: a canon in crisis.
• Terrorism and a crisis in security.
• Universities in crisis, the humanities and political academia.
We welcome innovative interpretations of the theme. A proposal of 300 words, with a 100-word bio, should be sent to incrisisconference@english.cam.ac.uk before 15th of March 2020. 
We also invite creative responses from across disciplines including
creative writing, film and visual arts responding to the theme; please
send a short 300-word summary of your proposed work along with a
100-word bio.