Emma Firestone and Raphael Lyne, 'Purity and Disgust in Shakespeare's Problem Plays', in Purity and Danger Now: New Perspectives, ed. Robbie Duschinsky, Simone Schnall, and Daniel H. Weiss (Routledge, 2016), pp. 238-55.
Right at the end of last year, just in time to hit the 50th anniversary of Mary Douglas's anthropological classic Purity and Danger, this came out. It's a collaboration between me and my former PhD student (and friend to the blog) Emma Firestone.
We look at what are traditionally thought of as Shakespeare's 'problem plays' (mostly Measure for Measure and All's Well That Ends Well), and ask why we find both (i) a distinctive concentration of disgust-inducing language, especially in the form of metaphor, and (ii) tendencies towards anxiety, pessimism, and dissatisfaction, in audiences and critics.
Inspired by findings in 'embodiment' psychology, which suggest links between physical disgust and harsh moral judgment, and between purity, cleanness, and leniency, we propose that patterns of gross language in these plays have something to do with the way that readers' and critics' assessments of right and wrong appear to be thrown off balance. We don't commit to straightforward causation but we think there's a meaningful correlation.
Emma is more of a veteran in this field than I am. She has written a great essay picking up on the famous experiment in which holding a hot drink made people more positively disposed towards strangers. See 'Warmth and Affection in Henry IV: Why No One Likes Prince Hal' in Embodied Cognition and Shakespeare's Theatre, ed. Johnson, Sutton, and Tribble (2014).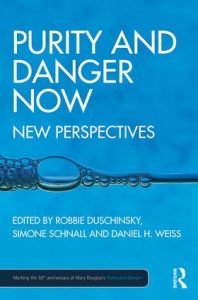 E-mail me at rtrl100[at]cam.ac.uk