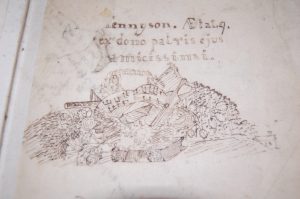 The Tennysons Archive is the first comprehensive digitisation of manuscript materials relating to Alfred Lord Tennyson (1809–92), former Poet Laureate and one of the most significant authors in the history of English literature. Unlike several other prominent nineteenth-century poets, no centralised repository for such material currently exists; archival material is scattered across a wide variety of institutions and libraries in the UK and US.
The principal aim of The Tennysons Archivce is therefore to make such material more widely available for both the scholarly community, and the public at large. But it also aims to enable a series of broader reconsiderations of Tennyson's work and compositional process. The first of these concerns the relationship between Tennyson's poetic writing, on the one hand, and a variety of visual and musical material, on the other. Tennyson frequently composed drafts of his poems in notebooks that are themselves complex material objects: on many occasions, several different versions of the same work are interleaved with Tennyson's sketches, doodles or incisions of the page. A traditional scholarly edition–even if it features facsimile reproductions of the manuscripts in question, such as Christopher Ricks and Aidan Days's excellent Garland edition (1987–93)–can never hope to reproduce such material detail as effectively as can a digital archive.
But The Tennysons Archive also intends to trigger a wider consideration of Tennyson's significantly collaborative compositional process–hence the plural in its title. As the manuscript material makes abundantly clear, Tennyson's poems (and drafts of poems) exist in dynamic relation not only to visual material, but also to an array of musical treatments. The poet's wife, Emily Tennyson (née Sellwood) was one such prominent figure, who frequently set Tennyson's work to piano. Emily Tennyson's involvement with her husband's songs went further than mere transcription or setting, however; often her ear for music influenced the compositional process itself, from its earliest stages–as when she actively suggested the placement of the songs that would form part of Alfred Lord Tennyson's The Princess, in its third edition of 1851.
The Tennysons Archive therefore aims to reveal the full material and collaborative complexity of manuscript materials relating to Tennyson, through an exploitation of multimedia that was previously unavailable to the analog or digital archive. Its ultimate goal is a truly comprehensive archive, which places Tennyson at the epicentre of VIctorian letters, while at the same time demonstrating the surprising variety of his work. As a first step towards this end, work is presently underway on the digitisation of al manuscripts currently held in the Wren Library, Trinity College, University of Cambridge. These significant materials, which formed part of a bequest by Hallam Tennyson, include a manuscript draft (with variants) of In Memoriam.
The Tennysons Archive will be hosted as a special collection at the Cambridge Digital Library (pah67@cam.ac.uk). The collection will go live on 6 March.
The Tennysons Archive is a collaboration between Ewan Jones (University of Cambridge) and Phyllis Weliver (Saint Louis University).