Anne Lake Prescott Graduate Student Paper Conference Prize 2018
The International Spenser Society, in collaboration with the editors of the Spenser Review, is delighted to announce our first bi-annual Graduate Student Conference Paper Prize. In order to cultivate and advance the next generation of Spenser scholarship, this award recognizes a distinguished paper on any aspect of Edmund Spenser's life and works presented by a graduate student at a scholarly conference in the previous two academic years.
• The author will receive an honorarium and a citation at the annual International Spenser Society luncheon at the MLA.
• The text of the prize-winning paper may be published in a future issue of the Spenser Review.
• The recipient of the prize will receive mentorship from members of the prize selection committee as well as the editors of the Spenser Review as they prepare their papers for publication.
Papers eligible for consideration must be:
• 8-12 double-spaced pages in length, including notes
• written by a student enrolled in a graduate degree program at the time the paper was delivered
• presented to an audience at a scholarly conference, whether international, national, regional, or graduate student-run, between May 2016 and May 2018.
Submissions for this year's prize should be sent to spensergradprize@gmail.com no later than May 31, 2018. Relevant images from the conference presentation may be included.
Winners will be notified in early September 2018 and announced at the International Spenser Society Luncheon at the MLA conference.
We are grateful to the new editors of the Spenser Review, Jane Grogan and Andrew Hadfield, for agreeing to mentor the prize winner towards publication.
We are pleased to name the prize in honour of Anne Lake Prescott, who received a unanimous commitee vote for her warmth, engagement, and ever insightful, witty responses to papers at conferences that have helped many a young Spenserian find his or her shield or dragon wings. We're honoured to have future students continue to benefit from her mentoring through this award.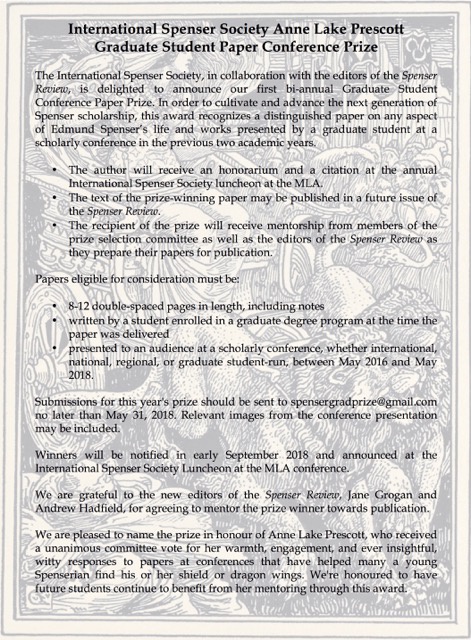 Cite as:
"Anne Lake Prescott Graduate Student Paper Conference Prize 2018," Spenser Review ( ).