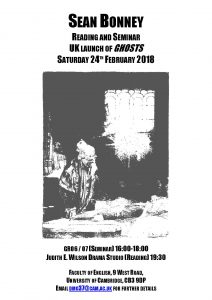 MATERIALS SEMINAR & READING SERIES
Email David Grundy (dmg37@cam.ac.uk) for details
Saturday, February 24th
Sean Bonney
Reading and Seminar
UK launch of GHOSTS
Sean Bonney will give a paper on Amiri Baraka at 16:00 in GR06/07, English Faculty, University of Cambridge, and a reading at 20:00 in the Judith E. Wilson Drama Studio. This will be the launch of Sean's new book GHOSTS, out last year from Materials Press. Sean is currently based in Berlin, so this is a rare chance to see one of Britain's leading contemporary political poets.
16:00 Seminar: "In Terrible Flame: Antifascist Cosmology in the late work of Amiri Baraka"
[Abstract to Follow]
20:00 Poetry Reading: Launch of GHOSTS
Sean Bonney will be launching the pamphlet Ghosts, published in 2017 by Materials Press. Containing poems written in Berlin between September 2015 and the Summer of 2017, this pamphlet includes selected work from Cancer: Poems after Katerina Gogou, and an ongoing sequence entitled Our Death, as well as other pieces from the period. These are poems haunted by catastrophe, light, fires, the sun, violence and love. As Bonney writes: "We were talking about prophecy, about defeat and war, about how nobody knows what those words really mean, and what they will come to mean". Drawing on writers like Baudelaire, Artaud, Anita Berber and Hölderlin like "marks on a calendar", "a kind of cacophony", or "the beginnings of a map", these poems are vital indices of where we are.
"These days everyone is writing their final book. Whatever. I've lost everything as well. My body is made up of three needles, several coins, a system of nitrates and something wankers would call 'a philosophy'. I see in the dark and like to smash mirrors. For many other people things are far worse."
Sean Bonney's previous books include Letters Against the Firmament (2015), Happiness (2011), The Commons (2011), Document (2008), Baudelaire in English (2007) and Blade Pitch Control Unit (2005). He currently lives in Berlin, where he is conducting postdoctoral research at the Freie Universität.
~~~
Forthcoming Readings in the series will take place next term.
Tuesday 24th April
D.S. Marriott
Reading and Seminar
UK Launch of DUPPIES
(In association with C20th & Contemporary Seminar. Details TBC)
~~~
Weds 9th May
Nat Raha / Verity Spott
Reading and Seminar
(In association with C20th & Contemporary Seminar & Queer Cultures Seminar. Details TBC)