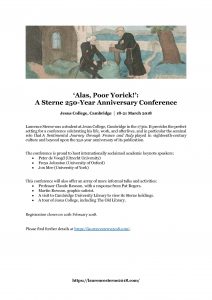 In February 1768 Laurence Sterne – already famous for his provocative 'Life and Opinions of Tristram Shandy, Gentleman' – published his second novel, 'A Sentimental Journey through France and Italy'. A few weeks later, this clergyman-turned-author died. 2018 marks the 250-year anniversary of these momentous events, and provides an occasion to celebrate Sterne's life, work, and legacy.
A major international conference will be hosted at Jesus College, Cambridge, which Sterne attended as a student in the 1730s, to celebrate this special anniversary. It will feature established academic speakers and new voices alike, artists and writers inspired by Sterne, and Sterne-themed visits in Cambridge.
Find further details at https://laurencesterne2018.com/.