Dr Christopher Warnes, St John's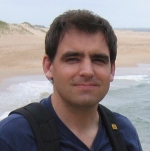 Biographical Information
I studied at the Universities of Cape Town, KwaZulu-Natal, and Cambridge and I have held lecturing appointments at the Open University and the University of Stellenbosch. In my books I explore the history and cultural politics of the novelistic genre known as magical realism. I am currently examining what fiction can tell us about change in South Africa after apartheid.

Research Interests
African literature; postcolonial studies; the novel; digital culture.
Areas of Graduate Supervision
Topics related to the above.
Selected Publications
Books:
Writing, Politics and Change in South Africa after Apartheid. Cambridge University Press. Forthcoming, 2023.
Magical Realism and Literature. Ed. with Kim Sasser. Cambridge University Press, 2020.

Magical Realism and the Postcolonial Novel: Between Faith and Irreverence. Palgrave Macmillan, 2009. Paperback edition: 2014.
Recent Articles and Book Chapters
"Desired State: Black Economic Empowerment and the South African Popular Romance." Popular Culture in Africa: the Episteme of the Everyday. Stephanie Newell and Onookome Okome (eds), Routledge, 2014.
"Writing Crime in the New South Africa: Negotiating Threat in the Novels of Deon Meyer and Margie Orford". Journal of Southern African Studies, 28:4 (2012): 981-991.
"Postcolonial Writing in South Africa". The Cambridge History of Postcolonial Literature, ed. Ato Quayson. Cambridge University Press, 2012. 329-351
"Everyone is Guilty: Complicitous Critique and the Plaasroman Tradition in Etienne van Heerden's Toorberg". Research in African Literatures. 42.1 (2011): 120-132.
"Welcome to Msawawa: The Postapartheid Township in Niq Mhlongo's Novels of Deception". Journal of Postcolonial Writing 47.4 (2011): 546-557
"Interview with Ivan Vladislavic". Marginal Spaces: On Ivan Vladislavic, ed. Gerald Gaylard. Johannesburg: WITS University Press, 2011. Originally published in Modern Fiction Studies 46.1 (2000): 273–281.
"The Afrikaans Novel". The Cambridge Companion to the African Novel, ed. F Abiola Irele. Cambridge University Press, 2009. 69-83.
"Chronicles of Belief and Unbelief: Zakes Mda and the Question of Magical Realism in South African Literature." Ways of Writing: Critical Essays on Zakes Mda, ed. David Bell and Johan Jacobs. Pietermaritzburg: University of KwaZulu-Natal Press, 2009. 73-90.