Dr Ian Burrows, Faculty of English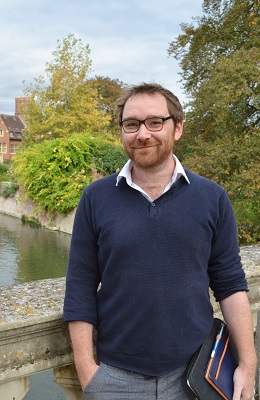 Biographical Information
I'm based at Clare College, where I'm the Director of Studies for first-year English students. Prior to working in Cambridge I spent three years at the University of Bristol, teaching extensively on their full-time BA and MA courses. In my final year at Bristol I was director of the English department's short course programme, overseeing our provision of outreach and community courses; I was also a co-director for Bristol's part-time BA in English Literature and Community Engagement.
Research Interests
My PhD dissertation concerned the printing of punctuation marks in early modern drama: I've since expanded that into slightly sexier-sounding territory by considering non-verbal constituents of performance more generally, and I'm working on several projects which examine the ways in which physical, actorly business is rendered in print. I'm currently working on a monograph exploring some of these interests: Punctuation and Personality in Early Modern Printed Plays.
My first book, Shakespeare for Snowflakes: On Slapstick and Sympathy, examines the methods by which playwrights explore and exploit the physicality of their actors, and wonders about the ethical ramifications of those methods and our discussions of them. I explain the book in more detail on my website, www.shakespeareforsnowflakes.com.
I am also a practising editor: I'm currently working on The Example (for the forthcoming OUP Complete Works of James Shirley), and Fair Em (for the forthcoming Boydell and Brewer Collected Works of Thomas Kyd).
I'd be very happy to hear from anyone who shares these interests in bibliography, editorial theory and practice, the intersections between performance and print, and the physicality of actor and text.
Areas of Graduate Supervision
I'd be very happy to supervise work in any of the areas mentioned above under 'Research Interests'.
Selected Publications