Dr James Riley, Girton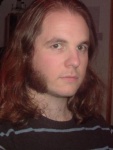 Biographical Information
James Riley is the Muriel Bradbrook Official Fellow in English Literature at Girton College. He is the author of The Bad Trip: New Worlds, Dark Omens and the End of the Sixties. The book was published to coincide with the 50th anniversary of 1969 and charts the latter days of the 'Sixties' through its multiple fictions, histories and myths. Widely reviewed in publications ranging from The Sunday Times to Classic Rock, The Bad Trip was voted one of the books of the year for 2019 by The Wire and Shindig.
James is currently working on Playback Hex, a study of William Burroughs and tape technology and a second book project, a follow-up to The Bad Trip, that looks at alternative health and inner spatial exploration in the 1970s. He is also a participant in The Alchemical Landscape, an ongoing research and public engagement programme that considers notions of magic and geography.
Between 2010 and 2014 James developed and directed an editorial project linked to the archives of the film-maker and novelist Peter Whitehead. This international collaborative project yielded a series of publications with Wayne State University Press and Adam Matthew Digital.
James blogs at Residual Noise, can be found on Twitter @EndOfSixties and is a Fellow of the Royal Society of Arts. He has written for The Times, Big Issue North, Fortean Times, The i, The Quietus and others.
Research Interests
British and American literature; Anglophone fiction; film and screen media; literary and critical theory; Beat writers, especially Jack Kerouac, William Burroughs and Alexander Trocchi; literature and technology; recording, noise, cybernetics; counterculture and the 1960s; experimental writing; postmodernism, posthumanism and related writers, particularly J.G. Ballard.
Selected Publications
Books
The Bad Trip: New Worlds, Dark Omens and the End of the Sixties (Icon, 2019)
Territories [Co-authored with Yvonne Salmon] (Contraband, 2019)
Edited Collections
Decades of Contemporary British Fiction: The 1960s. Edited with Philip Tew and Melanie Seddon (Bloomsbury / Continuum, 2018)
Terrorism Considered as One of the Fine Arts: A Dossier (Nohzone, 2015)
Selections from the Nohzone Archive: 1964-1969 part of Rock n Roll, Counterculture, Peace and Protest: Popular Culture in Great Britain and America, 1950-1975. Edited by Bill Schurk (Adam Matthew Digital, 2012)
Framework 52. Things Fall Apart: Peter Whitehead Issue [2 vols.] (Wayne State University Press, 2012)
Book Chapters
"The Spiderhood: Psychedelic Literature, Literary Psychedelia and the Writing of LSD" in Flower/Power: British Literature in Transition, volume 2, 1960-1980 ed. Kate McLoughlin (Cambridge University Press, 2019)
'Voices of the Ether: Stone Tapes, Electronic Voices and Other Ghosts' in Urban Wyrd. Edited by Andy Pacoriek and Darren Charles (Wyrd Harvest Press, 2019)
'Terminal Documents: Michael Moorcock, J.G. Ballard and the Fiction of the Decade's End' in Decades of Contemporary British Fiction: 1960s. Edited by Philip Tew, James Riley and Melanie Seddon. (Bloomsbury / Continuum, 2018)
''These are my books': What a Carve Up! and Video Aesthetics' in Jonathan Coe: Critical Essays. Edited by Philip Tew (Bloomsbury / Continuum, 2018)
'Sinister Networks: Canals, Snakes and Otherworlds' in Folk Horror Revival. Edited by Andy Pacoriek and Darren Charles (Wyrd Harvest Press, 2018)
'Helter Skelter' in The White Album. Edited by Mark Goodall (Headpress, 2018)
"Playback Hex: William Burroughs and the Magical Objectivity of the Tape Recorder" in Strange Dimensions: A Paranthropology Anthology. Edited by Jack Hunter (Psychoid, 2015)
"Dracula and Phonography", in Telegraph for Garlic. Edited by Samia Ounoughi, (Red Rattle, 2013)
"'Have you no reverence, no respect?': Narrative and Critical Subversion in Herk Harvey's Carnival of Souls (1962)", in Crash Cinema: Issues of Representation in Film. Edited by Mark Goodall, Jill Good and Will Godfrey, (CSP, 2007)
Articles
'Headlands: A Preliminary Report', MIA: Moving Image Artists Journal, 1.2 (2020)
'Deep Thinking: Arthur Conan Doyle, Dennis Wheatley and the Fiction of Atlantis', Wormwood 33 (2019)
"Notes on the Modernist Ghost Story", Wormwood 25 (2015)
"Auguries of Discord: Protest, Activism and the Swarm", Performance Research 19.5 (2014)
"M.R. James, Night of the Demon and Projection", One+One 13 (2014)
"Cult Films for Cult Religions: Craig Baldwin and Mock-Up on Mu (2010)", One+One 13 (2014)
"White Walls and Empty Rooms: A Brief History of the Fleapit", One+One 12 (2014)
"The Technology of Myth: Peter Whitehead as Novelist", Framework 52.2 (2012)
"The Other Side of Madness: Charles Manson, 1969 and the Continuation of a Cult", Transgressive Culture 2.1 (2012)
"Peter Whitehead and Terrorism", One+One 1.3 (2010)
"Archive Fever: Craig Baldwin", Vertigo 3.7 (2007)
"Illuminating the Images: Notes on Paul Cronin's Conversations with Peter Whitehead", Vertigo 3.5. (2007)
"David Goodis, Dashiell Hammet and the Lack of Transcendence", Crimeculture (2004)
Review Essays
"Science Fiction: A Guide for the Perplexed", The Cambridge Quarterly 43.4 (2014)
"Well Met: Renaissance Faires and the American Counterculture", Studies in Theatre and Performance 34.2 (2014)
"David Peace: His Dark Materials" The Cambridge Quarterly 41.2 (2012)
"Sherb: New Urban Writing from Coventry", Avocado, 2.8 (2008)