Dr Jane Hughes, Magdalene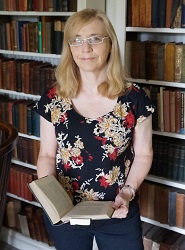 Biographical Information
Dr Hughes is the President of Magdalene College, where she directs studies in English and is also the Pepys Fellow Librarian, responsible for the college's two historic libraries. Jane Hughes works on satire, comedy and literary theory, and is currently writing a book on literary style. She has edited two anthologies, most recently Contourlines (co-edited with Neil Wenborn), which is a collection of contemporary poetry on the landscape. She has just published a short book on SamuelPepys's library. She is the Director of the Magdalene Triennial Festival, the most recent of which, in 2014-15 was on the theme of Sound. She supervises for Part I, papers in medieval, Renaissance and literary theory, and for medieval papers and dissertations in Part II.
Research Interests
Medieval; British; European; Latin. I am interested in comic and satiric writing in all periods and, more generally in issues of form, genre and style. I am writing a history of satire in the Middle Ages and working on a book on key medieval styles. I have organised a number of conferences on formal aspects of literature such as metre, and on medieval themes - most recently one on the medieval image in the twenty-first century, covering the application of modern literary theory to medieval images, the influence of the Middle Ages on contemporary writing and other media, and modern techniques for conservaton and presentation of medieval images. I am also interested in some aspects of book collecting.
Areas of Graduate Supervision
Interested in supervising graduate work on comedy, satire and political writing in the period 1066-1550 and projects on form and style in medieval writing.
Selected Publications
MEJ Hughes, articles for Samuel Pepys: Plague, Fire and Revolution (Thames and Hudson: 2015)
MEJ Hughes, The Pepys Library and Historic Collections (Scala, 2015)
MEJ Hughes, ed., Contourlines: New Responses to Landscape in Word and Image,Salt, 2010
MEJ Hughes, ed. Figures of Speech: an Anthology, 2000
MEJ Hughes, "Review of Andrew Brown, Roland Barthes: the Figures of Writing", Magdalene Reporter, 1996
MEJ Hughes, "Furor, Reddo: Medieval Parody as Literary Benefactor", Mediaevalia et Humanistica new series 23, 1996, 67-97
MEJ Hughes, "Review of A G Rigg, History of Anglo-Latin Literature", Notes and Queries, 1995
MEJ Hughes, "Style and Stance in Langland's Piers Plowman", Yearbook of Langland Studies, 1995, 33-7
MEJ Hughes, "Review of Robert & Linnet Latham Pepys Anthology", Magdalene Reporter, 1993
MEJ Hughes, "The feffement that Fals hath ymaked: the image of the document in Piers Plowman", Neuphilologische Mitteilungen 93, 1992, 125-33
MEJ Hughes, "Counselling the King: Perceptions of Court Politics in Literature of the Court of Richard II", Gillian Jondorf and D N Dumville, eds., France and the British Isles in the Middle Ages and Renaissance, 1991, 199-207
MEJ Hughes, Contributions to Ian Ousby,ed.,The Cambridge Guide to English Literature, CUP, 1988