Dr Lotte Reinbold, Selwyn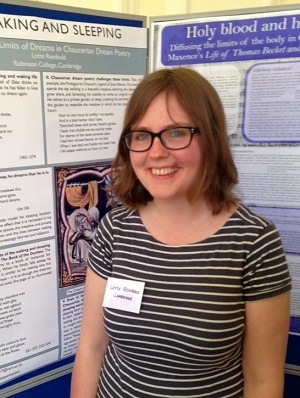 Biographical Information
I'm a Fellow, College Lecturer, and Director of Studies at Selwyn College, Cambridge. I did my BA in English at Robinson College, my MA in Medieval and Renaissance Studies at UCL, then returned to Robinson for my PhD, which was funded by the Judy and Nigel Weiss Scholarship. I teach for papers 3, 4 and 5 at Part I, and Papers 5 and 6 at Part II, and supervise dissertations relating to my areas of interest.
Research Interests
I'm primarily a medievalist, with a particular interest in dream poems. I'm currently working on a book project, tentatively titled The Abstractionists, which traces the afterlife and reception of Chaucer's dream poetry. At the moment, I'm happily stuck in the eighteenth century thinking about Alexander Pope, and may be there for some time. More generally, my interests are in the fields of literary imitation, convention, and allusion. I'm interested in thinking about how people thought with and about medieval literature over long periods of time, and particularly how medievalism is used as a political device. Other things I'm thinking about at the moment include: literary hoaxes and forgeries, Thomas Gray, the history of glasses, architecture and form, David Jones, and Philip Larkin.
I have supervised undergraduate dissertations on manuscripts and animality, Louise Glück and medieval temporality, manuscripts and medieval werewolves, and Chaucer's dream poetry.
Selected Publications
2021
'The Kingis Quair', The Literary Encyclopaedia Volume 1.2.3: Scottish Writing and Culture, 400-present
2020
'Whether or not/these things are hopeless,/it will tell me so': Chaucerian Dream Poetry and the Medieval Dream-Book' in Predicting the Past: Worldwide Medieval Dream Interpretation (Leiden: Brill), forthcoming.
2018
'Kingdoms of Infinite Space: Three Responses to the Kingis Quair', Studies in Medievalism XVII
Review, Barry Windeatt (ed.), Julian of Norwich: Revelations of Divine Love (Oxford: Oxford University Press, 2016), Women: A Cultural Review 29.1