Prof Marcus Waithe, Magdalene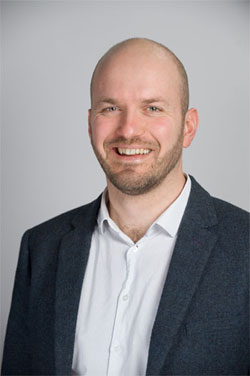 Biographical Information
I am a University Associate Professor in the Faculty of English, and a Fellow in English at Magdalene College. At Magdalene, I am the College (Fellow) Librarian, and a Director of the Design & Build company that planned the College's RIBA national award and RIBA Stirling Prize winning New Library. I am an external member of the Advisory Board of The Ruskin Library, Museum and Research Centre, Lancaster University; and in 2022, I became the Chair of The Ruskin Society.
Before returning to Cambridge in 2009, I held the post of Lecturer in Victorian Literature at the University of Sheffield (from 2005), having graduated from King's College, Cambridge with a Ph.D. in 2004. I was an undergraduate at the University of Leeds, and before that attended state schools in Essex.
Research Interests
My work spans three interrelated fields, with a focus on the nineteenth century, but also encompassing more recent contexts. In each case, I am interested in how literary language addresses and reimagines criteria drawn from different media (esp. the crafts, the applied arts, and architecture) and other disciplines (esp. political theory and law). I retain a sense, nevertheless, of English as a discipline that promotes distinct insights and sensitivities. I would include a commitment to confronting the dynamic complexity of literature as art.
Nineteenth-century constructions of authorship: work, style, craft
My most recent book, The Work of Words: Literature, Craft, and the Labour of Mind in Britain, 1830-1940 (Edinburgh University Press, January 2023), discusses writers who defended the value of literary endeavour by redescribing it as an artisanal labour, or a craft. A related publication (co-edited with Claire White) – The Labour of Literature in Britain and France, 1830-1910: Work-Ethics (2018)) – demonstrates a two-way traffic between British and French conceptions of literary labour, and in the process contests the received view of France as the source exclusively of a 'leisure ethic'.
Pursuing a different aspect of authorship, Thinking through Style (2018) (co-edited with Michael Hurley) challenges influential models of thought as primary and pre-verbal, and style as ornamental. These collected essays propose instead that style has a capacity to shape, refine, and generate ideas.
Arts and Crafts thinkers, including related literary, museological, and practical contexts
My interest in the Arts and Crafts movement runs back to my early research, notably an online project to reconstruct the appearance of Ruskin's museum for Sheffield artisans (ruskinatwalkley.org), and my first monograph, William Morris's Utopia of Strangers: Victorian Medievalism and the Ideal of Hospitality (2006). That book explored Victorian interest in the treatment of strangers in the light of literary, architectural, and political, efforts to define the limits of a good society.
I have recently expanded the scope of these interests through collaboration and co-authorship with the letter cutter Lida Lopes Cardozo Kindersley (MBE): The Ins and Outs of Public Lettering (2020) and Words Made Stone: The Craft and Philosphy of Letter Cutting (2022). I have also disseminated my findings on Radio 4's In Our Time; and through art journalism, most notably a cover issue of Apollo Magazine to mark the Ruskin bicentenary in 2019. My current work in this area includes editing The Cambridge Companion to William Morris (2023).
Modernist poetry, esp. Victorian influences and legal contexts
My other publications explore Victorian influences on modernist poetry, a genre more usually defined against such legacies. I have published a number of articles on the late modernist poetry of Geoffrey Hill, as well as on William Empson, and most recently a chapter on Ezra Pound (in The Work of Works). My article 'Empson's Legal Fiction' (2012) witnesses a convergence of these interests, in that it prompted Hill's analysis of Empson's legacies in his March 2013 Oxford Professor of Poetry lecture.
Areas of Graduate Supervision
Dr Waithe is interested in supervising graduates in the following areas: Victorian moralists (esp. Carlyle, Ruskin, Morris); aestheticism; medievalism; literary and intellectual labour; work and craftsmanship; Utopianism; relations between Victorian literature and the visual arts or architecture; letter forms and typography; Victorian cultural institutions (especially museums); the poetry and criticism of Geoffrey Hill.
Selected Publications
BOOKS
i) Scholarly Monographs
(ii) Edited Critical Volumes
(iii) Crossover Books
(iv) Pamphlets
ARTICLES AND ESSAYS
'The freshness of first encounter: The New Library, Magdalene College', Cambridge Journal of Visual Culture, 1 (2022), 65-70
'Building Utopia: The Structural Medievalism of William Morris's News from Nowhere', in The Oxford Handbook of Victorian Medievalism, ed. Joanne Parker and Corinna Wagner (Oxford: Oxford University Press, 2020)
'St George's Museum and John Ruskin's Reconstructive Intelligence', Ruskin Review, 14.2 (2020), 39-54
'Strenuous Minds: Walter Pater and the Labour of Aestheticism', in The Labour of Literature in Britain and France, 1830-1910: Authorial Work Ethics, ed. Marcus Waithe and Claire White (London: Palgrave Macmillan, 2018), pp. 147-166
'Ruskin's Style of Thought: Animating Redescription in the Late Writings', in Thinking through Style: Non-Fiction Prose of the Long Nineteenth Century, ed. Michael Hurley and Marcus Waithe (Oxford: Oxford University Press, 2018), pp. 183-200
'Uncanny Romance: William Morris and David Jones', in Timely Voices: Romance Writing in English Literature, ed. Goran Stanivukovic (McGill-Queen's University Press, 2017), pp. 199-217
'Medievalism and Modernity', in Oxford Twenty-First Century Approaches to Literature: Late Victorian to Modern, ed. Laura Marcus, Michèle Mendelssohn and Kirsten E. Shepherd-Barr (Oxford: Oxford University Press, 2016), pp. 21-37
'Ruskin's Cultural Legacies', in The Cambridge Companion to John Ruskin, ed. Francis O'Gorman (Cambridge University Press, 2015), pp. 263-278
'"Another sort of writing"? Invalidism and Poetic Labour in the Letters of Elizabeth Barrett', in Letter Writing Among Poets: From William Wordsworth to Elizabeth Bishop, ed. Jonathan Ellis (Edinburgh: Edinburgh University Press, 2015), pp. 126-140
'The St George's Museum', Forum: Victorian Built Environments, Victorian Review, 39.1 (Spring 2013), 35-39
'William Morris and the House Beautiful', in Oscar Wilde in Context, ed. Peter Raby and Kerry Powell (Cambridge University Press, 2013), pp. 88-100
'William Barnes: Views of Field Labour in Poems of Rural Life', in The Oxford Handbook of Victorian Poetry, ed. Matthew Bevis (Oxford: Oxford University Press, 2013)
'John Ruskin and the Idea of a Museum', in Persistent Ruskin: Studies in Influence, Assimilation and Effect, ed. Keith Hanley and Brian Maidment (Ashgate, 2013), pp. 33-52
'The Pen and the Hammer: Thomas Carlyle, Ebenezer Elliott, and the "active poet"', in Class and the Canon: Constructing Labouring-Class Poetry and Poetics, 1780-1900, ed. Kirstie Blair and Mina Gorji (Basingstoke: Macmillan, 2013), pp. 116-135
'Empson's Legal Fiction', Essays in Criticism, 62.3 (July, 2012), 279-301
'From Folklore to Folk Law: William Morris and the Popular Sources of Legal Authority', in The Voice of the People: Writing the European Folk Revival, 1760-1914, ed. Matthew Campbell and Michael Perraudin (London: Anthem Press, 2012), pp. 157-169
'Hill, Ruskin and Intrinsic Value', in Geoffrey Hill and his Contexts, ed. Piers Pennington and Matthew Sperling (Oxford: Peter Lang, 2011), pp. 133-149
'The Laws of Hospitality: Liberty, Generosity, and the Limits of Dissent in William Morris's The Tables Turned and News from Nowhere', The Yearbook of English Studies, 36:2 (2006), 212-229
'The Stranger at the Gate: Privacy, Property, and the Structures of Welcome at William Morris's Red House', Victorian Studies, 46:4, 2004, 567-595
'Hospitality and Household in William Morris's News from Nowhere', in Lectures d'une oeuvre: News from Nowhere, William Morris, ed. Beatrice Laurent (Editions du temps, 2004)
'"The slow haul to forgive them": Geoffrey Hill and the Second World War', P.N. Review, 31:1, 2004, 77-80
'"Whose Jerusalem"? - Prophecy and the Problem of Destination in Geoffrey Hill's "Canaan" and "Churchill's Funeral"', English, 51:201, 2002, 261-276
'News from Nowhere, Utopia and Bakhtin's Idyllic Chronotope', Textual Practice, 16:3, 2002, 459-472
ACADEMIC BOOK REVIEWS

T. L. Burton and K. K. Ruthven, eds, The Complete Poems of William Barnes, Vol I: Poems in the Broad Form of the Dorset Dialect (Oxford: Oxford University Press, 2013), in Modern Language Review, 111.3 (July, 2016), 860-1
Katherine Newey and Jeffrey Richards, eds, John Ruskin and the Victorian Theatre, in Victorian Studies, 55.2 (Winter 2013), 324-326
Stuart Eagles's After Ruskin (OUP, 2011), Nineteenth-Century Prose, Special Issue: John Ruskin, 38.2 (Fall, 2011)
Robert Hewison's Ruskin on Venice (Yale UP, 2009), The Eighth Lamp: Ruskin Studies Today, No. 5
Jason Camlot's Style and the Nineteenth-Century British Critic (Ashgage, 2008), Victorian Studies, 51.2 (Winter 2009), 348-350
Matthew Bevis, ed., Some Versions of Empson (OUP, 2007), Modern Language Review, 104.2 (April, 2009), 561-562
'Donne in Their Time', Essays in Criticism, 59.2, 2009, 157-165 (review of Dayton Haskin's John Donne in the Nineteenth-Century (OUP, 2007)
Patrick Bridgwater's De Quincey's Gothic Masquerade (Rodopi, 2005), The Yearbook of English Studies, 36.2 (2006), 277-8
'The Reading World', The Cambridge Quarterly, 36.1 (2007), 90-94 (review of Philip Waller's Writers, Readers and Reputations: Literary Life in Britain 1870-1918 (OUP, 2006)
Dinah Birch, ed., John Ruskin: Selected Writings (OUP, 2004), Modern Language Review, 101.3 (July 2006), 834-835
Terence Dawson's The Effective Protagonist in the Nineteenth-Century Novel: Scott, Bronte, Eliot, Wilde (Ashgate, 2004), Modern Language Review, 101.3 (July, 2006), 834-835
PRINT JOURNALISM ON LITERATURE, ART AND ARCHITECTURE

'Client's View', in Harriet Jennings, 'From Modern to Timeless: Níall McLaughlin's Magdalene College Library', Architects' Journal, 3 May 2022
'Head to Head' forum, History Today, vol. 72, Issue 4 (April 2022)
Cover feature on Ruskin Bicentenary 2019, 'An Eye to the Future?', Apollo Magazine, February 2019, pp. 52-8
Review of Gerhard Munthe: Norwegian Pioneer of Modernism, Apollo Magazine, November 2018, pp. 116-117.
Feature on the re-opening of Emery Walker House, Hammersmith, Apollo Magazine, 18 May 2017 (online content)
'The "old house by the Thames" that inspired William Morris', Apollo Magazine, 7 September 2016 (online content)
'Accidental Affinities', review of A. S. Byatt's Peacock & Vine: Fortunty and Morris in Life and at Work, Apollo Magazine, September 2016, p. 119
Review of Giles Waterfield, The People's Galleries: Art Museums and Exhibitions in Britain, 1800-1914, Apollo Magazine, January 2016
Review of Sarah Quill's Ruskin's Venice: The Stones Revisited and Ken and Jenny Jacobson's Carrying off the Palaces: John Ruskin's Lost Daguerreotypes, Apollo Magazine, May 2015, pp. 106-7
'"Dense Settling": Geoffrey Hill's Broken Hierarchies', P.N. Review, 219 (September-October 2014) (review of Geoffrey HIll, Broken Hierarchies: Poems 1952-2012, ed. Kenneth Haynes (OUP, 2013)
Review of Tony Pinkney, ed., We Met Morris: Interviews with William Morris, 1885-1896, The Times Literary Supplement, 14 October 2005, p. 34
Review of Thomas J. Tobin, ed., Worldwide Pre-Raphaelitism, in The Times Literary Supplement, 11 March 2005, p. 29
'Angry and Engaged', review of Michael Hamburger's Wild and Wounded and August Kleinzahler's The Strange Hours Travelers Keep, P. N. Review, 31 (January-February, 2005), 3, 85-86
'Housman Country', review of Bromsgrove Poets, P. N. Review, 31 (September-October, 2004), 1, 93-94
Review of David Clifford and Laurence Roussillon, eds, Outsiders Looking In: The Rossettis Then and Now, The Times Literary Supplement, 2 July 2004, p. 24
PUBLIC ENGAGEMENT AND BROADCAST JOURNALISM