Dr Mina Gorji, Pembroke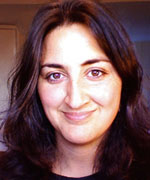 Biographical Information
I was born in Tehran and grew up in London. Having completed a BA in English at Trinity, Cambridge, I went on to do graduate work at Lady Margaret Hall, Oxford where I took an MPhil in Romanticism and a DPhil. I then held a Career Development Fellowship at Wadham College, Oxford and after that a Fellowship by Examination at Magdalen College, Oxford. I am currently an Associate Professor in English and fellow of Pembroke College.
Research Interests
My main research area is Poetry, with a particular focus on Lyric of the Romantic and Contemporary periods. I have an abiding interest in John Clare and am co-director of the Centre for John Clare Studies, organising regular discussions, symposia and readings to explore and celebrate his work and its legacy. We edited a special bi-centenary issue of Romanticism in July 2020: https://www.euppublishing.com/toc/rom/26/2
I enjoy speaking about Clare and Romantic poetry (most recently, Keats) for BBC Radio 3 and Radio 4 documentaries, as well as In Our Time.
I have been awarded a BA Mid Career fellowship (2022-23) to complete a study of Romantic Aurality, an exploration of the forms and significance of listening in Romantic poetry. This project invigorates close attention to sound and listening in and to Romantic poetry with wider explorations of aurality (broadly conceived) in music, anthropology, art and history of science, which were part of a 2 year CRASSH Research Network, Auralities: https://www.crassh.cam.ac.uk/research/networks/auralities/
I'm interested in extending my thinking about Romantic auralities to a wider exploration of listening in contemporary poetry. A lyric essay on the dynamics of listening in Coleridge, Oswald and Hadfield, "Listening for Stars", was published in Poetry Review (Autumn, 2021): https://poetrysociety.org.uk/essay-listening-for-stars/
I am a practicing poet and founder member of the Judith E. Wilson Centre for Poetics: https://poetics.english.cam.ac.uk. My first collection, art of escape (Carcanet, 2020) was a Telegraph book of the month and highly commended for the Forward Prize. It was described in the Guardian as a collection which, "encourages us to democratise our attention and empathy," in Poetry London as, "Page upon page of luminous writing that both grounds and uplifts", and as in The Irish Times as "a wonderful debut from a poet whose craft is delicate and complex, and who feels instinctively the manifold connectedness of life." (more reviews are available here: https://www.carcanet.co.uk/cgi-bin/indexer?product=9781784108823)
I've pubished poems in a wide range of magazines, including Poetry Review, PN Review, Magma, bad lillies, London Magazine and bath magg. I have taught writing and listening workshops for Poetry School, Gingko Prize and Poetry Aldeburgh, and in 2017 judged the Resurgence (now Gingko) Prize, a major prize for eco-poetry, with Lavinia Greenlaw. I have taken part in readings and discussions for a range of festivals and organisations, including BBC Radio 3's The Verb, Sheaf Poetry festival, Poetry Aldeburgh and Forward Prize, and for Nottingham Contemporary (with Jason Allen Paisant: https://www.youtube.com/watch?v=GdsgfrEPFo8).
I organise readings and poetry events, including, most recently, with Sasha Dugdale, Poetry Leap (2020), and Poetry Spring (2022).
I enjoy writing about contemporary poetry; a recent review essay of Maria Stepanova, can be found here: https://poetryschool.com/theblog/breaking-into-song-war-of-the-beasts-and-the-animals-by-maria-stepanova-translated-by-sasha-dugdale/
My second poetry collection, Scale, is published by Carcanet in July 2022.
Areas of Graduate Supervision
Poetry: Romantic, Nineteenth-century and Contemporary.
Authors of particular interest include: Clare, Keats, Wordsworth, Coleridge, Christina G. Rossetti, Oswald.
Areas of Interest include: Poetry and Place, Aurality and Sound studies, Lyric studies, Romanticism, writing and environment, working-class literature, polite and popular culture, literary languages, pastoral, canon formation, primitivism. I contribute to teaching and supervision for the MPhil in Poetry and Poetics.
Selected Publications
Scale (Carcanet, forthcoming, July 2022)
"Listening for Stars" (Poetry Review, Autumn 2021): https://poetrysociety.org.uk/essay-listening-for-stars
"John Clare and the Language of Listening", Romanticism, John Clare Special Issue, Volume 26, Issue 2, 2020 [KSAA Annual Essay Prize Honorable Mention, 2020]: https://www.euppublishing.com/doi/full/10.3366/rom.2020.04
art of escpape (Carcanet, 2020)
"Being Unsituated: Christina Rossetti's Prepositions", Nineteenth Century Contexts, An Interdisciplinary Journal, Volume 41, 2019: Issue 1: Poetics of Place
Class and Canon: Constructing Labouring-Class Poetry and Poetics, 1780-1900, ed. Mina Gorji and Kirstie Blair, Palgrave, November 2012
'John Clare and the Triumph of Little Things', Class and Canon: Constructing Labouring-Class Poetry and Poetics, 1780-1900, ed. Mina Gorji and Kirstie Blair, Palgrave, November 2012
'John Clare's Weeds', Ecology and the Literature of the British Left, ed. John Rignall, H. Gustav Klaus and Valentine Cunningham, Ashgate, 2012, pp. 61-7
'Burns's Sentiments: Gray, Milton and 'To a Mountain Daisy', Burns and Other Poets. ed. David Sergeant and Fiona Stafford, Edinburgh University Press, 2012, pp.67-79
'John Clare and the Poetics of Mess', Moveable Type, Number 5, 2009, http://www.ucl.ac.uk/english/graduate/Mina Gorji

John Clare and the Place of Poetry, Liverpool University Press, 2009

'Everyday Poetry: William Hone's Popular Anthology', Romanticism and Popular Culture, Ed. Phillip Connell and Nigel Leask, 2008
Rude Britannia, Ed. Mina Gorji, Routledge, 2007
"Gothic Heritage", TEXTUS 2/2007, Nation(s) and Cultural Heritage, Ed. Maria Rita Cifarelli and Jane Garnett, 2007
"John Gay, The Shepherd's Week", A Companion to Eighteenth Century Poetry, Ed. Christine Gerrard, Blackwell Publishing, 2006, 145-156
"Burying Bloomfield: Poetical Remains and 'the unlettered' muse'", Robert Bloomfield: Lyric, Class, and the Romantic Canon, ed. Simon White, John Goodridge and Bridget Keegan, Bucknell University Press, 2006, 232-252
"Clare�s Merry England", John Clare Society Journal 25, 2005, 2-24
"Clare's Awkwardness", Essays in Criticism 54.3, 2004, 216-39
"The Savage in Our City: Interrogating Civility at the Royal Academy", Third Text 66, 2004, 41-50
"Writing out of 'Inclosure': John Clare, the 'Old Poets' and The London Magazine", John Clare: New Approaches, Ed. John Goodridge and Simon Kovesi, 2000