Prof Robert Macfarlane, Emmanuel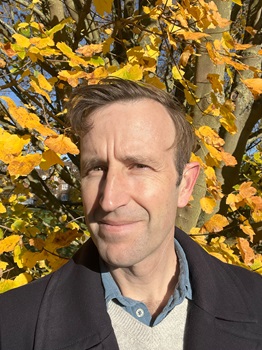 Biographical Information
Robert Macfarlane is a Reader in Literature and the Geohumanities in the Faculty of English. He is well-known as a writer about landscape, nature, memory, language and travel. His books include Mountains of the Mind: A History of a Fascination (2003), The Wild Places (2007), The Old Ways (2012), Holloway (2013, with Stanley Donwood and Dan Richards) and Landmarks (2015). His work has won many prizes internationally and been widely translated. His books have been widely adapted for TV, film and radio by the BBC, among others. He collaborates with artists, film-makers, photographers and musicians including Johnny Flynn and Jackie Morris. He was made a Fellow of the Royal Society of Literature in 2012, and has been awarded honorary doctorates by the universities of Aberdeen and Gloucestershire. In 2007 and 2013 he judged the Man Booker Prize for Fiction. Dr Macfarlane's essays and reviews have appeared in the New Scientist, New Yorker, Nature, Guardian, The New York Times, and Granta. He is presently writing Underland, a book about subterranean spaces and deep time.
Research Interests
The environmental humanities; geology; deep time; subterranea; walking; the Anthropocene; apocalypse cultures; dwelling; ruins; land-ownership; technology and virtualisation; vitalism; phenomenology; psychogeography; ideas of nature and wildness; travel-, nature- and place-writing; creaturely life; ethics and literature; cities; public/private space; the modern novel; radical landscape poetry; originality and intertextuality; gift.
Areas of Graduate Supervision
As per research interests. He convenes an MPhil course on the 'Cultures of the Anthropocene'. The subjects of recent PhD students have included fields and field-guides in recent landscape culture; site specificity and contemporary sculptural poetics; 'counterfeit culture' and post-war American fiction; ethics and mysticism in post-war fiction; the Scott/Terra Nova expedition 1910–1913; 'hyperspace' in American short fiction 1960–1980; the British overseas travelogue 1900-1942.
Selected Publications
Landmarks (London: Penguin, 2015), 387pp.

"WG Sebald", in After Sebald: Essays and Iluminations, ed. Jon Cook (Norwich: University of East Anglia and Full Circle Editions, 2015), 160pp., 19–37

"Life In Ruins", in Life, ed. William Brown and Andrew Fabian (Cambridge: Cambridge University Press, 2014), 187pp., 124–47

Walking as Knowing: Laurie Lee, Patrick Leigh Fermor and Path-Following (Gloucester: University of Gloucester/Cyder Press pamphlet, 2013), 24pp., 1–24

Holloway, with Stanley Donwood and Dan Richards (London: Faber & Faber, 2013), 41pp.

"Roads Shining Like River Up Hill After Rain", introduction to Edward Thomas, Selected Poems and Prose (London: Penguin Classics, 2013), 304pp., 9–29

The Old Ways (London: Penguin, 2012; New York: Viking Penguin, 2013), 434pp.

"My Eyes Are In My Feet", introduction to Nan Shepherd, The Living Mountain (Edinburgh: Canongate, 2011 [1977]), 160pp., 9­–37

"The Line of Beauty", The Good of the Novel, Ed. Ray Ryan and Liam McIlvanney, Faber, 2011, 170-85

'The Great Stone-Book', in Mountains Figured and Disfigured In The English Speaking World, ed. Francoise Besson (Cambridge Scholars Publishing, 2010), 730pp., 5–32

"A Counter-Desecration Phrasebook", Towards Re-Enchantment: Place And Its Meanings, Ed. Di Robson and Gareth Evans, 2010, 106-30

"Gravity and Grace in Geoffrey Hill", Essays in Criticism 58, 2008, 237-56
Original Copy: Plagiarism and Originality in Nineteenth-Century Literature, Oxford University Press, 2007, i-xii, 1-244
The Wild Places, Granta, 2007, 1-340
Mountains of the Mind: A History of a Fascination, Granta and Random House, 2003, 1-306