Dr Sarah Haggarty, Queens'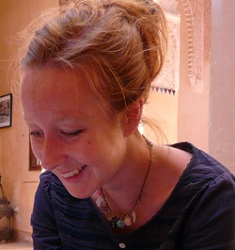 Biographical Information
Sarah is a University Lecturer at the Faculty of English, and Lecturer and Fellow in English at Queens' College. She works on long eighteenth-century British writing and culture, and has a special interest in the intersections of literary studies, philosophy, theology, and anthropology. She has written about theories of gift-giving and exchange, phenomenologies of timing and tempo, and the history of line-drawing in mathematics and graphic art. Sarah is also an expert in the study of William Blake (you can hear her discussing his Songs of Innocence and of Experience on the BBC Radio 4 programme, In Our Time).
Sarah comes from Abingdon, Oxfordshire, and went to school at a local comprehensive. She did her BA, MPhil, and PhD in English at St Catharine's College, Cambridge, and was appointed to the Janice Scott Junior Research Fellowship in English at University College, Oxford, in 2005. Prior to taking up her current post at Cambridge, she held lectureships at Southampton and Newcastle.
At Queens', Sarah teaches the undergraduate papers 'Literature and its Contexts, 1660-1870', 'Lyric', and 'Practical Criticism and Critical Practice'. She also supervises dissertations. At the Faculty, she lectures on 'things' and material culture; travel, trade, and empire; and William Blake. Sarah also teaches on the 'Eighteenth-Century and Romantic' strand of the MPhil in English Studies. In the past few years, she has won or been nominated for student-led teaching awards for outstanding lecturing, outstanding feedback, and contributions to pastoral care.
In 2017-18, Sarah will hold a Leverhulme Trust Research Fellowship for a book provisionally entitled Making Time, about the refractions of different forms of 'Newtonian time' in religious writings of the late-eighteenth century. In 2016-17, she was an Early Career Fellow and the Crausaz Wordsworth Fellow at CRASSH, the Centre for Research in Arts, Social Sciences, and Humanities.
Research Interests
--William Blake, his works, and their reception from the 1780s to the 1920s;
--time or timing as experienced and measured in the eighteenth century, the technics of time, and philosophies of time, especially in relation to genre (specifically, letters, journals, conversion narratives, hymns, and long poems by William Cowper, John Newton, Christopher Smart, and Edward Young);
--gift-giving and exchange in theory and practice, and associated discursive contexts such as patronage, charity, inspiration, sacrifice, salvation, grace, conversation, and correspondence;
--material cultures (especially the 'social life' of 'things') in the long eighteenth century;
--the history of mathematics (especially geometry)
Areas of Graduate Supervision
Sarah would be glad to work with research students (MPhil and PhD) on any topic related to her research interests, or broader academic interests, as outlined above.
Selected Publications
William Blake in Context, ed. Sarah Haggarty (Cambridge: Cambridge University Press, expected 2018)
'Manuscripts and notebooks', in William Blake in Context (expected 2018)
William Blake: Songs of Innocence and of Experience (1794), co-written by Sarah Haggarty and Jon Mee (Basingstoke: Palgrave Macmillan, 2013)
'"The ceremonial of letter for letter": William Cowper and the Tempo of Epistolary Exchange', Eighteenth-Century Life, 35.1 (2011), 149-167
Blake's Gifts: Poetry and the Politics of Exchange (Cambridge: Cambridge University Press, 2010)
Blake and Conflict, ed. Sarah Haggarty and Jon Mee (Basingstoke: Palgrave Macmillan, 2008)
'From Donation to Demand? Almsgiving and the "Annotations to Thornton"', in Blake and Conflict (2008), pp. 105-125
In Preparation:
Making Time: Religious Writing, Pre-modernity, and the Temporality of Action
'Time of Death: Kairos and Crisis in Cowper's Adelphi'
'Some Versions of Euclid: Blake's Newton and Romantic Geometry'