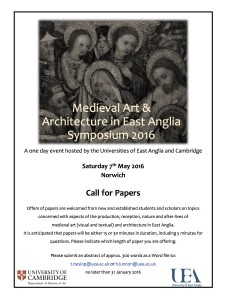 A one day event hosted by the Universities of East Anglia and Cambridge
Saturday 7th May 2016 Norwich
Offers of papers are welcomed from new and established students and scholars on topics concerned with aspects of the production, reception, nature and after-lives of medieval art (visual and textual) and architecture in East Anglia.
It is anticipated that papers will be either 15 or 30 minutes in duration, including 5 minutes for questions. Please indicate which length of paper you are offering.
Please submit an abstract of approx. 300 words as a Word file to: t.heslop@uea.ac.uk or h.lunnon@uea.ac.uk
no later than 31 January 2016