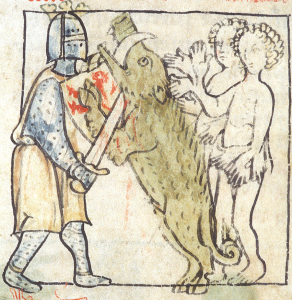 The 'animal turn' is one of the newest and most exciting developments in medieval scholarship. Researchers are increasingly interrogating the role of animals in society and culture, the interaction between human and beast, and the formation of human and non-human identities. The Medieval Romance Society is hosting two sessions on the role of animals in romances at the 53rd International Congress on Medieval Studies 2018, Western Michigan University, Kalamazoo. We welcome papers which draw on a broad range of methodologies and themes.
Session I: The Animal in Medieval Romance I: The Animal as Friend
This session invites papers examining the co-dependent relationships between animals and humans in romances. We encourage a broad interpretation of this theme, including cross-species friendships, sexual and romantic couplings, domestication and farmyard animals, and animals as parental surrogates.
Session II: The Animal in Medieval Romance II: The Animal as Product
This session welcomes papers which examine how animal bodies are exploited in medieval romances. Even after death, animals continue to exert their presence in romance narrative through their earthly remains. The genre's commodification of bestial bodies also extends beyond texts to the physical product of vellum upon which they are transmitted. Papers might explore themes of butchery, the wearing of skins and furs, the use of bone and ivory, and the production of parchment and manuscript-binding.
Please send abstracts of 250-300 words to Tim Wingard at tw659@york.ac.uk by 15th
September 2017. For more info, visit: medievalromanceanimal.wordpress.com