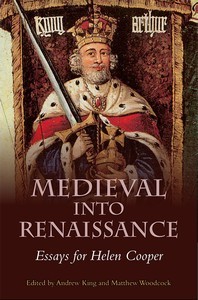 A festschrift for Professor Helen Cooper has just been published, edited by Andrew King and Matthew Woodcock.
The borderline between the periods commonly termed "medieval" and "Renaissance", or "medieval" and "early modern", is one of the most hotly, energetically and productively contested faultlines in literary history studies. The essays presented in this volume both build upon and respond to the work of Professor Helen Cooper, a scholar who has long been committed to exploring the complex connections and interactions between medieval and Renaissance literature. The contributors re-examine a range of ideas, authors and genres addressed in her work, including pastoral, chivalric romance, early English drama, and the writings of Chaucer, Langland, Spenser and Shakespeare. As a whole, the volume aims to stimulate active debates on the ways in which Renaissance writers used, adapted, and remembered aspects of the medieval.
The volume includes an essay by James Wade, entitled 'Penitential Romance after the Reformation'.
The other contributors are Joyce Boro, Aisling Byrne, Nandini Das, Mary C. Flannery, Alexandra Gillespie, Andrew King, Megan G. Leitch, R.W. Maslen, Jason Powell, Helen Vincent, Matthew Woodcock.