Prof David Trotter, Gonville and Caius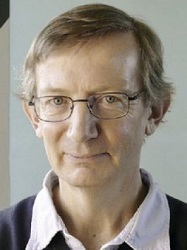 Research Interests
Literature and cinema in Britain between the world wars: a multi-media approach. Naturalism in literature and cinema. Published work includes books on the history of the British novel, on twentieth-century poetry, on literature and the visual arts in the second half of the nineteenth century, on literature and cinema, and on the cultural history of psychopathologies (paranoia, phobia).
Areas of Graduate Supervision
Literature in English c. 1850 to c. 1950. Contributes to teaching and/or supervision for the Criticism & Culture and Screen Media and Cultures MPhils, and PhDs on literary subjects in the post-1830 period.
Selected Publications
David Trotter, 'Representing Connection: A Multimedia Approach to Colonial Film, 1918-1939', in Lee Grieveson and Colin MacCabe, eds., Empire and Film (Houndmills: Palgrave, 2011), 151-66
David Trotter, 'Techno-Primitivism: Á Propos of Lady Chatterley's Lover', Modernism/Modernity, 18.1, 2011, 149-66
David Trotter, The Uses of Phobia: Essays on Literature and Film (Oxford: Wiley-Blackwell, 2010), 174
David Trotter, 'Dis-Enablement: Subject and Method in the Modernist Short Story', Critical Quarterly, 52.2, 2010, 4-13
David Trotter, 'e-Modernism: Telephony in British Fiction, 1925-1940', Critical Quarterly, 51.1, 2009, 1-32
David Trotter, Cinema and Modernism (Oxford: Wiley-Blackwell, 2007), 224