Dr Ewan Jones, Downing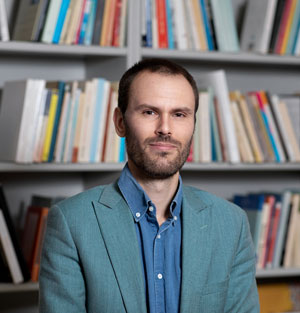 Biographical Information
I am University Lecturer in the Nineteenth Century at the Faculty of English, and a fellow and Director of Studies for Part II at Downing. I completed my BA, MPhil and PhD at King's College, Cambridge, and was previously Thole Research Fellow at Trinity Hall. I teach for Part I, Papers I (Practical Criticism and Critical Practice), 6 (English Literature and its Contexts 1660-1870) and 7a (English Literature and its Contexts 1830-1945); and for Part II, Papers 9 (Lyric), 10 (1847–1872), 15 (The English Moralists) and 16 (The History and Theory of Literary Criticism). I supervise dissertations in the above areas.
I am currently at work on three separate projects. The first of these takes the form of a prospective second book that seeks to trace the historical development of the notion of rhythm across the nineteenth century. I am also a member of the Concept Lab, based at the Centre for Digital Knowledge at CRASSH, which seeks to develop new computational resources so as to uncover and account for the structure and change of concepts over long historical periods. Finally, I am presently engaged (with Phyllis Weliver) on a project to digitise manuscripts relating to Alfred Lord Tennyson; in making them available to a wider public, we hope to demonstrate overlooked relations between poetry, visual culture and music in his work.
Research Interests
Verse form; aesthetics; psychoanalysis; conceptual history; computation and digital culture.
Areas of Graduate Supervision
I supervise for the MPhils in Modern and Contemporary Literature, Criticism and Culture, and 18th Century and Romantic Studies. I welcome enquiries from prospective graduate students interested in any of the above topics.
Selected Publications
Books
Jones, E., Coleridge and the Philosophy of Poetic Form (Cambridge University Press, 2014; paperback 2017).
Articles
Jones, E., 'The Sonic Organization of "Kubla Khan"', forthcoming in Studies in Romanticism.
Jones, E., 'Wordsworth's Strenuous Indolence', forthcoming in Essays in Romanticism.
Jones, E., 'Pretty Vacant: Shelley's Metrical Stops', forthcoming in Romantic Circles Praxis ('Metrical Movements' special issue, ed. Charles Mahoney).
Jones, E. and Weliver, P., 'The Tennysons' Princess, and the Performance of Childhood', forthcoming in The Edinburgh Companion to Literature and Music.
Jones, E., 'Rhythm and Affect in "Christabel"', forthcoming in Critical Rhythm, ed. Jonathan Culler and Ben Glaser (Fordham UP).
Recchia, G., Jones, E., Nulty, P., Regan, J., & de Bolla, P., 'Tracing shifting conceptual vocabularies through time' in Knowledge Engineering and Knowledge Management: EKAW 2016 Satellite Events, EKM and Drift-an-LOD, Bologna, Italy, November 19–23, 2016, Revised Selected Papers, ed. P. Ciancarini, P. et al., 19–28.
Jones, E., 'Coventry Patmore's Corpus', ELH 83.3 (Fall 2016), 839–872.
Jones, E., '"Let the Rank Tongue Blossom": Browning's Stuttering', Victorian Poetry, 53.2 (Summer 2015), 103–132.
Jones, E., 'Split Lines in Shakespeare and Coleridge', Essays in Criticism, 65.4 (October 2015), 421–446.
Jones, E., 'John "Walking" Stewart, and the Ethics of Motion', Romanticism, 21.2 (July 2015), 119–131.
Jones, E., 'Lyric Explanation: Tennyson's Princesses', Thinking Verse, 4.1 (November 2014), 50–78.
Jones, E., '"Earth Worm Wit Lies Underground": the Compositional Genesis of Coleridge's "Limbo" Constellation', Modern Philology, 110.4 (May 2013), 513–535.

Jones, E., '"Less Gross than Bodily": Materiality in the Conversation Poem Sequence', Review of English Studies, 64.264 (April 2013), 267–88.
Jones, E., 'Coleridge, Hyman Hurwitz and Hebrew Poetics', Coleridge Bulletin, Winter 2012, 59–68.
Reviews
Jones, E., 'Andrew Piper, Dreaming in Books: The Making of the Bibliographic Imagination', Nineteenth-Century Literature, 71.1 (June 2016), 132–36.
Jones, E., 'Chris Murray, Tragic Coleridge', Coleridge Bulletin, Winter 2015, 125–29.
Jones, E., 'Romantic Poetry: An Annotated Anthology, ed. Michael O'Neil and Charles Mahoney', Coleridge Bulletin, Summer 2014, 77–83.
Jones, E., 'Tim Milnes, The Truth About Romanticism', Coleridge Bulletin, Summer 2012, 118–122.
Jones, E., 'Richard Holmes, The Age of Wonder', Coleridge Bulletin, Summer 2010, 106–111.
Jones, E., 'Noel Jackson, Science and Sensation in Romantic Poetry', Coleridge Bulletin, Winter 2009, 87–91.