Dr Sarah Haggarty, Queens'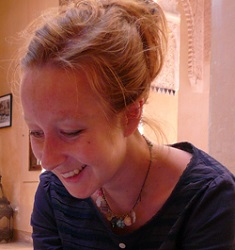 Biographical Information
Sarah is a University Lecturer at the Faculty of English, and a Fellow of Queens' College. She works primarily on long eighteenth-century British writing and culture, and has a special interest in the intersections of literary studies, anthropology, religious studies, and economics. She is an expert in the study of William Blake, and has also worked, largely, on theories of gift-giving and exchange, and phenomenologies of timing and tempo.
Sarah comes from Abingdon, Oxfordshire, and went to school at a local comprehensive, John Mason. She was a student at St Catharine's College, Cambridge, where she did her BA, and then an MPhil and PhD. After this, she was awarded the Janice Scott Junior Research Fellowship in English at University College, Oxford, and subsequently taught at the Universities of Cambridge and Southampton. From 2010, she held a lectureship at Newcastle University, and in 2013, was appointed to her current post at Cambridge.
For Queens', Sarah teaches 'Literature and its Contexts, 1660-1870', 'Lyric', and 'Practical Criticism and Critical Practice'. She also supervises dissertations. For the Faculty, she lectures on 'things' and material culture; travel, trade, and empire; and William Blake. Sarah also teaches on the MPhil in Eighteenth-Century and Romantic Studies.
Research Interests
* William Blake, his works, and their reception from the 1780s to the 1920s;
* gift-giving and exchange in theory and practice, and associated discursive contexts such as patronage, charity, inspiration, sacrifice, salvation, grace, conversation, and correspondence;
* time or timing as experienced and measured in the eighteenth century, and philosophies of time, especially in relation to genre (specifically, letters by William Cowper and John Newton; religious lyrics by Christopher Smart and Edward Young; popular almanacs);
* material cultures (especially the 'social life' of 'things') in the long eighteenth century;
* Romantic-period natural history (in relation to Thomas Bewick)
Areas of Graduate Supervision
Sarah would be glad to work with research students (MPhil and PhD), and indeed undergraduate dissertation students, on any of the above, or associated, topics
Selected Publications
Haggarty, S., and J. Mee, William Blake: Songs of Innocence and of Experience (1794) (Basingstoke: Palgrave Macmillan, 2013)
Haggarty, S., "The ceremonial of letter for letter": William Cowper and the Tempo of Epistolary Exchange', Eighteenth-Century Life, 35.1 (2011), 149-167
Haggarty, S., Blake's Gifts: Poetry and the Politics of Exchange (Cambridge: Cambridge University Press, 2010)
Haggarty, S., and J. Mee J, eds, Blake and Conflict (Basingstoke: Palgrave Macmillan, 2008)
Haggarty, S., 'From Donation to Demand? Almsgiving and the "Annotations to Thornton"', in Blake and Conflict (2008), pp. 105-125