Reading Tennyson: 23 October 2009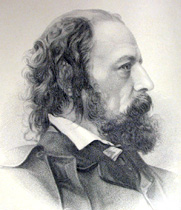 A Celebration of the Bicentenary of the Birth of Alfred, Lord Tennyson
On 23rd October 2009, the Faculty of English along with Trinity College, Cambridge, celebrated the bicentennial birthday of Alfred, Lord Tennyson. Throughout the day, various members of the Faculty of English read a good portion of his poetic output. These readings were performed in the Judith E Wilson Drama Studio and also broadcast live over the Internet. They are now being made available on this site so that those who missed them on the day can listen to at their leisure.
Please bear in mind that these poems were recorded live and there may be some ambient sounds. Thank you!
Reading Tennyson
Introduction: Prof. Adrian Poole
Update
September 2017: We're pleased to share a new Tennyson resource: The Tennysons Archive at the Cambridge University Digital Library (CUDL), which contains digitised copies of materials held at the Wren Library, Trinity College, Cambridge.
Update
30 June 2010: A recent issue (11 June 2010) of The Times Literary Supplement printed a poem written by Angela Leighton about the experience of this all-day reading. We are printing it here with their kind permission.
Reading In Memoriam
(Cambridge 23.10.09)
Is it ourselves whose voices these words mourn
or else our souls in soundwaves in a room
that pluck occasion from the world's humdrum
and turn noteworthy noting what was done
before our dying started to begin?
Is it for us that In Memoriam
resounds the sounds of sorrow in a room
as if we met the dead in unison
and took their words to taste upon the tongue
to make a conversation from death's song?
ANGELA LEIGHTON
Session One:
Additional poems read by Prof. Adrian Poole
Session Two:
Session Three:
Session Four:
Session Five: