Dr Clare Walker Gore, Trinity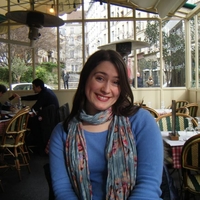 Biographical Information
I read English at Selwyn College, Cambridge, where I went on to study for my MPhil and PhD. I was elected to a Title A Fellowship (a junior research fellowship) at Trinity in 2016. I was named one of the BBC/AHRC 'New Generation Thinkers' for 2015-2016.
Research Interests
My doctoral thesis, which I am currently revising for publication, was entitled 'Plotting Disability: Physical Difference, Characterisation, and the Form of the Novel, 1837-1907'. It explored the role of disabled characters in the nineteenth-century novel, investigating whether characters' capacity to function in narrative terms is curtailed by the attribution of a social identity based on incapacity. In fact, I have found the opposite to be the case: disabled characters perform a host of necesary narrative roles in the Victorian novel, and disability functioned as an enabling concept for nineteenth-century novelists, used to test the possibilities and limitations of the marriage plot, to explore questions of social and narrative justice, and to probe the connection between embodiment and identity. My thesis focused on the work of Charles Dickens, Wilkie Collins, Charlotte M. Yonge and Dinah Mulock Craik; I am currently working on George Eliot and Henry James.
In addition to my particular interest in questions of identity and embodiment in the Victorian novel, I am broadly interested in nineteenth-century fiction, in women's writing, in feminist and queer approaches to the novel, and in nineteenth-century cultural history. I mainly teach Part I Paper 1 (practical criticism), Paper 7a (1830-1945), and Part II Paper 10 (1847-1872), and supervise dissertations on a range of nineteenth-century topics.
Selected Publications
Articles and Book Chapters

Review Essays
Shorter Pieces
'The Amazing Life of Arthur Kavanagh', BBC History Magazine (March 2016)
Editions
I have edited a critical edition of Dinah Mulock Craik's out-of-print novel A Noble Life, published by Victorian Secrets in March 2016.
Radio Broadcasts
'Invalidism in Barchester Towers', Radio 3, Free Thinking, 6 July 2015
'Politician and Pioneer: Writing the Life of Arthur Macmurrough Kavanagh', Radio 3, The Essay, 10 November 2015
'George Eliot and Germany', Radio 3, Proms Extra, 2 August 2016