Dr Clare Walker Gore, Trinity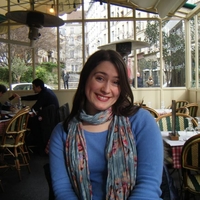 Biographical Information
I read English at Selwyn College, Cambridge, where I went on to study for my MPhil and PhD. I was named one of the BBC/AHRC 'New Generation Thinkers' for 2015-2016 and was elected to a Junior Research Fellowship at Trinity in 2016.
Research Interests
My current project explores life-writing and fiction in the Victorian period, and in particular life-writing by and about female novelists, including Elizabeth Gaskell, Margaret Oliphant, Harriet Martineau and George Eliot.
My previous project, Plotting Disability in the Nineteenth-Century Novel, grew out of my doctoral thesis, and explored the role of disabled characters in the nineteenth-century novel, investigating whether characters' capacity to function in narrative terms is curtailed by the attribution of a social identity based on incapacity. In fact, I found the opposite to be the case: disabled characters perform a host of necesary narrative roles in the Victorian novel, and disability functioned as an enabling concept for nineteenth-century novelists, used to test the possibilities and limitations of the marriage plot, to explore questions of social and narrative justice, and to probe the connection between embodiment and identity. The monograph version mainly focuses on the work of Charles Dickens, Wilkie Collins, Charlotte M. Yonge, Dinah Mulock Craik, George Eliot and Henry James.
In addition to my particular interest in these areas, I am broadly interested in nineteenth-century fiction, in women's writing, in feminist and queer approaches to the novel, and in nineteenth-century cultural history. I mainly teach Part I Paper 1 (practical criticism), Part I Paper 7a (1830-1945), Part I Paper 7b (1870-present), and Part II Paper 10 (1847-1872). I supervise dissertations on a range of nineteenth- and twentieth-century topics.
Selected Publications
Books
Plotting Disability in the Nineteenth-Century Novel (Edinburgh University Press, forthcoming 2020)
Charlotte M. Yonge: Writing the Victorian Age, co-edited with Clemence Schultze and Julia Courtney (Palgrave Macmillan, forthcoming 2021)
Articles and Book Chapters
'"Of wonderful use to everybody": Disability and the Marriage Plot in the Nineteenth-Century Novel', The Routledge Companion to Literature and Disability, ed. Alice Hall (Routledge, forthcoming 2019)
'"Our Ordinary Lot": The Cross, the Crutch and the Theology of Disability in the Novels of Charlotte M. Yonge', The Figure of Christ in the Nineteenth Century, ed. Elizabeth Ludlow (Palgrave Macmillan, forthcoming 2019)
'Charlotte M. Yonge' and 'The Daisy Chain', in The Palgrave Encyclopedia of Victorian Women Writers, ed. Lesa Scholl and Emily Morris (Palgrave Macmillan, 2019)
'"That very ugly saddle': Disability, Adaptation and Paternal Inheritance in The History of Sir Richard Calmady', Lucas Malet, Dissident Pilgrim: Critical Essays, ed. Alexandra Gray and Jane Ford (Routledge, 2019), pp.52-68
'"Excluded from a woman's natural destiny": Disability and Femininity in Dinah Mulock Craik's Olive and Charlotte M. Yonge's The Daisy Chain', Reassessing Women's Writing of the 1840s and 1850s, Adrienne E. Gavin and Carolyn W. de la L. Oulton (Palgrave Macmillan, 2018), 153-166
'The Additional Attraction of Affliction: Disability, Sex and Genre Trouble in Barchester Towers', Victorian Literature and Culture 3 (August 2017), 629-643
"The Awful Individuality of Suffering": Disabled Characterisation in Dinah Mulock Craik's Olive and A Noble Life', The Variable Body in History, ed. Chris Mounsey and Stan Booth (Peter Lang, 2016), 203-229
'"The right and natural law of things": Disability and the Form of the Family in the Fiction of Dinah Mulock Craik and Charlotte M. Yonge', Queer Victorian Families: Curious Relations in Literature, ed. Duc Dau and Shale Preston (Routledge, February 2015), 116-133
'Noble Lives: Writing Masculinity and Disability in the Late Nineteenth Century', Nineteenth-Century Contexts, 36.4 (September 2014), 363-375
'"Setting Novels at Defiance": Novel Reading and Novelistic Form in Charlotte M. Yonge's The Heir of Redclyffe', Nineteenth-Century Gender Studies1 (Spring 2014)
Review Essays
Shorter Pieces
'A Deadly Obsession in Victorian London', BBC History Magazine (August 2017), 40-43
'The Amazing Life of Arthur Kavanagh', BBC History Magazine (March 2016)
Editions
Dinah Mulock Craik, A Noble Life, published by (Victorian Secrets, 2016).
Radio Broadcasts