Dr Helen Thaventhiran, Robinson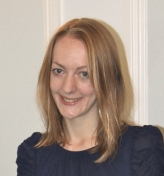 Biographical Information
I'm a University Lecturer in Literature from 1830-present, and a fellow of Robinson College, where I have been Director of Studies in English since 2013. I studied for a BA and PhD in Cambridge (at Trinity Hall and King's respectively) and for an MSt. in twentieth-century literature at New College, Oxford. From 2009-2013, I held a Research Fellowship at Christ's College, Cambridge.
For Part I of the English Tripos, I teach Papers: 1 (Practical Criticism and Critical Practice), 7a (English Literature and its Contexts, 1830-1945), and 7b (English Literature and its Contexts, 1870 to the present). For Part II, I teach Papers: 1 (Practical Criticism and Critical Practice), 2 (Tragedy), 11 (Modernism and the Short Story), 12 (Contemporary Writing), 15 (The English Moralists), 16 (History and Theory of Literary Criticism). I supervise dissertations throughout these areas.
Research Interests
Nineteenth-, twentieth- and twenty-first century literature, especially modernism. The history, theory, and practice of literary criticism; lyric poetics; prose style. Intellectual history and philosophy. Early twentieth-century socialism. Dance, grace, gesture.
Current and future projects include: a book about the relations between literature and analytical philosophy (Wittgenstein, Austin); a study of socialist modernisms and auto-didact readers; an investigation of concepts and styles in dance criticism.
Areas of Graduate Supervision
I supervise for the MPhil in Modern and Contemporary Literature and would be glad to hear from potential graduate students wishing to work on any of my research interests. Current PhD supervision includes: prose rhythms; classical meters in English, 1860-1930.
Selected Publications
BOOKS

Radical Empiricists: meaning and modernist criticism (Oxford University Press, 2015).

William Empson's The Structure of Complex Words, edited by Helen Thaventhiran & Stefan Collini (Oxford University Press, forthcoming, 2017).

CHAPTERS, ARTICLES, REVIEWS

'Feelings under the Microscope: new critical affect', Cambridge Critical Concepts: Affect, ed. Alex Houen (Cambridge University Press, 2018)

'The Literary Criticism of T.S. Eliot', chapter in The Cambridge Companion to T.S. Eliot, new edition, ed. Jason Harding (Cambridge University Press, 2016).

'Well-versed: Wittgenstein and Leavis read Empson', chapter in Wittgenstein Reading, ed. Wolfgang Huemer and Garry Hagberg (De Gruyter, 2014).

'War Lords in the Republic of Letters: Empson and Richards among the Mandarins', Cambridge Quarterly, 41.1, March 2012

'Empson and the Orthodoxy of Paraphrase', Essays in Criticism, 61.4, October 2011

[Helen Crawforth], 'Phantom Pentameters', Essays in Criticism, 60.3, July 2010