Dr Ian Patterson, Queens'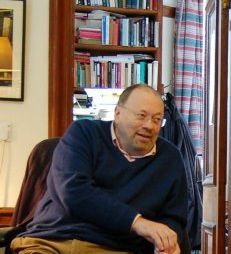 Biographical Information
I received my BA in English from Pembroke College, Cambridge in 1969 and returned to academia to do my PhD (https://www.repository.cam.ac.uk/handle/1810/244805) in the 1990s. I held a Junior Research Fellowship at King's College, Cambridge from 1995 to 1999, since which time I have been a Fellow of Queens' College where, until recently, I directed studies for Part II of the Tripos.
Twitter: @paftersnu
Web site: http://ianpatterson.typepad.com/
Research Interests
Modernism, twentieth-century and contemporary literature, especially poetry. I have written on, and have a continuing interest in, poetry in the modernist tradition in Britain and the USA; contemporary fiction; literature and politics in the 1930s and after; literature and war, including pacifism and the Spanish Civil War; little magazines; forgotten writers; translation; psychoanalysis; Proust; and prosody. I'm interested in arguments about literary value, and the historical and cultural conditions of literary production, as well as in historical poetics. My last book, Guernica and Total War examined responses to the new technology of bombing and the cultural construction of fear of death from the air through fiction, poetry, film and political discourse in the period between 1911 and the Cold War. I'm currently working on a new assessment of interactions between writing and left-wing politics between 1929 and 1950, and writing a book which analyses contemporary literary culture through a hostile critique of Ian McEwan's work.
Areas of Graduate Supervision
I shall not be taking on any new graduate students.
Selected Publications
Ian Patterson, Still Life, Hunstanton: Oystercatcher, 2015
Ian Patterson, Time Dust, Cambridge: Equipage, 2015
Ian Patterson, 'Langue-in-Cheek: reading & writing between the lines', Thinking Verse [thinkingverse.com] vol. 4, no. 2, February 2015, 67-79
Ian Patterson, 'The Revenge for Love' in Andrzej Gasiorek and Nathan Waddell (eds), Wyndham Lewis: a critical guide, Edinburgh University Press, 2015
Laura Ashe and Ian Patterson, eds., War and Literature (Essays and Studies 14), Boydell & Brewer, 2014
Ian Patterson, 'No man is an I: recent developments in the lyric', in Marion Thain (ed.) The Lyric Poem: Formations and Transformations, Cambridge University Press, 2013
Ian Patterson, 'The Translation of Soviet Literature: John Rodker and PresLit', in Rebecca Beasley and Philip Bullock, eds., Russia in Britain 1880-1940: From Melodrama to Modernism, Oxford University Press, 2013
Ian Patterson, 'Pacifists and Conscientious Objectors', in Adam Piette and Mark Rawlinson, eds., The Edinburgh Companion to Twentieth-Century British and American War Literature, Edinburgh University Press, 2012
Ian Patterson, 'New York Poets: Folder (1953–6); Neon (1954–60); and Yugen (1958–62)', in Peter Brooker and Andrew Thacker, eds., The Oxford Critical and Cultural History of Modernist Magazines: Vol. II North America 1894-1960, Oxford University Press, 2012
Ian Patterson, 'John Rodker, Julius Ratner and Wyndham Lewis: The Split-Man Writes Back', in Andrzej Gasiorek, Alice Reeve-Tucker and Nathan Waddell (eds.), Wyndham Lewis and the Cultures of Modernity, Ashgate, 2011
Ian Patterson, 'Time, Free Verse, and the Gods of Modernism', in Tradition, Translation, Trauma. The Classic and the Modern, eds. Jan Parker and Timothy Mathews, Oxford University Press, 2011
Ian Patterson, 'Wild Geese Over the Mountains: Melodrama and the Sublime in the English Imaginary 1933–9', Tate Papers, 13 (Spring, 2010)
Ian Patterson, 'Containers, Pulses, Lentils: Tel Quel and Veronica Forrest-Thomson', Kenyon Review Online, (December 2009)
Ian Patterson, The Glass Bell, Barque Press, 2009
Ian Patterson, 'Born Again, Born Better: Text Generation and Reading Strategies in Michael Kindellan and Reitha Pattison, Word is Born', in Robin Purves and Sam Ladkin (eds.), Complicities: British Poetry 1945-2007, Prague: Litteraria Pragensia, 2007
Ian Patterson, Guernica and Total War, Profile Books and Harvard University Press, 2007
Ian Patterson, '"Fool's Bracelet"', in Keston Sutherland (ed.), For J.H. Prynne: In Celebration, 24th June 2006, Quid 17, Barque Press, 2006
Ian Patterson, 'Denzil Dunnett and Oxford Poetry in the 1930s', introduction to Denzil Dunnett, Wounds, BookArt, 2006
Ian Patterson, 'Modern History and Socio-Political Theory', The Oxford History of Literary Translation in English, vol. 4 (1790-1900), eds. Peter France and Kenneth Haynes, Oxford University Press, 2006
Marcel Proust, Finding Time Again [In Search of Lost Time, vol. 6], edited and translated by Ian Patterson, Penguin, 2003
Ian Patterson, Time to Get Here: Selected Poems 1969-2002, Salt, 2003
Ian Patterson, 'Writing on Other Fronts: Translation and John Rodker', Translation and Literature 12 Part 1, 2003, 88-113
Ian Patterson, 'Bad Dreams and Secret Artists: translating Freud into Literature', Psychoanalysis and History 4.2 (Summer 2002), 2002, 127-140
Ian Patterson, 'The Plan Behind the Plan: Russians, Jews and Mythologies of Change', in Laura Marcus and Bryan Cheyette (eds.), Modernity, Culture and "The Jew", Polity Press and Stanford University Press, 1998.
Charles Fourier, The Theory of the Four Movements (1809), edited and translated by Ian Patterson, with an introduction by Gareth Stedman Jones, Cambridge University Press, 1996.
Ian Patterson, 'Beneath the Surface: Apes, Bodies and Readers', in Paul Edwards (ed.), Volcanic Heaven: Essays on Wyndham Lewis's Painting and Writing, Santa Rosa, California: Black Sparrow Press, 1996.
Ian Patterson, '"the medium itself, rabbit by proxy": some thoughts about reading J.H.Prynne', in Denise Riley (ed.) Poets on Writing. Britain, 1970-1991, Macmillan, 1992.