Dr James Riley, Girton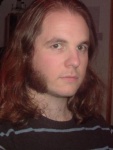 Biographical Information
James Riley is Fellow and College Lecturer in English at Girton College. James is currently working on two book projects: Playback Hex, a study of William Burroughs and tape technology and Road Movies, a psychogeographic study of cult film. He is also co-directing The Alchemical Landscape, a research and public engagement project looking at notions of magic and geography.
Between 2010 and 2013 James developed and directed an editorial project linked to the archives of the film-maker and novelist Peter Whitehead. This international collaborative project yielded a series of publications with Wayne State University Press and Adam Matthew Digital.
James blogs at Residual Noise and is a Fellow of the Royal Society of Arts.
Research Interests
British and American literature; literary and critical theory; Beat writers, especially Jack Kerouac, William Burroughs and Alexander Trocchi; literature and technology; recording, noise, cybernetics; counterculture and the 1960s; postmodernism, posthumanism and related writers, particularly J.G. Ballard; experimental cinema; terrorism; Forteana.
Selected Publications
Edited Collections
Terrorism Considered as One of the Fine Arts: A Dossier (Nohzone, 2015)
Selections from the Nohzone Archive: 1964-1969 part of Rock n Roll, Counterculture, Peace and Protest: Popular Culture in Great Britain and America, 1950-1975 gen ed. Bill Schurk (Adam Matthew Digital, 2012)
Framework 52. Things Fall Apart: Peter Whitehead Issue [2 vols.] (Wayne State University Press, 2012)
Book Chapters
"The Spiderhood: Psychedelic Literature, Literary Psychedelia and the Writing of LSD" in Flower/Power: British Literature in Transition, volume 2, 1960-1980 ed. Kate McLoughlin (Cambridge University Press, 2017) [forthcoming].
"Playback Hex: William Burroughs and the Magical Objectivity of the Tape Recorder" in Strange Dimensions: A Paranthropology Anthology ed. Jack Hunter (Psychoid, 2015)
"Dracula and Phonography", in Telegraph for Garlic ed. Samia Ounoughi, (Red Rattle, 2013)
"'Have you no reverence, no respect?': Narrative and Critical Subversion in Herk Harvey's Carnival of Souls (1962)", Crash Cinema: Issues of Representation in Film, ed. Mark Goodall, Jill Good and Will Godfrey, (CSP, 2007)
Articles
"Notes on the Modernist Ghost Story", Wormwood 25 (2015)
"Auguries of Discord: Protest, Activism and the Swarm", Performance Research 19.5 (2014)
"M.R. James, Night of the Demon and Projection", One+One 13 (2014)
"Cult Films for Cult Religions: Craig Baldwin and Mock-Up on Mu (2010)", One+One 13 (2014)
"White Walls and Empty Rooms: A Brief History of the Fleapit", One+One 12 (2014)
"The Technology of Myth: Peter Whitehead as Novelist", in Framework 52.2 (2012)
"The Other Side of Madness: Charles Manson, 1969 and the Continuation of a Cult", Transgressive Culture 2.1 (2012)
"Peter Whitehead and Terrorism", One+One 1.3 (2010)
"Archive Fever: Craig Baldwin", Vertigo 3.7 (2007)
"Illuminating the Images: Notes on Paul Cronin's Conversations with Peter Whitehead", Vertigo 3.5. (2007)
"David Goodis, Dashiell Hammet and the Lack of Transcendence", Crimeculture (2004).
Review Essays
"Science Fiction: A Guide for the Perplexed", The Cambridge Quarterly 43.4 (2014)
"Well Met: Renaissance Faires and the American Counterculture", Studies in Theatre and Performance 34.2 (2014)
"David Peace: His Dark Materials" The Cambridge Quarterly 41.2 (2012)
"Sherb: New Urban Writing from Coventry", Avocado, 2.8 (2008)
Interviews and Journalism
"Steve Quenell", Monolith. (2013)
"Richard Gordon", Scary Monsters 66 (2008)
"Jenny Fabian", Redeye 1.1 (2006)
Numerous features, reviews and articles for Burnout, ERB, Film and Video Maker, Milk, Naked, Repeat, Sound Projector and others