Dr Kasia Boddy, Fitzwilliam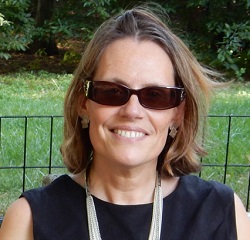 Biographical Information
I have a MA in English and Philosophy from Edinburgh University and a PhD from Cambridge University where I wrote a thesis on late-twentieth-century American short fiction. Before joining the English Faculty in 2012, I taught at the universities of York and Dundee and, for many years, at University College London.
Research Interests
My research focuses primarily on American literary and cultural history. One strand considers the perpetual back and forth between short and long fictional forms. Having written extensively on short stories, I am now working on a book about the history and idea of the Great American Novel, and its reliance on both literary and non-literary sources such as newspapers and the census. I am a member of the Contemporaries research group and recently organised a symposium, Books in the Making, bringing academics and industry professionals together to consider the factors effecting literary production and reception today. Another strand of my research explores the imaginative resources offered by objects and activities such as sport, plants, and razor blades which have become ubiquitous to the point of saturation in modern life, but which for the most part enter only obliquely into literature.
Areas of Graduate Supervision
American, and other, fiction mainly since c.1900.
Selected Publications
'You Believe the Census, Nick?': The Great American Novel and 'the fiction of the census' in Writing, Machine, Code, ed. Sean Pryor and David Trotter (Open Humanities Press, 2016), pp.52-66 open access publication
'Making History: Life Guardsman Shaw at Waterloo', Critical Quarterly, 57, no.4 (2015), 1-44
' "No Stropping, No Honing": Modernism's Safety Razors', Affirmations: of the Modern, 2.2. (2015), 1-54.
'"Fighting Words": Ralph Ellison and Len Zinberg', American Studies, 54, no.3 (2015), 23-34.
'Sports at the New Yorker', in Writing for The New Yorker, ed. Fiona Green (Edinburgh University Press, 2015), 188-208.
' "Variety in Unity, Unity in Variety": The Liminal Space of the American Short Story Anthology', in Liminality and the Short Story: Boundary Crossings in American, Canadian, and British Writing, eds. Jochem Achilles and Ina Bergmann (Routledge, 2015), 145-56.
'Weissnix: Lore Segal and Her First American', in Narratives of Encounters in the North Atlantic Triangle, eds. Waldemar Zacharasiewicz and David Staines (Verlag der österreichischen Akademie der Wissenschaften, 2015), 309-323.
Geranium (Reaktion Books, 2013)
' "Response is Good": Girl with Curious Hairin Context', in A Companion to David Foster Wallace Studies, eds. Stephen J. Burn and Marshall Boswell (2013)
'Bloomsbury in Bloom', the UCL Bloomsbury Project (2010)
Editor, The Short Story, a special issue of Critical Quarterly, 52.2 (July 2010)
Co-editor (with Ali Smith and Sarah Wood), Let's Call the Whole Thing Off: Lovers' Quarrels from Anton Chekhov to ZZ Packer (2009)
'Regular Lolitas?: The Afterlives of an American Adolescent', in American Fiction of the 1990s, ed. Jay Prosser (2008)
Editor, The New Penguin Book of American Short Stories (2011)
' "A staight left against a slogging ruffian": National boxing styles in the years proceeding the First World War', The Journal of Historical Sociology, 24.4 (2011)
' "Under the Queensberry Rules, So to Speak": Some Versions of a Metaphor', Sport in History, 31.4 (2011)
'Lynne Tillman and the Great American Novel', electronic book review (July 2011)
The American Short Story Since 1950 (2010)
'Roth's Great Books: A Reading of The Human Stain', Cambridge Quarterly, 39.1 (March 2010)
'Potting', in Restless Cities ed. Matthew Beaumont and Gregory Dart (2010)
Editor of Carson McCullers, The Heart is a Lonely Hunter (Penguin Classics, 2008)
Boxing: A Cultural History (Reaktion Books, 2008)