Dr Laura Wright, Faculty of English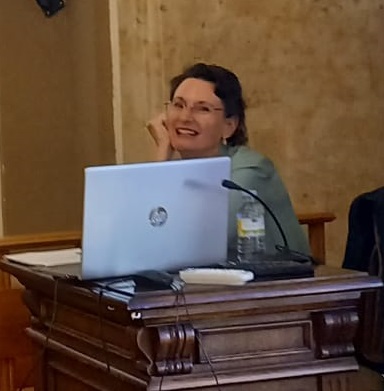 Biographical Information
I work on the history of Standard English and the London dialect, including mixed-language texts written in Anglo-Norman, Medieval Latin and Middle English, as well as 17th, 18th and 19th century London English. I have published historical codeswitching, on the development of Standard English, and on the fate of London English taken to North America and elsewhere, including the East India Company island of St Helena, South Atlantic. I was part of the Finnish Academy-funded "Multicultural Practices in the History of Written English" project 2012-2016. I am currently editing a text from Cambridge Trinity College MS O.3.11, together with Prof Caroline Barron, to be published by the London Record Society. My monograph Sunnyside: A Sociolinguistic History of British House Names, OUP/British Academy, due out Nov 2019, includes Scottish Gaelic as well as Medieval Latin/Anglo-Norman and earlier states of English; and my edited volume The Multilingual Origins of Standard English, Mouton de Gruyter, has just gone to press, with 18 contributors.
Research Interests
The history of the English language; the history of London English; the history of London place-names; the development of Standard English; historical codeswitching between Anglo-Norman, Medieval Latin and Middle English; historical sociolects. Most of my work has been on the language of 14th and 15th century MSS produced in London (in particular, the make-up of mixed-language business writing, but also on the Hammond scribe's use of English). I have also published on the English of 16th century London court records, on the language of 17th and early 18th century slaves and settlers on the Island of St Helena, South Atlantic; on the language of 18th century London trade-cards and servants' bills - in particular, those of fireworkers and their fireworks, the linguistic conventions adopted by servants and masters when advertising for work, and the effects of Victorian technological developments on colour terms and perfume names, amongst other things. I am currently researching the history of British house names.
Areas of Graduate Supervision
I have recently supervised/am supervising doctoral work on English in Gibraltar, Hong Kong, North Carolina, and St Helena, South Atlantic.
Selected Publications
Some recent books:
2011. Herbert Schendl and Laura Wright, eds. Code-switching in Early English. Berlin: Mouton de Gruyter.
2012. Richard Dance and Laura Wright (eds). The Use and Development of Middle English: Proceedings of the Sixth International Conference on Middle English, Cambridge 2008. Berlin: Peter Lang.
2018. Pahta, Päivi, Janne Skaffari and Laura Wright (eds.). Multilingual Practices in Language History: New Perspectives. Language Contact and Bilingualism 15. Berlin: Mouton de Gruyter.
2018. Laura Wright (ed.). Southern English Varieties Then and Now. Berlin: Mouton de Gruyter.
Some recent chapters and articles:
In press. with Christopher Langmuir. "Interpreting Charles Lamb's 'Neat-Bound Books'". Studia Anglica Posnaniensia.
In press. "On Early and Late Modern English non-native suffix -oon". Javier Calle Martín and Laura Esteban (eds.). International Journal of English Studies 19/2.
2017. "On the East India Company vocabulary of St Helena in the late 17th and early 18th century." World Englishes 36/4, 522-540.
"Kiss Me Quick: on the naming of commodities in Britain, 1650 to the First World War." Esther-Miriam Wagner, Bettina Beinhof and Ben Outhwaite (eds.). Merchants of Innovation: the Language of Traders. Berlin: Mouton. 108-131.
2017. "On non-integrated vocabulary in the mixed-language Accounts of St Paul's Cathedral, 1315-1405." Richard Ashdowne and Carolinne White (eds.). Latin in Medieval Britain. Proceedings of the British Academy 206. London: British Academy. 272-298.
2017 for 2016. "From lavender water to Kiss Me, You Dare!: shifting linguistic norms in the perfume industry, 1700-1900." Giovanni Iamartino and Laura Wright (eds.). Textus: English Studies in Italy. Late Modern English Norms and Usage 29/3, 147-176.
2015. "Some more on the history of third-person zero: south west England". Journal of Historical Sociolinguistics, 1(1), 111-130.
2015. "On medieval wills and the rise of written monolingual English". In Javier Calle Martín and Juan Camilo Conde Silvestre (eds.) Approaches to Middle English. Contact, Variation and Change. Frankfurt am Main: Peter Lang. 35-54
2015. "On the place-name Isle of Dogs". In Britt Erman, Gunnel Melchers, Philip Shaw and Peter Sundkvist (eds.). From Clerks to Corpora: Essays in Honour of Nils-Lennart Johannesson. Stockholm: Stockholm University Press. 87–115.
2013. "The Contact Origins of Standard English". In Daniel Schreier and Marianne Hundt (eds). English as a Contact Language. Studies in English Language. Cambridge: Cambridge University Press, 58-74.
"On historical language dictionaries and language boundaries". Liliana Sikorska and Marcin Krygier (eds.) Evur Happie & Glorious, ffor I hafe at Will Grete Riches. Medieval English Mirror 9, 11-26.
2013. Judith A. Jefferson and Ad Putter (eds.) "Mixed-Language Accounts as Sources for Linguistic Analysis". Multilingualism in Medieval Britain (c. 1066-1520): Sources and Analysis. Turnhout: Brepols, 123-136.
2013. "The language of slaves on St Helena, South Atlantic, 1682-1724." Marijke J. Van Der Wal and Gijsbert Rutten (eds). Touching the Past. Studies in the historical sociolinguistics of ego-documents. Amsterdam: Benjamins, 243-276.
2012. "On variation and change in London medieval mixed-language business documents." In Merja Stenroos, Martti Mäkinen and Inge Særheim (eds.), Language Contact and Development around the North Sea. Amsterdam/Philadelphia: John Benjamins, 99-115.
2012. "The Hammond scribe: his dialect, his paper, and folios 133-155 of Trinity College Cambridge MS 0.3.11". In Claudia Lange, Beatrix Weber and Göran Wolf, eds. Communicative Spaces: Variation, Contact, and Change. Frankfurt am Main: Peter Lang. 227-258.
2012. "On Cribby Islands". Journal of the English Place-Name Society, 44, 49-65.
2011. "Semantic shift of the colour-terms maroon and magenta in British Standard English". Revista de Lengua para Fines Específicos, 17, 341-374.
2011. "The Nomenclature of some French and Italian Fireworks in Eighteenth-Century London". The London Journal, vol 36, no. 2, July, 2011, 109-39.
2010. Daniel Schreier and Laura Wright. "Earliest St Helenian English in writing: Evidence from the St Helena Consultations (1682-1723)". In Raymond Hickey (ed). Varieties in Writing: the Written Word as Linguistic Evidence. Amsterdam and Philadelphia: Benjamins, 245-262.
2010. "Eighteenth-Century London Non-Standard Spellings as Evidenced by Servants', Tradesmen's and Shopkeepers' Bills". In Nicholas Brownlees, Gabriella Del Lungo and John Denton (eds). The Language of Public and Private Communicaton in a Historical Perspective. Cambridge: Cambridge Scholars Publishing, 161-190.
2010. "A pilot study on the singular definite articles le and la in fifteenth-century London mixed-language business writing". In Richard Ingham (ed). The Anglo-Norman Language and its Contexts. York: York Medieval Press and The Boydell Press, 130-142.