Dr Marcus Waithe, Magdalene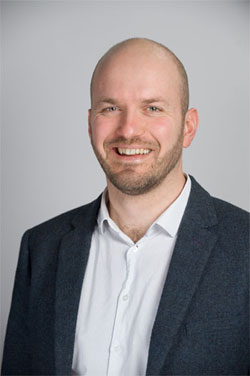 Biographical Information
Marcus Waithe is a University Senior Lecturer in the Faculty of English, and a Fellow and College Librarian at Magdalene College. He held the post of Lecturer in Victorian Literature at the University of Sheffield between 2005-2009, having completed a Ph.D. at King's College, Cambridge in 2004. He was an undergraduate at the University of Leeds, and before that attended state schools in Essex.
Research Interests
Dr Waithe's first book, William Morris's Utopia of Strangers: Victorian Medievalism and the Ideal of Hospitality (2006) explored Victorian interest in the treatment of strangers, in the light of literary, architectural and political efforts to define the limits of the good society. He has published articles on Victorian non-fiction prose, as well as nineteenth and twentieth-century poetry, in Essays in Criticism, Victorian Studies, English, Textual Practice, The Yearbook of English Studies and PN Review. His current book project combines these interests in intellectual history and literary form: entitled The Work of Words: Literature and the Labour of Mind in Britain, 1830-1940, it investigates authorial anxiety about the value of literary endeavour, and considers the strategies employed by writers who sought to evince 'useful' labour by making their words 'work' on the page. He is also pursuing specialist research on John Ruskin's museology, and in this capacity is the project leader of an online museum, which uses Victorian photographs to 'reconstruct' the appearance of Ruskin's museum for Sheffield artisans on the Web: http://www.ruskinatwalkley.org/
Dr Waithe's research interests take in the following areas: Victorian intellectual history; Victorian poetry; William Morris; John Ruskin; Utopias; the Victorian city; museology; work and craftsmanship; law and literature; the poetry and criticism of Geoffrey Hill.
Areas of Graduate Supervision
Dr Waithe is interested in supervising graduates in the following areas: Victorian moralists (esp. Carlyle, Ruskin, Morris); aestheticism; medievalism; literary and intellectual labour; craftsmanship; Utopianism; relations between Victorian literature and the visual arts or architecture; Victorian cultural institutions (especially museums).
Selected Publications
i) Books
(ii) Edited Volumes
(iii) Pamphlets
(iv) Articles and Essays
(v) Academic Book Reviews
(vi) Literary and Art Journalism
(vii) Public Engagement