Dr Mary Newbould, Faculty of English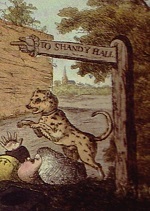 Biographical Information
I'm a Senior Research Associate in my capacity as Co-Investigator on the Sterne Digital Library: an AHRC-funded project run in collaboration with Northumbria University, Cambridge University Library, and the Laurence Sterne Trust to digitise key examples of Laurence Sterne's work and of Sterneana.
I've also been a Director of Studies and a Supervisor in English at various colleges for several years. My main teaching areas are literature and visual culture of the long eighteenth century (1660-1870) and Shakespeare. I also lecture on Shakespeare, Austen, Romantic literature, and Gothic fiction at the Faculty of Education, and until recently I taught summer courses for international university students on eighteenth-century British culture and on Jane Austen. I hold the Qualification as a Maître de conférences qualified to teach at French universities. I regularly contribute reviews of recent publications to major journals, including The Scriblerian.
Research Interests
My research interests sprawl across eighteenth-century literature and visual culture. I specialise in how parody and adaptation allow creative material to shift between genres, art-forms and languages (mainly French) within the contexts of its appearance. The principal feature of my work on eighteenth-century 'afterlives' is Laurence Sterne (1713-1768), whose reception in Britain and beyond can be gauged by exploring Sterneana: the numerous and varied adaptations his writing has inspired from 1760 onwards in text, image, and performance. The Sterne Digital Library is an open-access digital humanities resource that will make much of this material freely available to all users, with informed introductions provided by internationally renowned Sterne scholars.
I continue to publish and present papers on Sterne and his reception, and I take an active role in the international Sternean scholarly community. I'm an editor of The Shandean, a long-running journal dedicated to this author's life, work, and times. I was closely involved in events and publications that took place throughout 2018 to mark the 250-year anniversary of Sterne's death and the publication of A Sentimental Journey through France and Italy. I hosted a major conference celebrating these anniversaries at Jesus College, Cambridge in March 2018, and I'm co-editing a collection of essays on this text penned by an international range of authors.
I'm also really interested in eighteenth-century travel narratives, and how journeying enabled new conversations between the Sister Arts to develop across diverse pockets of cultural activity in Britain, from the impact of Grand Tour travel on country house estates to the emergence of the Gothic aesthetic in architecture and novels alike. I particularly enjoy the comic turn much travel writing of this period takes. Frequently in these texts, travel mobilises new modes of sociability which operate through humorous conversation - often fuelled by convivial drinking - in a way that's related to, but also burlesques the touching encounters of sentimental journeying. I'm embarking on new research exploring the comic tropes routed through these sociable travel narratives, with a particular interest in William Combe's Dr Syntax and the dialogue these poems enjoy with Thomas Rowlandson's illustrations.
Selected Publications
Books:
Adaptations of Laurence Sterne's Fiction: Sterneana, 1760-1840 (Burlington and Aldershot: Ashgate, 2013)
Edited Collections:
Sterne's Sentimental Journey: A Legacy to the World, ed. with W.B. Gerard (Bucknell University Press, forthcoming 2019)
Chapters in books:
'"Contact Incarnate" and "Touching Fiction" in Laurence Sterne and Sterneana', in Defining and Redefining Space in the English-Speaking World: Contacts, Frictions, Clashes, ed. Fanny Moghaddassi, Ghislain Potriquet and Anne Bandry-Scubbi (Newcastle: Cambridge Scholars, 2016), pp. 167-82
'Wit and Humour for the Heart of Sensibility: The Beauties of Fielding and Sterne', in The Afterlives of Eighteenth-Century Fiction, ed. Daniel Cook and Nicholas Seager (Cambridge University Press, 2015), pp. 133-52
'A "new order of beings and things": Caricature in Sterne's Fictional Worlds', in Hilarion's Asse: Laurence Sterne and Humour, ed. Anne Bandry-Scubbi and Peter de Voogd (Newcastle: Cambridge Scholars, 2013), pp. 37-52
Articles:
'Gothic piles and cynical follies revisited: A quizzical tour through country house literature of the long eighteenth century', Nordic Journal of English Studies, 17.1 (2018), 85-119
With Melvyn New, 'Reconsidering a Sternean Attribution: Cambridge University Library's "Sterne Volume"', The Library, Vol. 18, Issue 4 (December 2017), 478-86
'The Rape of the Whisker and Fuzwhiskiana: Re-grooming Pope's Rape of the Lock in early nineteenth-century Cambridge', Philological Quarterly, 95.1 (2016), 125-48
With Helen Williams and Siv Gøril Brandtzæg, 'Advertising Sterne's Novels in Eighteenth-Century Newspapers', The Shandean, 27 (2016), 27-57
'"Illustrating" A Sentimental Journey: The "first annotated edition" of 1803?', Sterne Tercentenary Conference Proceedings,The Shandean, 24 (2013), 103-24
'"The utmost fluidity exists with the utmost permanence": Virginia Woolf's un-Victorian Sterne', Woolf Studies Annual, 16 (2010), 71-94
'Fly-on-the-wall: Toby's Fly and Parasitic Parody', The Shandean, 21 (2010), 103-24
'Character or Caricature? Richard Newton's Illustrations of Laurence Sterne's A Sentimental Journey', Word & Image, 25 (2009), 115-128