Dr Mary Newbould, Faculty of English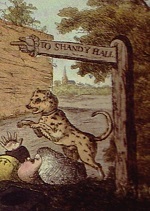 Biographical Information
I served as a Director of Studies and a Supervisor in English at various Cambridge colleges for many years, where I mainly taught literature and visual culture of the long eighteenth century. I also hold the Qualification as a Maître de conférences qualified to teach at universities in France.
I'm currently co-running two research projects. Laurence Sterne and Sterneana is an AHRC-funded Digital Humanities project run collaboratively between Cambridge and Northumbria universities, Cambridge University Library, and the Laurence Sterne Trust. 'The Eighteenth-Century British Novel and the Arts' is supported by the Polish government-funded National Science Centre, and sees a collaboration between Kazimierz Wielki University (Bydgoszcz) and Poznań University.
Research Interests
I specialise in how adaptation allows creative material to shift between genres, art-forms and languages within the contexts of its appearance. A major focus of my work on eighteenth-century 'afterlives' is Laurence Sterne (1713-1768), whose reception in Britain and beyond can be gauged by exploring Sterneana: the numerous and varied adaptations his writing has inspired from 1760 onwards in text, image, and performance. The Sterne Digital Library is an open-access resource that makes first editions of Laurence Sterne's works and key examples of Sterneana freely available to all, illuminated by introductions provided by internationally renowned scholars.
I continue to publish and present papers on Sterne's critical and creative legacies, and I take an active role in the international Sternean scholarly community. I'm an editor of The Shandean, a long-running journal dedicated to this author's life, work, and times. I have spoken about Sterne on BBC Radio 4's 'In Our Time' hosted by Melvyn Bragg, and on BBC Radio 3's 'Free Thinking'.
My work on the eighteenth-century British novel and the arts speaks to my longstanding interest in the intersection between literature and visual culture throughout this period. The NCN-funded project that explores this terrain runs for three years from January 2021. I am co-editing a multi-authored collection of essays addressing widespread aspects of the field, to be published by Edinburgh University Press, and I'm putting together an online exhibition celebrating Tobias Smollett's work and the visual culture it inspired to coincide with the tercentenary of his birth in 2021.
I am currently working on a monograph on irony in the eighteenth century. I regularly contribute reviews to The Scriblerian, and I am a participant of the international DIGITENS project (The Digital Encyclopedia of British Sociability in the Long Eighteenth Century).
Websites:
My personal project page: www.marynewbould.com
Sterne Digital Library project page: https://sternedigitallibrary.wordpress.com/
Selected Publications
Books:
Edited Collections:
The Edinburgh Companion to the Eighteenth-Century Novel and the Arts, ed. with Jakub Lipski (Edinburgh University Press, 2023; under contract).
Adaptation and Digitization in the Long Eighteenth Century: Sterneana and Beyond, ed. with Helen Williams, special feature of 1650-1850: Ideas, Aesthetics, and Enquiries in the Early Modern Era (Rutgers, forthcoming 2022)
Laurence Sterne's

A Sentimental Journey

: "A Legacy to the World", ed. with W.B. Gerard (Lewisburg: Bucknell University Press, 2021)
Chapters in books:
'"

Whose pictur

'

d Morals charm the Mind / And through the Eye correct the Heart

"

: Re-writing the pictorial narrative of A Harlot

'

s Progress

'

, in Neo-Georgian Fiction: Reimagining the Eighteenth Century in the Contemporary Historical Novel, ed. Jakub Lipski and Joanna Maciulewicz (London: Routledge, 2021), pp. 61-79
'"Contact Incarnate" and "Touching Fiction" in Laurence Sterne and Sterneana', in Defining and Redefining Space in the English-Speaking World: Contacts, Frictions, Clashes, ed. Fanny Moghaddassi, Ghislain Potriquet and Anne Bandry-Scubbi (Newcastle: Cambridge Scholars, 2016), pp. 167-82
'Wit and Humour for the Heart of Sensibility: The Beauties of Fielding and Sterne', in The Afterlives of Eighteenth-Century Fiction, ed. Daniel Cook and Nicholas Seager (Cambridge University Press, 2015), pp. 133-52
'A "new order of beings and things": Caricature in Sterne's Fictional Worlds', in Hilarion's Asse: Laurence Sterne and Humour, ed. Anne Bandry-Scubbi and Peter de Voogd (Newcastle: Cambridge Scholars, 2013), pp. 37-52
Articles:
With Jakub Lipski, '"Every sentence, and every action, diverts by its peculiarity" (Critical Review, 13, 1762): Diverting genre in frontispieces to Tobias Smollett's fiction', English Studies, Special issue: Eighteenth-Century Frontispieces (forthcoming 2022)
'"[B]y the knowledge of the great saint Paraleipomenon—": Si(g)ns of Omission in Laurence Sterne', Symbolism, 'Omission' Special Issue, 22 (forthcoming 2022)
'"[It] were wisdome it selfe, to read all Authors, as Anonymo's": Anonymity, Virtual Communities, and Sterneana', Adaptation and Digitization in the Long Eighteenth Century: Sterneana and Beyond, ed. M-C. Newbould and Helen Williams, special feature of 1650-1850: Ideas, Aesthetics, and Enquiries in the Early Modern Era (Rutgers, forthcoming 2022)
Introduction to Leonard MacNally, Tristram Shandy: A Sentimental, Shandean Bagatelle, In Two Acts (London: S. Bladon, 1783), ed. with Peter de Voogd, reprinted in The Shandean, 30 (2019), 89-111
'Gothic piles and cynical follies revisited: A quizzical tour through country house literature of the long eighteenth century', Nordic Journal of English Studies, 17.1 (2018), 85-119
With Melvyn New, 'Reconsidering a Sternean Attribution: Cambridge University Library's "Sterne Volume"', The Library, Vol. 18, Issue 4 (December 2017), 478-86
'The Rape of the Whisker and Fuzwhiskiana: Re-grooming Pope's Rape of the Lock in early nineteenth-century Cambridge', Philological Quarterly, 95.1 (2016), 125-48
With Helen Williams and Siv Gøril Brandtzæg, 'Advertising Sterne's Novels in Eighteenth-Century Newspapers', The Shandean, 27 (2016), 27-57
'"Illustrating" A Sentimental Journey: The "first annotated edition" of 1803?', Sterne Tercentenary Conference Proceedings,The Shandean, 24 (2013), 103-24
'"The utmost fluidity exists with the utmost permanence": Virginia Woolf's un-Victorian Sterne', Woolf Studies Annual, 16 (2010), 71-94
'Fly-on-the-wall: Toby's Fly and Parasitic Parody', The Shandean, 21 (2010), 103-24
'Character or Caricature? Richard Newton's Illustrations of Laurence Sterne's A Sentimental Journey', Word & Image, 25 (2009), 115-128
'Sex, death and the aposiopesis: Two early attempts to fill the gaps of Laurence Sterne's A Sentimental Journey', Postgraduate English, 17 (2008), web
'Shandying it Away: Sterne's Theatricality', The Shandean, 18 (2007), 156-70
'"For the Good of the Nation": "Unkle Toby and Corporal Trim"', The Shandean, 17 (2006), 85-92
Reference Works:
'Laurence Sterne', Oxford Bibliographies, ed. with Paul Goring (forthcoming 2021)
'Laurence Sterne', Literature Criticism from 1400-1800 (Layman, 2020)
Multiple entries for The Cambridge Guide to the Eighteenth-Century Novel, 1660-1820, ed. April London (Cambridge University Press, 2020)