Dr Mathelinda Nabugodi, Newnham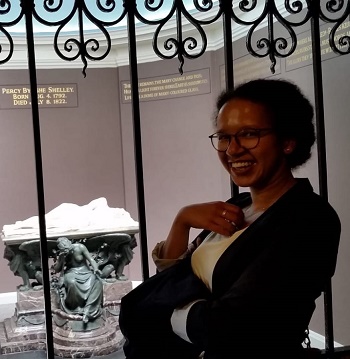 Biographical Information
I am a Leverhulme Early Career Fellow. My research project is a 'creative critical edition' of Percy Bysshe Shelley's notebooks (which includes defining what a 'creative critical edition' is). After being the first to be awarded a PhD in Creative Critical Writing from UCL, I worked as a Post-Doctoral Research Associate at Newcastle University, where I became involved in editing the fifth and final volume of The Poems of Shelley (published in the Longman Annotated English Poets series). I am also a member of the Advisory Council of the Institute of English Studies at Senate House, University of London.
Research Interests
I work on Percy Bysshe Shelley and his circle, with a focus on translation and foreign language learning. I approach his working drafts with an eye to tracing how his translation practice fuelled his 'original' composition processes and was thus an integral part of his poetic development. In addition to studying the manuscripts, I am drawn to the miscellaneous objects preserved in various Shelley archives – hair jewellery, a glove, a quill, travelling cutlery, a baby rattle, pieces of charred bone allegedly part of his skull.
On a separate, but related trajectory, I am oddly fascinated by research design. Walter Benjamin's work has had a lasting impact on my conception of method, and I am interested in experimenting with writing that thinks in images and constellations. At present, I am especially curious about self-reflective modes of literary criticism and what it means for a woman of colour to study such a quintessentially dead white man as Shelley.