Dr Mina Gorji, Pembroke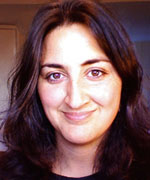 Biographical Information
I was born in Tehran and grew up in London. Having completed a BA in English at Trinity, Cambridge, I went on to do graduate work at Lady Margaret Hall, Oxford where I took an MPhil in Romanticism and a DPhil. I then held a Career Development Fellowship at Wadham College, Oxford and after that a Fellowship by Examination at Magdalen College, Oxford. I am currently a University Senior Lecturer in English and Co- Director of the Centre for John Clare Studies.
Research Interests
My main research interests are in the literature of the eighteenth and nineteenth century, especially poetry, and I have an abiding interest in the poetry of John Clare. My current project is a study of Romantic Listening, an exploration of the forms and significance of listening in Romantic period poetry. Other interests include literary language, environmental poetics, working-class poetry, literature and popular culture, materiality and sound, shorter lyric forms (including nursery rhyme) and the writings of Christina Rossetti. I am also a practicing poet with an interest in contemporary poetry. My first collection, "The Art of Escape", will be published by Carcanet in 2020.
Areas of Graduate Supervision
Eighteenth-century and Romantic literature and culture. Authors of particular interest include: Clare, Keats, Wordsworth, Byron, Burns, Hone, Hazlitt, Rossetti. Areas of Interest include: working class literature and print culture, poetics, literary allusion, polite and popular culture, literary language, nature writing, pastoral, canon formation, literature and national identities, primitivism, Lyric. I contributes to teaching and supervision for the MPhil in 18th Century and Romantic Studies.
Selected Publications
Class and Canon: Constructing Labouring-Class Poetry and Poetics, 1780-1900, ed. Mina Gorji and Kirstie Blair, Palgrave, November 2012
'John Clare and the Triumph of Little Things', Class and Canon: Constructing Labouring-Class Poetry and Poetics, 1780-1900, ed. Mina Gorji and Kirstie Blair, Palgrave, November 2012
'John Clare's Weeds', Ecology and the Literature of the British Left, ed. John Rignall, H. Gustav Klaus and Valentine Cunningham, Ashgate, 2012, pp. 61-7
'Burns's Sentiments: Gray, Milton and 'To a Mountain Daisy', Burns and Other Poets. ed. David Sergeant and Fiona Stafford, Edinburgh University Press, 2012, pp.67-79
'John Clare and the Poetics of Mess', Moveable Type, Number 5, 2009, http://www.ucl.ac.uk/english/graduate/Mina Gorji
John Clare and the Place of Poetry, Liverpool University Press, 2009

'Everyday Poetry: William Hone's Popular Anthology', Romanticism and Popular Culture, Ed. Phillip Connell and Nigel Leask, 2008
Rude Britannia, Ed. Mina Gorji, Routledge, 2007
"Gothic Heritage", TEXTUS 2/2007, Nation(s) and Cultural Heritage, Ed. Maria Rita Cifarelli and Jane Garnett, 2007
"John Gay, The Shepherd's Week", A Companion to Eighteenth Century Poetry, Ed. Christine Gerrard, Blackwell Publishing, 2006, 145-156
"Burying Bloomfield: Poetical Remains and 'the unlettered' muse'", Robert Bloomfield: Lyric, Class, and the Romantic Canon, ed. Simon White, John Goodridge and Bridget Keegan, Bucknell University Press, 2006, 232-252
"Clare�s Merry England", John Clare Society Journal 25, 2005, 2-24
"Clare's Awkwardness", Essays in Criticism 54.3, 2004, 216-39
"The Savage in Our City: Interrogating Civility at the Royal Academy", Third Text 66, 2004, 41-50
"Writing out of 'Inclosure': John Clare, the 'Old Poets' and The London Magazine", John Clare: New Approaches, Ed. John Goodridge and Simon Kovesi, 2000