Prof Richard Beadle, St John's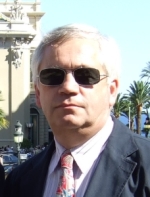 Biographical Information
Professor of Medieval English Literature and Palaeography, Faculty of English
Fellow in English, St John's College
J. P. R. Lyell Reader in Bibliography, University of Oxford, 2012-13; Lyell Lectures 2013, 'Aspects of Late Medieval English Autograph Writings'
Sandars Reader in Bibliography, University of Cambridge, 2014-15; Sandars Lectures, 2015, 'Henry Bradshaw and the Foundations of Codicology'
Member of Council, Early English Text Society
Research Interests
Medieval English literature, especially the drama, and its textual transmission. He has recently re-edited The York Plays (2 vols., Early English Text Society 2009-13), and the Cambridge Companion to Medieval English Theatre (second edition, 2008). He has also published extensively in other fields including Middle English palaeographical and bibliographical studies, Middle English dialectology, the history of the language, the history of the book, medieval English epistolary writings, Chaucer, Shakespeare, and 17th-century antiquarianism.
Areas of Graduate Supervision
See above, Research.
Selected Publications
(Recent)
(with Colin Richmond) Paston Letters and Papers of the Fifteenth Century, Part III, Early English Text Society, Supplementary Series 22 (Oxford, 2006). Awarded the 2007 Beatrice White Prize by the English Association, 'for outstanding scholarly work in the field of English Literature before 1590'
'Sir John Fastolf's French Books', Medieval Texts in Context, ed. Graham D. Caie & Denis Renevey (London, 2008), pp. 163–89
(with Alan J. Fletcher) The Cambridge Companion to Medieval English Theatre, second edition (Cambridge, 2008)
'Nicholas Lancaster, Richard of Gloucester and the York Corpus Christi Play', The York Mystery Plays: Performance in the City, ed. M. Rogerson (York and Woodbridge, 2011), pp. 31–52
(with Colin Burrow) Manuscript Miscellanies c. 1450–1700, English Manuscript Studies 1100–1700, 16 (2011).
The York Plays. A Critical Edition of the York Corpus Christi Play as recorded in British Library Additional MS 35290, Vol. 1, The Text; Vol. 2, Introduction, Commentary, Glossary; Early English Text Society, Supplementary Series 23, 26 (Oxford, 2009–13)
'Some Measures of Scribal Accuracy in Late Medieval English Manuscripts', in Probable Truth: Editing Medieval Texts from Britain in the Twenty-First Century, ed. V. Gillespie and A, Hudson (Turnhout, 2013), pp. 223–39
Web publication:
2009 (with Colin Burrow, Raphael Lyne, Andrew Zurcher et al.) Scriptorium: Medieval and Early Modern Manuscripts Online. Digital facsimiles of 20 MSS c. 1450–1700, with extensive descriptive and technical metadata; English Handwriting Online course; http://scriptorium.english.cam.ac.uk/