Dr Sarah Kennedy, Downing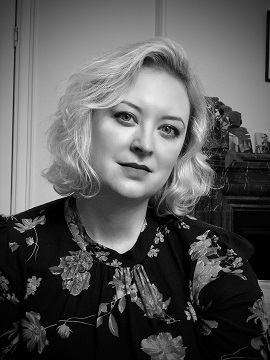 Biographical Information
BA and LLB from the University of Melbourne, Australia. I came to Cambridge on a Rae and Edith Bennett Travelling Scholarship for my Ph.D. (St. John's, 2012), supervised by Prof. Adrian Poole. I held a Research Fellowship at Downing College, Cambridge, from 2013 to 2017. I am now a Fellow, Part I Director of Studies, and Development Ambassador at Downing. I have given lectures and talks in the UK, US, Australia, and Italy. In 2017 I was a Visiting Fellow at Pomona College, Claremont, California.
My book T. S. Eliot and the Dynamic Imagination (Cambridge University Press, 2018) follows in the tradition of histories of the Romantic and Victorian poetics of originality, but focusses on the twentieth-century legacy of those histories and their interrelation with parallel fields of knowledge. It charts the relations between metaphor and creativity in T. S. Eliot's poetry and criticism through their affinities with discursive developments in 'new physics', optics, colour theory, cognitive psychology, and anthropology.
I am currently working on a book tentatively titled The Self Made Strange: Landscape and Self-Estrangement in Postwar Lyric Poetry. This study explores metaphor as the active principle underlying the processes of transmission and assimilation (as well as the vertical pressure of literary influence) that generate creative and ethical tensions within the lyrical selfhood of three exemplary mid-century poets: Seamus Heaney, Elizabeth Bishop and Judith Wright.
My essay, "'We reason of these things with a later reason': Plain Sense and the Poetics of Relief in Eliot and Stevens" was awarded the John Serio Award 2019. The prize is awarded by a committee from the Board of The Wallace Stevens Journal, and recognises the best essay published in the year's two issues.
You can see my talk 'Elisabeth Frink: Touching Magic' at AFTERLIFE: A Symposium on the Life and Work of DAME ELISABETH FRINK (2018) here.
Research Interests
Twentieth-century and contemporary Anglophone poetry, early and high modernism, metaphor, narrative, nature-writing, vibrant materialism, and ecopoetics, the pelagic imaginary, the energy unconscious, the uncanny, literary self-conception, originality, and allusion. I am especially intrigued by questions of poetic influence and the literary afterlives of poets. I am also interested in the postcolonial literatures of the Pacific, including Aotearoa/New Zealand and Australia, and in trans-regional encounters between these literatures and modernist diasporas.
Areas of Graduate Supervision
I supervise on the Practical Criticism paper for Parts I and II; the Part I 7B Paper English Literature and its contexts 1870 to the present; and on the Postcolonial paper (Pacific Region) for Part II, as well as individual Part I and II dissertations.
Selected Publications
Books
Articles
Kennedy, S., 'Poetry and the Deed of Reading: Forms of Attention and Immersion', forthcoming, in Educating Character Through The Arts, ed. Laura D'Olimpio, Panos Paris, and Aidan Thompson (Routledge, 2020)
Kennedy, S., 'Florida', forthcoming, in Elizabeth Bishop in Context, ed. Angus Cleghorn and Jonathan Ellis (Cambridge University Press, 2020)
Kennedy, S., 'Sea, Sky, Earth, and Spirit: The Aegean Suite (1971)', in Divided Circle: Barbara Hepworth (Heong Gallery, Downing College, Cambridge), November 2019
Kennedy, S., 'Riddling the Future: Textual practice and linguistic reconstruction in post-oil fictions', forthcoming in Green Letters: Studies in Ecocriticism, 23 (2019), special issue on Petrofiction
Kennedy, S., 'Elizabeth Bishop's Fugitive Empathy', in Reading Elizabeth Bishop: An Edinburgh Companion, ed. Jonathan Ellis (Edinburgh University Press, 2019)
Kennedy, S., '"We reason of these things with later reason": Plain sense and the poetics of relief in Eliot and Stevens', Wallace Stevens Journal, Vol 42, Number 1 (Spring 2018): 99–116
Kennedy, S., 'Elisabeth Frink: Sculptor of living forms', in Larger than Life: Dame Elisabeth Frink (Heong Gallery, Downing College, Cambridge), November 2017
Kennedy, S., 'Let these words answer: Ash-Wednesday and the Ariel Poems', in The New Cambridge Companion to T. S. Eliot, ed. Jason Harding (Cambridge: Cambridge University Press, 2016)
Kennedy, S., '"Where's home, Ulysses?" Judith Wright in Europe 1937', Journal of Commonwealth Literature, 52.2 (August 2015), 331–349
Kennedy, S. 'The "unknown, remembered gate": Four Quartets as spiritual biography', Literature & Aesthetics 18.1 (June 2008), 84-97